PSA London - Speakers: Discover How To Mesmerise Your Audience So You Get B...
Description
Speakers: Discover How To Mesmerise Your Audience So You Get Booked SOLID
"The goal is not to be perfect by the end, the goal is to be better today." Simon Sinek
With 35+ million views, Simon Sinek's Ted Talk "How great leaders inspire action" is the 3rd most viewed on ted.com.
The incredible fact is that he says he is shy and does not like speaking to crowds.
However, he is a master at getting the attention of the crowd and keeps them on the edge of their seats.
The question is: "How can YOU do it in your speaking business?"

My name is Pearl Jordan and I am the president of PSA London, where we help you to move beyond anxiety and cross the finishing line, engaging with your audience with CONFIDENCE and PURPOSE.

Special offering when you come to PSA London on Saturday 2nd of December.
MESMERIZE YOUR AUDIENCE
It will be an ENTIRE day where four main speakers will reveal their insider secrets of how to mesmerize an audience.
By understanding and using these secrets, your self-confidence will dramatically increase.
(In a minute, you will see how you will apply them immediately).
As a result, when looking for your next gig, you will be able to talk about yourself with authority and the person you will be speaking to will feel they can trust you to own the stage.
The result? More bookings!
Four main speakers will share the stage and reveal their blueprint to have your audience sitting at the edge of their seat as you share your story.
HOW TO FIND THE SILVER BULLET

Phillip Khan Panni
HOW TO FIND THE SILVER BULLET - What every speaker should offer
Phillip will lead you to the realisation that you already have what it takes to be an engaging speaker. Along the way he will help you get rid of 3 Big Bad False Beliefs that may be holding you back. And he will offer you some guidance on that vital element of speechcraft -- storytelling. Don't miss it!
INJECTING ENERGY INTO YOUR WORKSHOPS AND TALKS

Jackie Barrie
INJECTING ENERGY INTO YOUR WORKSHOPS AND TALKS
Everyone talks about audience engagement – but not everyone knows how to do it well. In this session, you'll experience some of Jackie Barrie's icebreakers and energisers that reinforce your message, help embed the learning and create a real buzz in the room.
ANYTHING IS POSSIBLE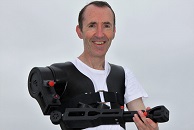 Steven Robinson
"ANYTHING IS POSSIBLE"
Do you truly believe anything is possible or is it just another cliché? I will demonstrate by empirical evidence that it's not just a cliché and you are capable of achieving anything you put your mind to.
You will discover the details of these 7 key insider secrets:
1. Understanding that change isn't always bad.
2. Positive thinking
3. Spotting opportunities
4. Overcoming fears and "Phantom Barriers"
5. The power of asking
6. Building resilience
7. Achieving more than you thought possible.
GDPR WITHOUT THE FLUFF, HYPE OR B.S
This line up would not be complete without a business topic.
After all PSA London is about speaking better and speaking more!
Next year, General Data Protection Regulation (GDRP) will be enforced.
This is a new regulation that will force every business to look very carefully into the way they manage personal details.
As the government can and will fine businesses that fail to respect it, we want to anticipate it.
And we have the entertaining expert on the question: Annabel Kaye who will speak about GDPR without the fluff, hype or B.S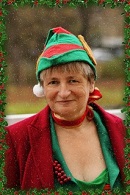 Santa's Elf will be reporting on Santa's plans for handling GDPR. Will you be on the naught list or the nice list? This humorous look at how GDPR will affect Santa contains great information for everyone – even if you are not an elf. From the location of Santa's servers (in the North Pole) to contracting properly with Santa's helpers, Santa's Chief Operating Elf has a lot to do before May – and so do you.
AHHH … CHRISTMAS!
Christmas would not be Christmas and PSA London would not be PSA London without having some fun!
Celia Delaney, our own stand up musical comedian and fellow member, will MC all day…
I say no more…
Just be ready to have a day full of excitement as you stay on the edge of your seat and become better today.
The Magic Ingredient of PSA London
We have tested it in November and it worked like magic!
I know that spending your Saturday to improve your business is a big commitment; this is why we want you to get results IMMEDIATELY!
What good would it be if what you just discovered sits on your notepad for months?
This is why you will have many opportunities to network, discuss and practice what speakers have just shared, so you will leave the day with a big grin on your face, buzzing and feeling inspired, knowing that you have already practiced it!
But don't take it from me; see what other participants are saying.
I am sure you'd like to know more about the day.
HOW WILL THE DAY UNFOLD?
The day follows a proven structure to help speakers get to the next level.
As you arrive at 9:30am, our team will greet you.
They will make you feel welcome; show you the breakfast bar with free good coffee and pastry.
It is the ideal setting for you to get to know people.
We start at 10am with selected speakers whom deliver ten-minute showcases and receive laser-focused feedback from the audience on four categories:

1. Content
2. Delivery
3. Stagecraft
4. Bookability
Then two of the 4 speakers delivers a keynote so you have some great ideas to discuss during the 1-hour lunch break, when you will get to know fellow speakers.
In the afternoon, two speakers will take the stage and share strategies to help you grow your business and speak better.
What you will NEVER get at PSA London


Oh… and one thing that is extremely important: We do not sell from the stage.
This is not a day to sell you a "bigger event".
The day is the big event to help speakers get to the next level.
It is because we operate as an association that we can keep your investment reasonable.
The day is powerful training for speakers by speakers.
You will receive tremendous value on this day.
Ready to join us?
The event is on Saturday 2 December from 9:30am until 5pm in Central London.
I know it is a whole day, on a weekend and it is your time.
However…
Listen up.
When speakers are serious about growing their business, coming to PSA London can be their most important decision.
Because getting to know other speakers and applying what you will discover can literally transform your business.
Booking this next gig…
As Simon Sinek said, "The goal is not to be perfect by the end, the goal is to be better today."
Authentic comments made by PSA London members and visitors
"Just wanted to let you know how welcome I felt here today – the energy is amazing here!"
"There is so much that I've gained…the speakers were incredible!"
"The break outs for the showcase feedback work so well and we learn so much during the process"
"The mastermind session was just what I needed. Perfect timing"


Let me recap for you what you will get.
1. Enjoy an all-day event in a premium venue in Central London
2. A welcoming atmosphere for speakers at all levels
3. Breakfast with coffee and pastries (all included in the fee)
4. Fully catered hot lunch (included in the fee)
5. Tea break in the morning and afternoon
6. Six showcases with feedback from up and coming speakers
7. Four keynotes from expert speakers
8. You will feel pumped as you leave the day, knowing that you discovered new ways to speak and run your business
9. And much more…
Timings:
09:30: Breakfast - coffee and pastries
10:00: We start
11:30: Coffee & Tea break
13:00: Hot lunch
14:00: Restart
16:00: The main event ends and the important networking continues
17:00: The networking gets really serious as we move to the pub


Join Us!
Join aspiring and professional speakers on Saturday 2 December at 9:30am by booking your tickets now.
The early bird tickets are available until Wednesday 29th November so don't wait and book your ticket now.
Simply click on the green "Order Now" button at the top of the page to reserve your seat.
Organiser of PSA London - Speakers: Discover How To Mesmerise Your Audience So You Get Booked SOLID
Our aim is to help you speak more and speak better. Our events will help you do just that.
On behalf of The PSA Board:
The coronavirus is a growing public health concern that is continuing to have a significant impact throughout the international events and conference industry. Due to the recent update from the UK Government requiring individuals to stay at home, our physical events have now moved online, registration for these is available via our events page as usual. With the situation changing at a rapid pace, we are keeping an eye on the official guidance and will be continually reviewing this.  
Rebecca Jones
PSA Chair
Cancellation Policy: Please be aware that we do not accept cancellation of bookings for PSA meetings, as we make arrangements to support the number of places booked and incur costs that cannot often be recovered. If you have booked a place at a PSA event and are no longer able to attend, please ask around your local PSA community to see if another speaker wishes to attend in your place - we're happy for you to transfer your booking, and just ask that you let us know by emailing admin@thepsa.co.uk.
Processing your personal data: Please note that when you book an event your data will be processed in accordance with the PSA's Privacy Notice. This is in addition to Eventbrite's privacy policy.
Photography
We will be taking photographs throughout the event and may also be video recording the event. By purchasing a ticket you agree that all photography may be used at the discretion of the PSA and for the business of any speaker being filmed during the event. However, if you do not wish to appear or be identified in any photography or video footage please advise any Committee member on arrival at the event so we can, of course, accommodate your preference.