About this Event
Sue Richardson - publisher and speaker - is our speaker
How writing the right book can supercharge your speaker career
Whether you are writing a book, thinking about writing one, or you are already a published author, there will be something in this talk for you. Sue will take you through her 7 reasons for publishing – just a small selection of the ways a book will boost your speaking business exponentially. If you want to build credibility, profile and influence, there is arguably no better way to do it than by publishing a book. Yet the world of publishing can seem like a minefield – and many speakers hesitate or even fall at the first hurdle. Make sure you aren't one of them by understanding from Sue how to write the right book, publish in the right way and reach the right readers.
Takeaways:
· Become inspired to write the right book to help you grow your business
· Discover how others have supercharged their businesses by being smart with their books
· Understand how to pick the right publishing route for you.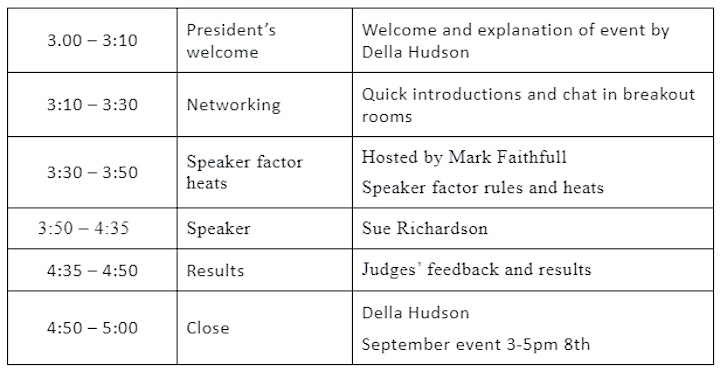 Next Event: 8th September 3-5pm
How do we use your data?
When you register to attend a PSA event, we share your name and contact details with the person running the event. For regional meetings, this will be the Regional President. They may share these details with members of the Regional Committee, for the purposes of contacting you about the event, welcoming you, and following up with you afterwards.
Date and Time
Location
Refund Policy