PSA Speakers Digital Footprint Survey & Building a 21st Century Speaker Website

Friday, 12 April 2019 from 13:00 to 17:00 (BST)
Event Details
Speakers Digital Footprint Survey & Building a 21st Century Speaker Website
(Socialise in the evening afterwards and attend PSA London meeting the next day)

Overview
An afternoon jam-packed full of valuable information to boost your online presence and business. Bring an open mind, blank paper and a sharp pencil.

The first part addresses the results from the third edition of the Speakers Digital Footprint Survey. The survey was launched in 2017 at the first European Speakers Convention (Amsterdam). Last year's survey results were presented at the Global Speakers Summit in Auckland.

The Speakers' Digital Footprint Survey, covers 1,000 websites in 11 countries across 3 continents. The survey assesses speakers websites on their implementation of several key metrics and gives you a clear path for making your own website fit for the 21st Century.

Sadly, the overwhelming majority of speakers' websites fall short in many vital areas. The good news is that some of these shortfalls are 'fix and forget' and will help you improve your search engine results.

The second part of the afternoon takes a deep dive into the configuration of effective websites and what speakers can do to take advantage of new approaches and technologies to boost their online presence.

It's time to recognise that we're knocking on the front door of the third decade of the 21st Century.
Chris Davidson Biography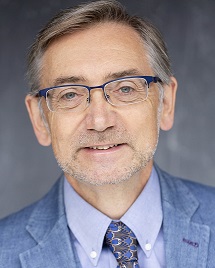 Prior to establishing Active Presence in 2002, Chris worked for more than 20 years in IT, designing complex IT systems, including the computer network that underpins the Wimbledon Tennis Championships. Chris' expertise lies in assessing what data needs to be where, and then designing a system that delivers it - at the right time and within budget.
Chris is a long-time supporter and Fellow of the PSA. He's currently serving as the President of the North West region for the third time. Chris is a strong believer in a rising tide floating all boats and wants all PSA members to be better at what they do - across the board - from performing, to marketing.
Three years ago Chris came up with the idea of creating a worldwide survey of speakers' websites, to both assess the sector's status and encourage everyone to improve their capabilities. Year-on-year the survey reports are both objective and challenging, and have motivated many speakers to take assertive action to improve their online image.


Agenda:
1:00pm – 1:30pm    Registration & networking
1:30pm – 2.30pm    Speakers Digital Footprint Survey                  
2:30pm – 2:50pm    Pause
2:50pm – 3:45pm    Building a 21st Century Speaker Website
3:45pm – 4:10pm    Coffee/tea/cakes
4:10pm – 5:00pm    Case Studies & Where to Next?
Close and Networking
Chris Davidson is giving his time and experience for free, so all proceeds from the event go to the PSA Foundation. Places are limited, so reserve your seat now!
This event has been scheduled to run the day before the PSA London event to allow people to attend both events and to take the opportunity to get together and socialise following the meeting.
Social events following the meeting are left for participants to organise amongst themselves. Enjoy London's nightlife and then return the next morning for the PSA London event – book your ticket for that now.
When & Where

ETC Venues
86 Edgware Road
Marble Arch
W2 2EA London
United Kingdom


Friday, 12 April 2019 from 13:00 to 17:00 (BST)
Add to my calendar
Organiser
Our aim is to help you speak more and speak better. Our events will help you do just that.
Cancellation Policy: Please be aware that we do not accept cancellation of bookings for PSA meetings, as we make arrangements to support the number of places booked and incur costs that cannot often be recovered. If you have booked a place at a PSA event and are no longer able to attend, please ask around your local PSA community to see if another speaker wishes to attend in your place - we're happy for you to transfer your booking, and just ask that you let us know by emailing admin@thepsa.co.uk.
Processing your personal data: Please note that when you book an event your data will be processed in accordance with the PSA's Privacy Notice. This is in addition to Eventbrite's privacy policy.