Description
The Primate Society of Great Britain Spring Meeting 2018 will be held at the University of Portsmouth, 11th and 12th April 2018. Information will be updated on this page leading up to the conference. Any problems please contact Bridget Waller (bridget.waller@port.ac.uk).
Keynote speakers
Professor Josep Call (University of St. Andrews): PUBLIC LECTURE. Wild Mathematicians: Apes' secret formula for resolving quantitative problems.

Mathematics is one of the most feared subjects in the school curriculum. Most children require a long and hard process to master this subject. Such difficulty contrasts with the apparent ease with which apes solve problems involving quantities. Briefly stated, apes can discriminate the larger of two quantities even if they are presented concurrently, they can add and subtract quantities, and even multiply them using symbols. Recent work has shown that apes can also calculate probabilities in population estimation and gambling tasks. How is this possible if apes do not go to school and do not even possess a formal system of mathematics? In this talk, Josep will reveal apes' secret formula for solving quantitative problems. Such a formula has two main components: a system dedicated to comparing stimuli combined with a system devoted to estimating quantities.
Professor Louise Barrett (University of Lethbridge, Canada): Primates, Plasticity and (un)predictability: a pragmatic view of social evolution
Primates are known for their large brains, behavioural flexibility and cognitive complexity. These, in turn, are argued to have been selected for by the complexity of the social environment. The interesting thing is that no one quite knows what social and cognitive complexity actually means, and our attempts at conceptualising primate social life are often anthropocentric and "logomorphic". Here, using insights from vervet monkeys and baboons, along with recent work in radical enactivism and embodied cognitive science, I discuss ways in which we can think about plasticity, complexity and social life in ways that do justice to evolutionary continuity, but don't require primates and other animals to just be hairier, less talkative versions of ourselves. This in turn has implications for how we think about our own evolution, and what we talk about when we talk about "minds".
Professor Robin Dunbar (University of Oxford): Why are there so many different explanations for primate brain evolution?
There are almost as many different explanations for why primates evolved large brains as there are people interested in the question, and all of them have evidence to back them up. That should alert us to the fact that something is seriously wrong. I will argue that this has been a consequence of poor understanding of biology, misconceived ways of testing hypotheses and the use of inappropriate statistics. Seen from a systems-based perspective, everything makes sense. It also provides us with much deeper insights into primate social evolution.
Professor Candy Rowe (Newcastle University): Multimodal communication in primates (and a lot of other animals…)
There is no doubt that animal communication is complex, with signallers often employing multiple sensory modalities simultaneously. Over the last 25 years, there has been significant interest in the use of these multimodal signals: given the costs associated with signalling, why would any animal invest in a multimodal signal when something more simple might do? In my talk, I'll consider what the benefits of signalling in multiple signalling modalities might be, illustrated by some examples from my own work (not on primates…). I'll also consider what we know about multimodal signalling in primates, and why perhaps this type of signal has not been widely studied in this group. My aim is to stimulate more interest around multimodal communication in primates, and suggest possible questions for future research.
*PRELIMINARY SCHEDULE: FULL DETAILS TO BE POSTED HERE SOON*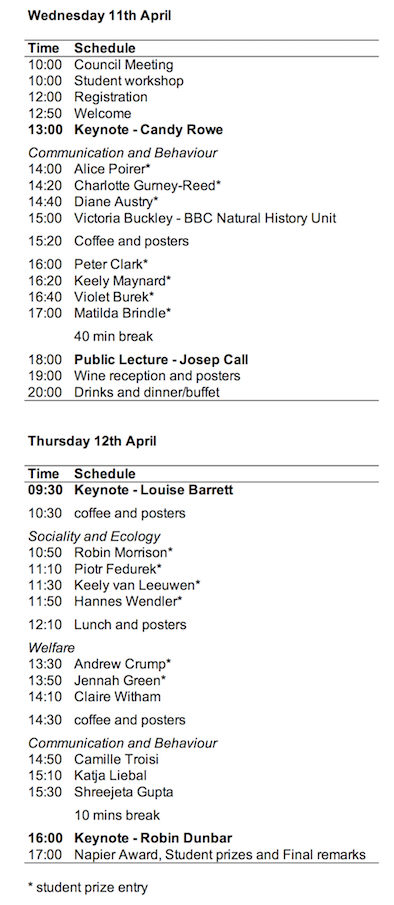 Call for papers: We invite submission of abstracts for both oral and poster presentations. Invited speakers will speak on the theme of Cognition and Communication but proffered presentations can encompass any area of primatological research. Oral presentations will be a maximum of 15 minutes long, with an additional 5 minutes for questions. Student talks may be prioritised over established scientists, but anyone can apply to give a talk. All abstracts will undergo review. If there are more submissions for oral presentations than we can accommodate we may offer you the opportunity to give a poster presentation instead. We anticipate that authors will be notified of the outcome of their submission by mid-March. *ABSTRACT CALL CLOSED*
Abstract Guidelines: Abstracts should be between 200 and 220 words (including all text and references, but not title or author affil.). Since abstracts will be published in Primate Eye and may be cited, they should have an explanatory title (max 15 words), author names, lead author affiliation, and the text should summarise your work so that your study can be understood without additional information. Please do not include P values in your abstract. Abstracts may also be displayed on the PSGB's website. Deadline for abstract submission (via eventbrite when you register):

Pre-Conference Student Workshop (free): The development of species-specific anatomically based coding systems (Facial Action Coding Systems: FACS) has greatly facilitated within-species and cross-species comparisons of facial expression over recent years. We have modified FACS systems for use with various species of primate, including chimpanzees, macaques, orangutans and hylobatids). This informal workshop will introduce you to FACS and offer basic training in how to use these systems. The workshop will take place from 10-12 on Wednesday 11th April. Booking is essential. Places are limited to 25 participants. Book your free place on the workshop by booking a ticket here on eventbrite.
Social Event (included in ticket price): Wednesday 11th April: Public Lecture (6pm) with Professor Josep Call, followed by a wine reception. We will then have a buffet dinner at The King Street Tavern, 8pm - 11pm. This is included in the price of your ticket.
Travel: All conference events will take place in the Eldon Building, University of Portsmouth, which is in the centre of Portsmouth. It is a 10 min walk from Portsmouth & Southsea train station. Southampton Airport is an hour away by train (or 40 mins taxi drive).
Accommodation: The closest option is the Ibis Portsmouth, which is providing rooms at a reduced rate of £79 a night using this link. The Premier Inn City Centre Portsmouth is also fairly close by, from £54 a night. There are also lots of B&B options in Southsea.
Additional information: Your tickets include tea/coffee sessions, buffet dinner on Wednesday 11th April, wine reception following the public lecture and sandwich lunch on Thursday 12th April. Tickets can be refunded up to 2 weeks before the start of the event (11th April). Please email treasurer@psgb.org if you need a ticket refund. Please note that you must be hold an active individual membership of PSGB to qualify to buy a member ticket. Member tickets are not available for those holding institutional membership only.