Description
psychART is a national conference, supported by RCPsych and Maudsley Charity, that celebrates creativity, the arts and psychiatry. The conference provides an opportunity for attendees to hear about and take part in the exciting links between the worlds of mental health and the arts.
This conference is the one for you if:
- You are interested in mental health services and how they work with charities, artists and specialists health professionals
- You enjoy the arts, either as creator or appreciator
- You would like an opportunity to showcase your creative works or scientific posters related to the arts and medicine
- You are considering Psychiatry as a career
- You are unsure what medical specialty is for you

Your ticket will include:
A diverse and inspiring day of talks and workshops that include:
As well as opportunities for networking with psychiatrists, artists, service users and people working broadly within the mental health and charitable sectors. Lunch and refreshments will be provided throughout the day.
The day will be documented by urban street sketcher Sue Harding!
psychART 2017 Programme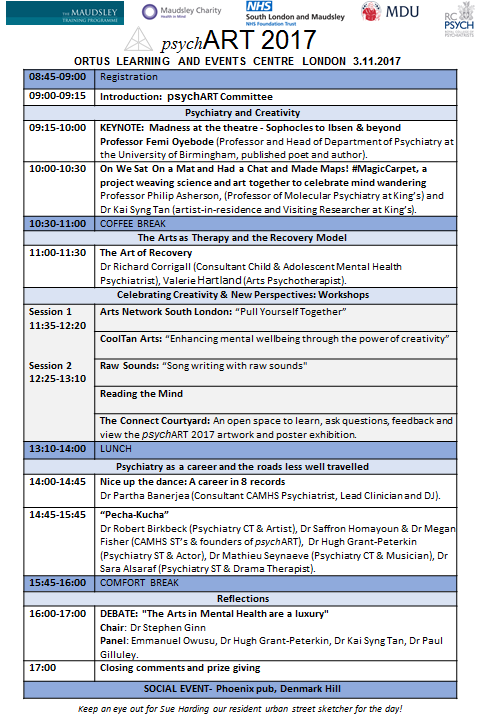 Further information
You can get the latest information, read about the last conference and see some of the past competition winners by checking out our website http://www.psychart.co.uk/, or via the social media links below.

Any queries please email: competition@psychart.co.uk
#psychART17

Image above: "Extreme Doodling" by Phanida Fung (PsychART 2015 1st Prize- Judges Vote)
Date and Time
Location
ORTUS learning and events centre
82-96 Grove Lane
Camberwell
London
SE5 8SN
United Kingdom
Refund Policy