Location
David Game College
31 Jewry Street
London
EC3N 2ET
United Kingdom
Refund policy
Refunds up to 30 days before event
Description
psychART is a national conference, this year supported by ELFT, ELFTArts and RCPsych, which aims to highlight and celebrate the positive presence of creativity and the arts within mental health and psychiatry. The aim of the day is to explore the role that the Arts can play in the lives of those living with mental illness, as well as the rewarding experiences and opportunities available to those working in this field.
The ticket will include a full day of talks, workshops and presentations, as well as opportunities to network with psychiatrists, artists, and people working and living within the mental health environment. Lunch and refreshments will be provided on the day.
The full programme is now available:-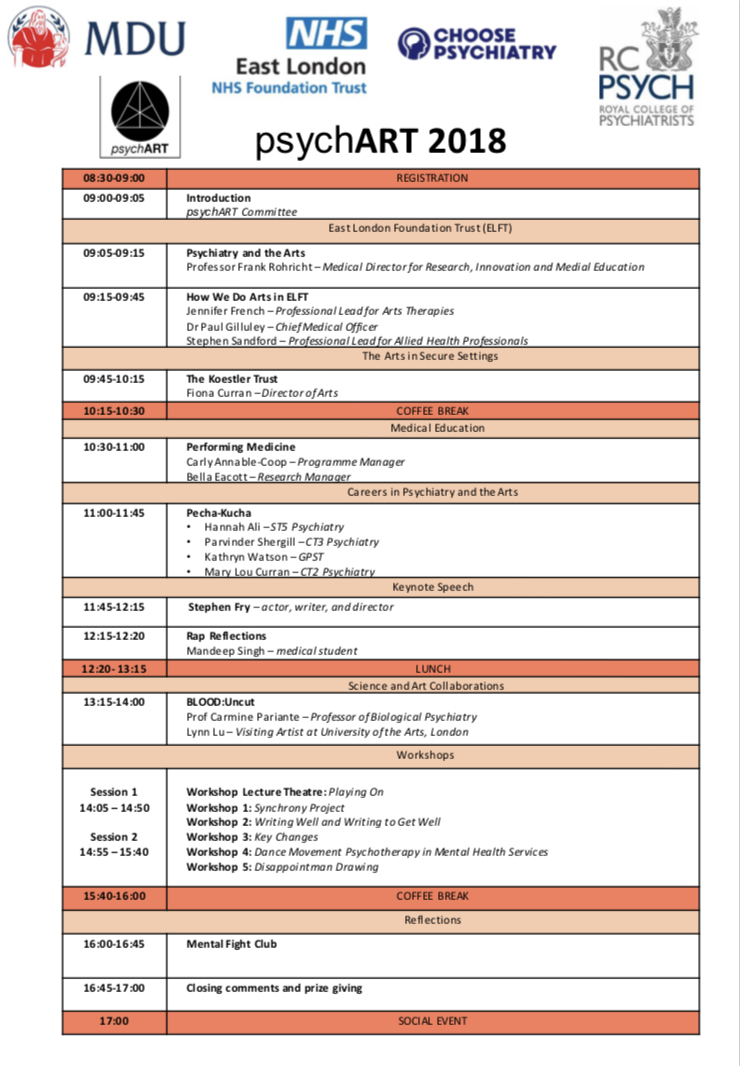 PsychART18 will include talks and workshops from:
Stephen Fry
Stephen Fry is an English comedian, actor, writer, presenter, and activist. Fry has spoken publicly about his experience with bipolar disorder, which was depicted in the documentary Stephen Fry: The Secret Life of the Manic Depressive.

In the programme, he interviewed other sufferers of the illness. He is involved with the mental health charity

Stand to Reason

and is president of Mind, the charity. In 2018, alongside

Nadiya Hussain and Olly Alexander,

Fry was part of

Sport Relief's

attempt to raise awareness of mental health.
Performing Medicine
For over 12 years Performing Medicine have used methods from the arts to provide training for healthcare professionals and students, focusing on skills such as self- care, teamwork, stress-management, non-verbal communication and spatial awareness. In collaboration with healthcare professionals, we have conceptualised these skills in a model – Circle of Care - that demonstrates how they contribute to the provision of high quality care. This presentation will introduce the Circle of Care, a tool and framework to help us think about, practice and demonstrate high quality compassionate healthcare. Participants will be introduced to the ways we apply creative practices in healthcare, with a chance to experience some of the physical, practical techniques and exercises from the arts that we use to nurture the skills needed to provide good care.
The Koestler Trust
The UK's best-known prison arts charity, the Koestler Trust has been awarding, exhibiting and selling artworks by offenders, detainees and secure patients for over 50 years. They currently have an exhibition on at the Southbank Centre called I'm Still Here, running until 4th November 2018.

Mental Fight Club
Mental Fight Club (MFC) was founded by Sarah Wheeler in Southwark in 2003, as a creative force for change led by service users. The group has been running pop-up creative events since 2003 to explore issues around mental illness, recovery and wellbeing. These varied events play to packed audiences, using creativity to break down the barriers between the ill and the well, the supporters and the supported. In this way the group hopes to "open everyone's mind to the wisdom and riches that can be gained in the journey through mental illness into recovery"

Key Changes
Key Changes was set up in 1997 by a group of patients, and aims to provide music engagement and recovery services in hospitals and the community for young people and adults affected by a variety mental health conditions. Their award-winning programme promotes wellbeing and recovery through developing creative, technical and vocational skills and opens pathways to mainstream opportunities in education, training, work experience and employment. Their innovative approach draws on clinical therapeutic techniques and professional music industry practice.

Other speakers include:-
My Illustrated Mind
ELFT Arts
Synchrony Project
More information, and a full timetable, to follow soon!
Tickets are now available. If you are uncertain about which ticket you should purchase, please contact us at conference@psychart.org.uk
We are excited to welcome submissions for both an art competition and scientific poster presentation. Please see the website for more details.
http://psychart.org.uk/index.php/conferencde-2018/competition