Psychedelic visual journey with PandoraStar Light Machine

Saturday, 1 April 2017 from 20:00 to 23:00 (CEST)
Event Details
Come and try the PandoraStar Deep Trance Light Machine!
On Sunday I'll host the
Consciousness Lab
, that is a 3-hour event specifically designed to the exploration of Consciousness and the Nature of mind.
But if you want to try the PandoraStar and see for yourself what this is about, on Saturday evening I will host few rounds of explorations with entertaining and relaxing programs.
All you have to do is lie down, close your eyes and let the show of light start.
WHAT IS THE PANDORASTAR LIGHT MACHINE?
PandoraStar is a device with 12 stroboscopic LEDs that emit flickering white light. The frequency of the flickering is measured in Hertz (Hz) and changes according to the program.
While you keep your eyes closed, the light passes through your eyelids stimulating the optical nerve, generating an inner visual show of colours and patterns.
Specific programs entrain the brain at the same frequency of the flickering light, helping to achieve beneficial states of mind.
An example of the visual that can be experienced with closed eyes:


You cannot use PandoraStar if any of the followings apply to you:
- You have epilepsy or have had seizures in the past
- You have had Eye Laser surgery in the last month
- You have a diagnosed psychiatric/psychological condition
- You are under psychiatric/psychological treatment
"The Pandora light is a gateway to magic. The experience itself is a lot of fun, a very safe space to go to the unknown. And it definitely opens something, leaves an imprint that you can keep using in the future. Can't wait to do it again!"
"An incredible experience that I highly recommend"
"It felt like Ayahuasca!"
"I woke up the following day with a big smile on my face!"
Limited spots available. You can choose to attend one of the following sessions:
Session 1 - 20:00 / 21:00
 From  21:00 to 22:30/23:00 -- CONSCIOSUNESS LAB. Max 20 people

Do you have questions about Psychedelic visual journey with PandoraStar Light Machine?
Contact Way Beyond
When & Where

The LOFT Frankfurt
Hasengasse 21
60311 Frankfurt am Main
Germany


Saturday, 1 April 2017 from 20:00 to 23:00 (CEST)
Add to my calendar
Organiser
Way Beyond

Amir (@Way Beyond) is a Life Coach, Healer, Bodyworker, Consciousness Explorer, and event facilitator. He has trained with Plant Medicines, Shamanic Rituals, Lucid Dreaming, Out of Body Experiences, and a variety of Meditation practices. He's a  PandoraStar, distributor and certified practitioner, Reiki Master, and VortexHealing® practitioner.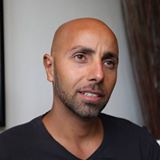 Psychedelic visual journey with PandoraStar Light Machine