Description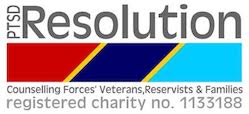 You are invited to the PTSD Resolution conference on 18th May 2019
celebrating 10 years of outstanding service delivery to Veterans, Reservists and Families
at Broadway House, Tothill Street, London, SW1H 9NQ
Theme: " 'Complex' Recovery" There's more to therapy than talking
The PTSD Resolution biennial conference is an educational and networking resource for Human Givens therapists. It is an opportunity to find out the latest developments in therapy and support for veterans, reservists and their families.
Therapists from other disciplines and sectors; those working with other forces' charities and support organisations; and people interested in perhaps volunteering to work in the sector, are welcome to make a General Admission reservation.
The theme of our conference this year highlights some of the complexities in delivering therapy. What are the factors in 'complex' PTSD? What are the pros and cons of medication? How does nutrition compare with medication, and what are the recommendations of use?
You will hear from four Veterans who have recovered; four Human Givens therapists who will recount lessons learned.
You will also hear the latest strategic position of PTSD Resolution and the latest report on evidence of results.
It is also of course an excellent opportunity to network and catch up with friends and colleagues.
The programme is outlined as follows:
0930 Registration
1000 Welcome, Introduction, and strategic position – Tony Gauvain
1015 Pragmatic Tracker and update on Evidence - Bill Andrews
1045 'Complex' PTSD – Jenny Edwards
1130 Break
1145 Case study - Fiona Sheldon and recovered client and partner
1230 Medication – Marion Brown and recovered client and partner
1315 Lunch
1345 Nutrition – Mary Strugar and recovered client and partner
1430 Case study – Philippa Decker and recovered client and partner
1530 Break
1545 Better Stop Suicide App
1550 Survey results, new survey, Rapport – Piers Bishop
1630 Q&A
1700 Closure – Piers Bishop
Early Bird, by 31 March £49.00 (For HGI registrants only)
General Admission From 1 April £69.00
The cost includes light lunch, refreshments and CPD Certificate
Feedback from previous Conference:
"the Q&A at the end was great - so much variety, interest and a wealth of experience"
"really found this interesting and hope we can work together"
"Excellent Conference. Thank you"
"fantastic day, lots of information shared, good chance at networking"
"comprehensive and inspiring"
"thanks for a great conference - a wide variety of speakers and very good time keeping"