Can you explain your PhD in 10 minutes? Come and join us online for three fun and informal talks from Sheffield students about their work.
About this event
PubHD offers students in Sheffield an opportunity to try their hands at public engagement by explaining their PhDs in 10 minutes and facing questions from a varied and diverse audience.
There's no boring PowerPoints here, just words and a flipchart. We're back in person in the Old Queen's Head down by the train station. So come and join us at 7 pm on the 27th of October. We recommend bringing some change to buy a round or 2 for the speakers.
This week our speakers will be
1. Charlene Cross - 3rd Year PhD Student and Sheffield Hallam University
Networks in Neepsend: Exploring place through people
Charlene's PhD focuses on an area of Sheffield that is adjacent to Kelham Island. She has been documenting continuity and change through photographs since early 2020. From April 2021 she conducted interviews, asking 'How would you describe Neepsend to somebody who had never heard of it?' to a range of local stakeholders. Participants have included property developers, site owners, and local businesses, both old and new. Tonight's presentation shares some initial themes emerging from the research (including a summary of bars, takeaways and restaurants operating in the area!)
2. Stuart Gaines - 3rd Year PhD student at the University of Sheffield
How does it all fit? Epigenetics: Packaging 3 metres of DNA and 20,000 genes into a single cell
The actions of every cell that makes up our body, and therefore our bodies themselves, are dictated by our genes. These genes are based on the complex chemical code that makes up our DNA. We have ~20,000 genes within a 3 m DNA strand in every 0.005 mm to 0.1 mm wide cell. How on earth does it all fit?
This talk will discuss the basics of epigenetic chromain regulation, the packaging of all that DNA into every microscopic cell in the human body. Second, we'll dive into how this packaging allows for the genes we need to be turned on and off. Finally we'll explore how our environment influences our epigenome and how we may be able to control it in disease and maybe even live forever!
3. Kathy Davies - PhD graduate Sheffield Hallam University
The Manchester Guardian, C. P. Scott, and the Irish Question (1919-1922)
Kathy's research illuminates the connection between the Manchester Guardian newspaper, the Irish question, and British politics at the apex of Ireland's revolution. By analysing the commentary of renowned editor, C. P. Scott, Kathy addresses key themes in Anglo-Irish history, including political self-determination, violence, and empire. Going beyond published material, she also unearths influences on the newspaper's content, including the connections between Scott, Guardian readers, and influential public figures, and the impact of propaganda and censorship. The study enhances understanding of the Guardian's politics and editorial ideology, and highlights the significant role played by Scott in British public discussion on Ireland in the early twentieth century.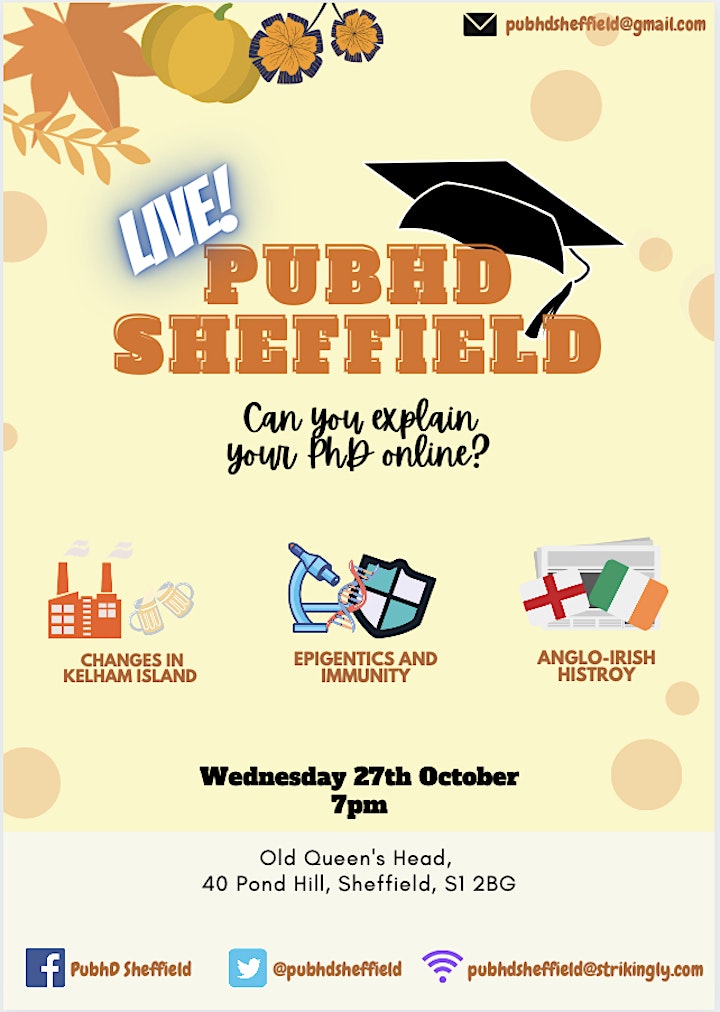 Organiser of PubHD Sheffield - October 2021 *Free Event*
Could you explain your research in exchange for a drink? Do you want to try out some public engagement down the (virtual) pub? Are you interested in knowing about the research that goes on in Sheffield? If so, we would love to hear from you!

PubhD has a really simple, relaxed format... Normally we'd meet in the pub and in exchange for a pint (or two), three researchers will be given a whiteboard, marker pen and 10 minutes to explain their research, followed by 20 minutes of friendly Q&A.

For the speakers, PubhD is a great way to test your public speaking and public engagement skills.
For the audience, it is a great opportunity to learn something new, without needing any prior knowledge of the topic!

All that we ask is that you pop along with an open mind and a quid to help with running costs and to buy the speakers a pint! However, due to current circumstances, we are running talks online and for free!
Sheffield PubhD was first set up by Devon Smith (@DevonCaira) and Emily Fisk (@EFisk1), and is now organised by Jacqueline Chalakova (@hdianeyoung) and Stuart Gaines (@stuart_gaines).

As of September 2020, events will run online until further notice via Google Meet on the 3rd Wednesday of every month.