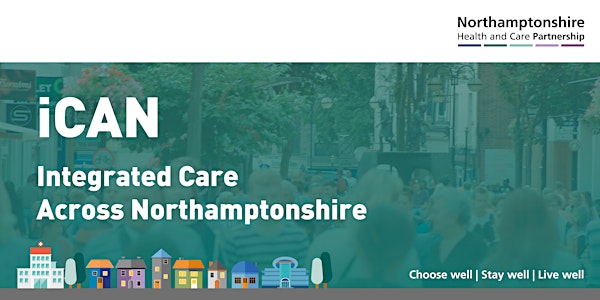 Public and stakeholder update on the iCAN programme
About this event
On Monday 6 December, Northamptonshire Health and Care Partnership will be holding a public and stakeholder event on the iCAN programme.
If you've heard of the programme, and you might already be involved with it, or you might not be familiar with it, then this virtual event will tell you all you need to know.
The iCAN programme has three aims:
• Ensuring we choose well: that no one is in hospital without a need to be there
• Ensuring people can stay well
• Ensuring people can live well: by staying at home if that is right for them
The five-year programme is aimed at the older person with frailty, and has been designed to ensure that person has a positive lifetime of health, wellbeing and care in our community.
We will have updates from health, care and local government leaders and practitioners to give you more information about the programme of work, what it means for you and what opportunities you will have to get involved.
The event will also explore plans for integrated care, top tips for winter wellness and discuss the themes for a Festival of Living and Ageing Well that we are planning for the spring of 2022, where there will be opportunities for you to co-produce the new services and give vital input on how things are working and how to improve them.