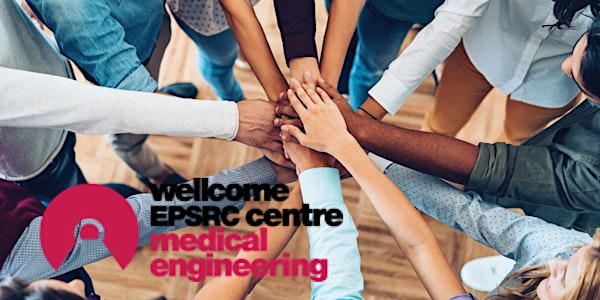 Public Engagement Masterclass
Deeper engagement of public and patient audiences with your research
About this event
Have you delivered lots of public and/or patient engagement activities and are looking for the next step or a new challenge? Do you want to enhance and enrich your existing engagement work?
This training session is open to all staff and post-graduate students across the School of Biomedical Engineering and Imaging Sciences (BMEIS) and the Department of Neuroimaging, IoPPN , King's College London.
Developed and facilitated by Dr Lesley Patterson, who has over 20-years of public engagement knowledge and experience*, this is an online interactive workshop that will provide attendees with the time, tools and knowledge to enhance and enrich their engagement practice and to explore this within their own research context.
The session will cover both digital and face-to-face delivery of activities.
_ _ _ _ _
Overview of training session:
- Discuss and reflect on the benefits of developing outcomes-focused engagement activities (from the 'What'? To the 'So what'? To the 'Now what'?!)
- Share tools and planning processes or crafting and curating high-quality public engagement projects, and diversifying engagement audiences and participants
- Introduce deeper forms of engagement, such as participation and co-production
- Sign-post to local, in-house resources and online tools that can be used for these purposes
_ _ _ _ _
Please email any queries to melissa.bovis@kcl.ac.uk
*Dr Lesley Paterson | Engagement, Exchange & Evaluation consultant
Lesley is a creative practitioner, trainer and evaluator specialising in public and community engagement and knowledge exchange in the higher education, cultural and innovation sectors. She has over 20 years of experience in engagement culture change; evaluation and building engaged research capacity through training, support and mentoring. She is currently appointed as a Research Excellence Framework (REF 2021) Impact Assessor and a Knowledge Exchange Concordat Evaluator.
Lesley was previously the Head of Public Engagement with Research at the University of Oxford; Head of Engagement and Communications at the Royal Academy of Engineering and a Public Engagement Project Manager at the Wellcome Trust. At Oxford, Lesley was the PI for a major grant awarded by Wellcome's Institutional Research Enrichment Fund (2019 – 2021, £1.26M) for which she developed and led, Enriching Engagement, a new grant scheme to encourage, support and award high-quality and impactful engaged research.
Organiser of Public Engagement Masterclass