Sales Have Ended
Ticket sales have ended
Too late! You missed it! Week!
Event Information
Refund policy
Refunds up to 7 days before event
Eventbrite's fee is nonrefundable.
Sales Have Ended
Ticket sales have ended
Too late! You missed it! Week!
Pitching for public sector tenders can be a nightmare for SMEs but there's HUGE potential too. Here's where you start to take advantage!
About this event
Rescheduled!
The good news is that 'cos I'm pretty good at this tendering thing I've got an invitation to a potentially huge tender. The bad news is that led to a clash of the course with an huge interview for a mega public sector contract... so we've moved by a week, to the 13th!
____________________________________________________________________
The amount of money spent by the public sector in the UK is enormous - but small businesses often find it hard to compete with the big boys. In this workshop we'll look at why and how you can and should (or not!).
Imagine! We all know the traditional marketing funnel and how hard it is to get people into the top of it... but when a call for a tender goes out it means they're already half way down the funnel. They are literally ready to buy and all you've got to do is show that you're the best option for them. What's more, they even tell you the criteria they're going to use...
There's none of this educating clients to know they need you!
Even better, there's a clear timeline, so you know where you stand and can plan accordingly!
But here's the bad news. It's not all plain-sailing because there's a mindset shift you need to wrap your head around... so grab a cuppa before we start!
Tendering is one of those things that's got a bad reputation based on a lot of tosh, bad communication and chips-on-shoulders but there are clear rules and guidelines that make it much easier to get your head around once you've got the hang of it! This is where you can begin...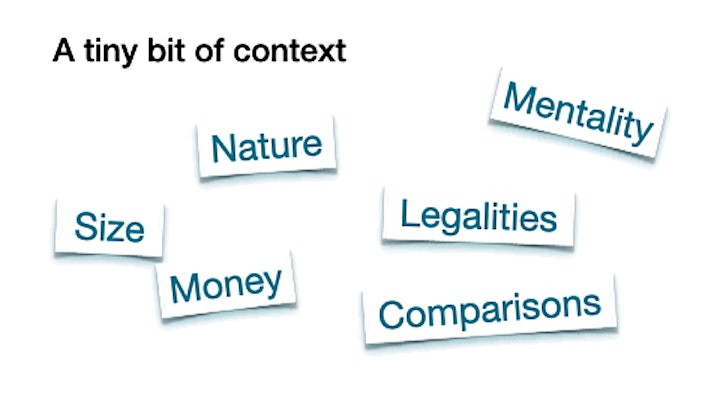 By the end of the sessions you'll:
have a clear understanding of the mentality of public sector tendering in the UK
understand the limits, and advantages of tendering
recognise (and avoid!) the pitfalls of tending
have started to develop your own tendering process
explored some of the tools for tendering more easily.
In short, you'll be far, far better placed to take advange of the opportunities!
Is this right for you?
Good question!
Micro-businesses and small organisations are likely to gain most. Let's face it, once you get big enough you can do these things more easily 'cos you've got the resources ;)
If you've no idea where to start; or if you've had a go but aren't getting the hit-rate you want; then this course will help.
What's more, I'm so sure it'll help that I'll make you a promise. If you don't think it's been worth your time 'cos of me screwing up, just let me know and I'll sort out a refund. Obviously if you decide tendering isn't for you, that's on you, not me ;)
Want a tipsheet just for reading this far?
Here you go... I've put five quick wins together for you in a few sides of A4. Don't expect miracles 'cos they're only quick tips, but anything that helps, right? :)
Oh, and no sign-up required!
https://drive.google.com/file/d/1R1wSPj1Mq6d6YwjvdDGf9wT-__uGRtmV/view?usp=sharing
Date and time
Location
Refund policy
Refunds up to 7 days before event
Eventbrite's fee is nonrefundable.
Organiser of Public Sector Tendering - almost demystified!
Simon is one of the UK's top few presentation skills trainers - to the point where's he's often known by the name of his last book ... Presentation Genius. He trains private individuals before they start their company all the way to multi-nationals like Dell. Private and in-house training is amazing, but expensive...
... so...
but he tends to do only one (or maybe two) public courses in the UK each year, so if you're reading this, the chances are he's doing one soon - and you should grab a place!