Public Speaking for Professionals: Lose All Fear & Speak with Confidence
Description
"Discover How You Can Earn More, Squash All Nerves and Clearly Present Without Any Crippling Fears of Speaking in Public"
Do you feel stressed when speaking up in meetings or delivering a presentation in front of colleagues or clients?

Do you suffer from a pounding heart, dry throat, butterflies in the stomach or sweaty palms?

Do you worry about looking silly, forgetting your words or being unable to answer questions?

Maybe you've now realised how growing your corporate confidence is critical for your future success.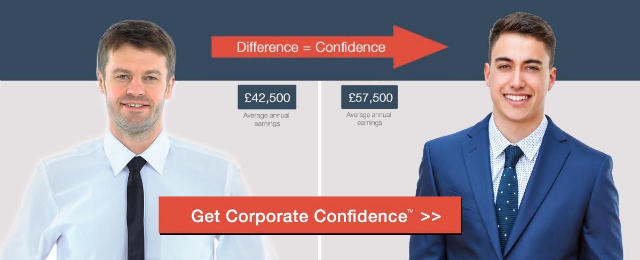 Having the confidence to speak up in meetings, deliver a presentation or answer questions in public is your secret weapon when it comes to climbing the corporate ladder or winning that important new business deal.


Especially when you take into consideration the findings of a Florida University study.

They found people with this confidence earn approximately £18,000 more than those without.


Imagine where you'll be in 6 months time once you get your nerves under control, gaining the confidence & skills to
sky-rocket your salary.


Now you have the chance to achieve success in your career and business by learning from one of the country's leading experts in public speaking and presentation skills.


Corporate Confidence Course™
This full day
Corporate Confidence™
public speaking skills course has been carefully constructed to give you all the skills to speak in public and deliver presentations. Here's just some of what you will pick up on the day:-
√ What causes your fear of public speaking.
√ How you make your nerves worse – it's not your fault!
√ How to ace interview questions.
√ 5 components of every successful speech.
√ Creating a connection with effective eye contact.
√ Using the speaking area to reinforce your points.
√ A 5 step model to answer any question when put on the spot.
√ 1 thing you must know before writing a single word of your speech.
√ How to start a speech, getting everyone's attention.
√ Discover when your speech really starts – it's not when you think.
√ 5 ways to finish your speech so it's remembered by colleagues & clients.√ How to confidently create and deliver instant speeches – Guaranteed
**************
You know it's far better to get help from someone who's been there and done it, rather than to get caught out by those touting techniques they've probably never used in real life or to woo any new clients.
You see, I've spent years - well into double figures, working at many of the country's leading banks and financial institutions.
All the colossal experience gained in the giants of the corporate world has shown me exactly what you must now do in meetings, presentations and pitches.
As you now benefit from all this extensive experience and knowledge, it will guarantee you're the one who gets noticed, promoted and wins that all important new business.
**************
Now you can attend and get your Corporate Confidence™ with absolutely NO RISK!
If for any reason you're not happy with all the life changing skills you've learnt, simply let us know and we will return 100% of your money. No Questions Asked!
Our next training event is on Saturday 28th January 2017
We'll happy to help with any questions you may have about securing your seat.
Email: hello@academyofpublicspeakers.com


Secure Your Seat Now!