Public Speaking Course for Ambitious Professionals who want to Communicate with Confidence and Charisma.
About this event
Are you ready to become a Powerful Business Communicator?
Discover what the top 1% of presenters know that 99% of Public Speaking courses will never teach you.
We're looking for ten ambitious professionals, managers, consultants, or future thought leaders to join us for a one-day masterclass in Public Speaking and Leadership Communication.
Are you like any of our other clients?
You're great at what you do, but you can't seem to communicate your knowledge with confidence
You start sentences with "so", end sentences with "yeah", or fill your sentences with "um" or "ah"
You regularly speak on stage or in front of an audience, but people say you sound monotone or lack charisma
You've had opportunities to speak, but you don't know what to say or how to express your ideas.
The very BEST way for you to be noticed in your industry, your workplace, or even in the meeting room is to become a great public speaker.
STOP RIGHT THERE…
Did a voice pop into your head and say "you can't do it"?
Maybe you feel like an imposter when you step on stage in front of an audience?
These are the reasons why most people will never become great at public speaking, but we have helped hundreds of people to do precisely that.
Over the past five years, we have worked with:
Business owners, corporate leaders and entrepreneurs
TEDx speakers
Management consultants
Healthcare professionals
Sales professionals
Newly appointed managers
Senior Executives
Charity fundraisers
Actors and models.
And many more types of people to help them experience the joy of feeling powerful in challenging circumstances.
We won't just show you how to speak better - we will turn you into a Powerful Business Communicator.
Powerful Business Communicators:
Have several elevator pitches ready to go for different purposes
Can stay calm under pressure
Sound conversational: whether on stage, in a meeting, or face to face
Seem charming and friendly while powerful at the same time
Use natural gestures and body language to emphasise key points
Are great storytellers and have a way of weaving words and phrases to ignite the imagination
Speak to themselves in an encouraging and compassionate way.
What you will learn in this course:
`As well as the fundamentals of public speaking and confident communication, this masterclass will also teach you:
> The secret formula TEDx speakers use to set the standard for world-class presentations which millions of people can view.
> The five best ways to engage an audience within the first 30 seconds of starting a speech and keep them hanging on your every word.
> The stand-up comedian's strategy for injecting humour into any story, even if you don't consider yourself a "funny" person.
> The actors' peak-performance technique for charismatic body-language, emotional regulation and stage-presence.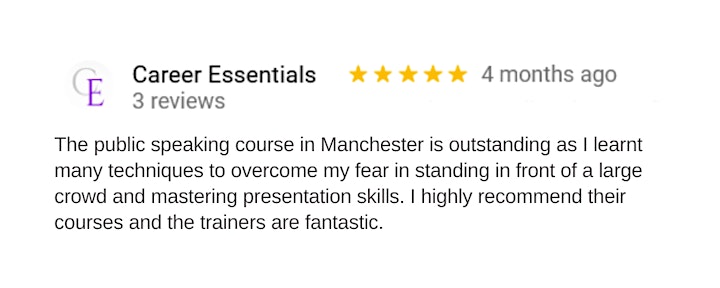 How different would your life and career be if you could:
Hook your audience in and keep them engaged while you deliver your message?
Stay on point and eliminate mumbling and rambling?
Come across as confident even when you feel the butterflies in your stomach?
Release your mind from worry and organise your thoughts?
Assertively deal with distractions?
Lead a room with only your ideas and your voice?
Rid yourself of 'imposter syndrome' or outdated stereotypes about gender or age?
Who you'll be learning from:
You will be joining three experts from three separate fields.
Danny Riley is a TEDx coach, Distinguished Toastmaster, and award-winning speaker who has trained hundreds of leaders and professionals to write and deliver powerful pitches.
Chris Delaney is a master NLP practitioner and Hypnotherapist who has cured thousands of phobics of their fears.
Ed Darling is an award-winning actor, voice-over artist and confidence coach, who has performed in theatres around the world and trained hundreds of people to improve their ability to shine on stage.
Remember you will get:
A full-day workshop in a modern and beautiful venue with all-day refreshments included
Dedicated expert trainers from varied specialist backgrounds, which means a fuller coaching experience
Personalised feedback on your speaking style and development
Access to a network of similar individuals who want you to succeed as much as they do
A no-quibble 100% money-back guarantee if you complete our course and are not completely satisfied.
So what are you waiting for? Come and join us for this one-day spectacular event and change your life forever.
Common Questions/Answers:
Q. How many people will be on the course?
Places are limited and you'll be learning within a small group of 6-12 people. Unlike other courses, you'll have three expert coaches on hand to offer personal advice & feedback throughout the day.
Q. How will the course work?
The course is a mixture of group learning, practical training, and individual feedback. We believe in gaining confidence through competence - and you'll have the opportunity to speak, practise and present throughout the day. (Full schedule below).
Q. What if I'm REALLY nervous?
Our coaches are experienced working with severely anxious and phobic speakers. You'll be learning in an encouraging, supportive and positive environment where it's safe to practise. (We promise it won't be as scary as you think!).
Q. What outcomes can I expect?
You will come away with a complete understanding of the fundamentals of public speaking. Your confidence will have improved dramatically. You'll be ready to deliver outstanding speeches & presentations, and progress in your career.
Q. Will I get to speak on stage?
We don't do "sit and take notes" workshops. Your improvement is our priority, and this is done through practical learning and experience. By the end of the day, you will have crafted, rehearsed and delivered your own speech that you can start using immediately.
As well as recieving personalized feedback on this, you'll have your speech professionally recorded, edited, and sent to you afterwards.
What Our Previous Attendees Say: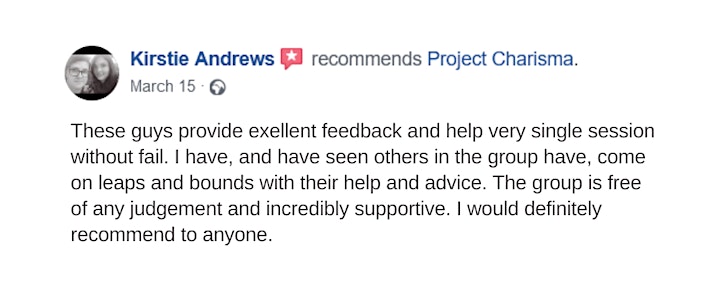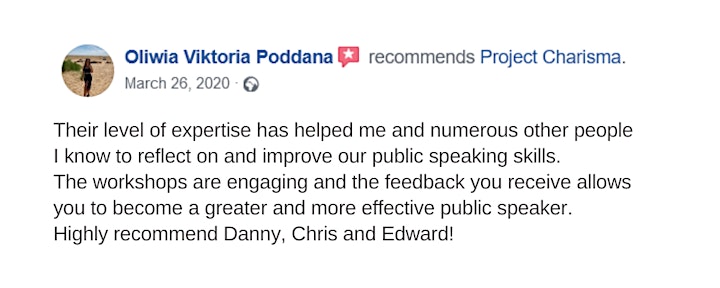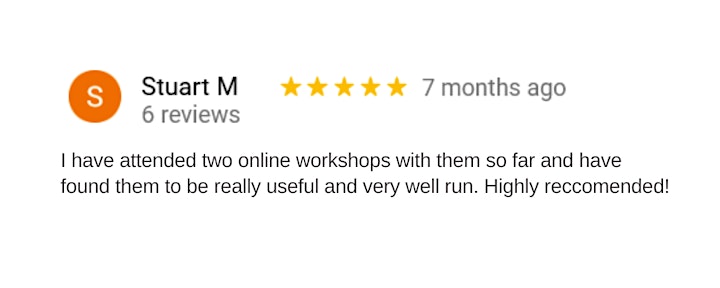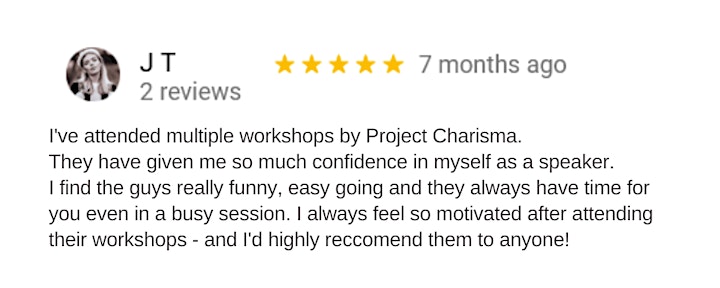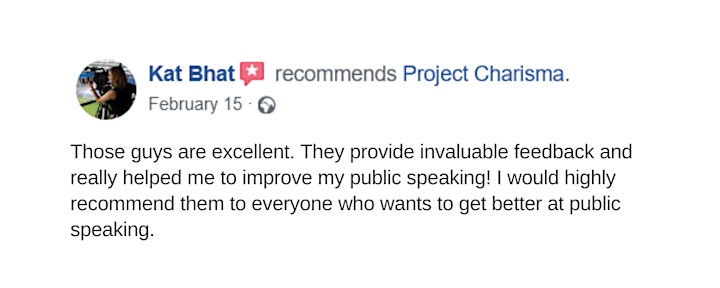 Who Are Project Charisma?
Project Charisma was founded by three expert public speaking coaches, known for helping people in business to develop outstanding communication skills.
We've been running professional public speaking courses and coaching since 2014, and have helped hundreds of past students - including TEDx Speakers, Business Leaders and Academics.
How We Teach:
We believe you learn through doing.
This course will be dynamic and experiential. You'll be learning, discussing, and then applying what you've learned.
We use systematic desensitisation (baby steps) to help you quickly build confidence, and embed new learning.
After years of experience delivering professional training, we combine the very best techniques to accelerate your progress, and provide results that last.
What You'll Achieve:
Overcome anxiety, remove limiting beliefs, and build genuine self-confidence
Master your body-language and learn expert communication techniques to look, feel and sound more confident
Learn how to create, structure, and deliver a world-class speech or presentation that will captivate your audience and present you as an expert
Develop the authority and charisma needed to advance in your career.
Additional Outcomes:
Gain a decisive advantage in job interviews and assesments
Be seen, heard, and listened to in meetings and discussions
Deliver high-quality presentations, pitches, and speeches
Develop leadership skills, authority, and assertiveness
Become a key person of influence within your industry
Learn alongside (and connect with) other ambitious professionals.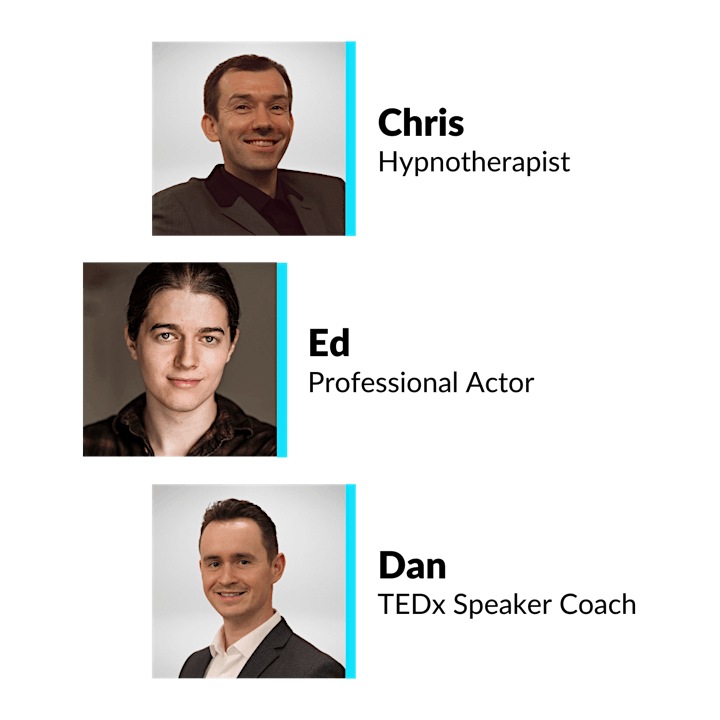 Your Expert Coaches:
DANNY RILEY is a Ted-X Coach, Distinguished Toastmaster, and professional corporate trainer. He has coached top speakers & countless leaders to be more effective communicators in their fields.
Danny will show you how to structure your presentation, pitch, or speech, and bring it to life using conflict, engaging hooks and storytelling tools designed to make your audience sit up and take note.
CHRIS DELANEY is a trained and highly experienced career officer, job interview coach, and published author (the 73 rules for influencing the interview). More recently Chris has created a new theory to help career professionals succeed in the interview - the interview prediction grid model.
For the last 10 years, Chris has been specialising in job interview confidence teaching career professionals how to overcome career anxiety with hynotherapy and NLP.
Chris will empower you to take control of negative thoughts, anxiety and phobias, giving you the confidence to deliver influential presentations and to communicate with confidence.
ED DARLING is a professional Actor, Voice-over Artist, Speaker and Coach, specialising in body-language, presence and personal charisma.
After overcoming his own severe social anxiety, Ed went on to perform as a professional actor in theatres around the world, speaking infront of hundreds of audiences, and coaching people to communicate with confidence.
Ed's coaching combines the very best techniques from acting, performance and speaking to bring out your natural charisma, confidence and stage presence.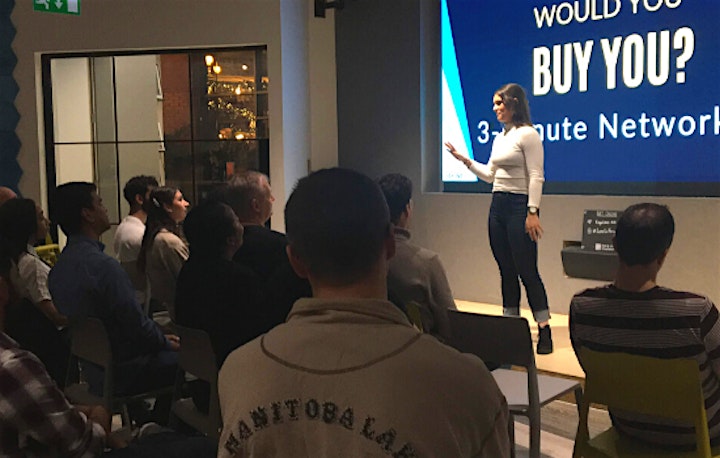 Final Thoughts:
Helping people grow in confidence and become outstanding speakers is our passion and our speciality.
This will be a popular course and places are limited - If you have any other questions for us, please get in touch!
E. contact@projectcharisma.com
W. www.projectcharisma.com
All the best for your public speaking success,
Danny, Chris and Ed
The team at Project Charisma.
Organiser of Public Speaking Masterclass - SPEAK & PRESENT (Manchester) 1-Day