Public Speaking & Presentation - Masterclass - Sheffield (6th Dec)

Saturday, 6 December 2014 from 09:15 to 11:45 (GMT)
Event Details
 FORGET what you believe FORGET what you think you know....
"From where I started to where I got to at the end of the day were just two different places! I didn't want the day to end" - Franco Sharp
Struggle to speak? Does confidence limit you? Difficult to win new business?
Join smart individuals seeking to achieve their potential and master the public speaking code.  
Attend our award winning 'Fear of Public Speaking Masterclass. Delivered by Professional Speakers who understand your pain but also the best trade secrets to to break through barriers with rapid results.
(Don't Speak - if you choose not to!)


The Fear of Public Speaking Master Class
"Absolutely fantastic... a safe environment, I would definately recommended the Master Class and Workshop to anybody."
- Tahira Akhtar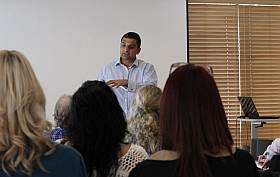 We demonstrate & reveal the most effective approaches to THINK, FEEL and SPEAK with confidence.
Learn to:
Find courage 

Stop worrying, Stop blushing   

Manage nerves 

Appear professional 

Be applauded and liked

Think on your feet 

Never forget your words

Make impact

Implement immediate techniques with fast results

Much, much more! 
"The most amazing public speaking course... very safe, and just a day! A huge shift. Amazing experience, highly recommended" - HRH Princess Noor Asem
Our Coaches
Public Speaking Academy are award winning professional speakers and coaches to Royalty, CEO's, Politicians, Leaders, Executives and Media personalities. Our approach delivers and drives genuine breakthrough change - in less than 15 minutes(Our testimonials show it and our 100% money back guarantee proves it! )  We are a proud Northern team, however our courses are acclaimed across the UK, and globally.
What Do Attendees Think?
Here are some course delegates, filmed post seminar (many haven't spoken in public before, let alone to camera!):
"It was just amazing!" - Daria Ni

"...took me from feeling like a nervous amateur speaker to appearing like a polished professional. It was a really empowering experience and one I'd happily recommend" - Amal Stapley
What to expect:
Arrive 9:15am Relax..(remember, you're not expected to speak)
9:30  Psychology of Speaking/ Breaking anxiety
10:00 PSA Speaking Challenge
10:45 Fear to Presenter..in 15 Minutes
11:10 ProfessionalSpeaking Code & Secrets
11:25 Q & A / Networking & Afternoon Course Opportunity 
12:30 Speaking Psychology & Intensive Exercises (Stack odds in your favour. Practical exercises to harness anxiety & convert to positive power)
1:30 Presenting games 
2:15 Professional Secret and Exercise
2:45 Secret 2 and Exercise
3.15 Secret 3 and Games
4.15 Coaching and Final Presentations
4.45 Q & A
5.00 Celebration Finish and Consult our trainers
 "We've done a lot of workshops, but this was special. This was very unique, it allowed for such openness, and very fast." - Nour Sabbagh
What i
f you could.....
Be seen as an authority in your field...
Deliver presentations better than anyone else in your field..
Pitch your business with uniqueness and charisma.. How
would your career, business and life change?
  F
or our delegates it has... Dramatically.
 Limited tickets to join NOW 
"To say we enjoyed it is a massive understatement, the structure, the content, the support, the encouragement, the direction has been immense, the best money I have spent, EVER!" - Graham Cosier, Network Marketing Director and Leader
100% Unconditional Guarantee.
We promise your money back if you feel we can not meet your requirements - no questions, no quibble.
Tickets are limited. Book early to avoid dissappointment.
Scroll to the top, pick your ticket and checkout
"Just AMAZING! Brilliant Course. I will definitely come on the next one!" - Dr Ibrahim Hussein
FAQs
Q. When does the INTENSIVE begin? AT 12.30 - we will even GET YOU LUNCH! 
We run our programmes the same day, transformational learning and change is about getting the very best approach, the best timing and optimal level of motivation all in the right proportion. You make the greatest leap when out of comfort zones and set patterns which is why we encourage people to join the programme rather than risk losing their momentum, our wider programme can be pursued at your own pace. 
Q. How many people at the INTENSIVE course?
We will limit our programme to a ratio of no more than 6 delegates to one coach as we want to build your skill level and tailor to your unique needs. 
Q. What do you cover?
The INTENSIVE builds gradually through unpicking fear through basic exercises, small group work, presentations in pairs, games and culminate in a final presentation exercise. Alongside we introduce concepts like rapport building, confidence tools that you then apply in small groups whilst being coached. There is a lot of content but not delivered at you moreover you are immersed in it through practical habit changing exercises. 
Q. How do you deliver the programme?
We will model the approach. You therefore don't just hear the theory but see it in practice. You then adopt the concept in a small group whilst being evaluated. Feedback is essential for growth and as coaches we are responsible in building your confidence throughout the programme. Most importantly it is FUN! 
Q. Is it just a one off programme?
No. We run INTENSIVES across the north of the UK a number of times a month. The INTENSIVE is module 1 of a wider programme that we will invite you on to progress your speaking. 
Q. Does it really work? We wouldn't be in business if it didn't or have repeat custom! However we understand the psychology of fear is to get very accustomed and attached to status quo. We use the most powerful tools to get you up fast, but also reassure you with a 100% money back guarantee.   
When & Where

Jurys Inn

S1 4QW Sheffield
United Kingdom


Saturday, 6 December 2014 from 09:15 to 11:45 (GMT)
Add to my calendar
Organiser
Passionate about transformational training. We don't just teach groundbreaking methods, we ensure you experience a permanent shift in your Public Speaking skills. Our methods are fun, creative and build on your existing and hidden strengths.
The Public Speaking Academy is a passionate organisation dedicated to all spoken word, presentation and communication skills – enabling people from all walks of life to become confident and exciting speakers.
Professional Speech Coaches
Our trainers are Professional Speakers and Coaches. Our approach is practical not lecture based, not only will we teach what is most relevant but do so in a creative positive environment. Resulting in sharp shifts in your confidence and speaking delivery.
How We Can Help You
Our training uniquely combines highly interactive small group work with coaching for your individual needs. As professional speakers we will model what works for you. You benefit from our experience without the associated challenges or time costs, transforming your ability quickly in a safe environment.
Positive, Supportive
Our courses are always held in a positive and supportive atmosphere – creating a team bias for you to succeed. You learn from tutors, other delegates and through self reflection during intense coaching sessions.
Proven Results
All our delegates experience speaking transformation – see our post-course videos for testament of this. And many delegates return to us to continue their speaking journey.
We are committed to helping all our clients become the very best and in doing so maintaining our reputation as the Home of World Class Speaking.