Public Speaking Workshop TASTER

Saturday, 25 March 2017 from 13:00 to 16:00 (GMT)
Event Details
5gbp to took your place in our public speaking workshop.
You will learn some tips on how to handle your fears, get involved in some breathing and relaxation exercises, energy building activities, voice technique, followed by speaking games, story telling and optional impromptu speeches.
We help people overcome their public speaking anxieties in a very friendly, supportive and non-judgmental environment, where we encourage people to make mistakes and learn from them.
In this workshop we will be in a large hall where you will get involved in some physical exercises, learning about your body and ways to release tension. From running these workshops since 2013 we have discovered a physical way of building confidence, which involves playing, as through playfulness you can reconnect with the inner child that sits within you, this child is not self-conscious but is more impulsive and intuitive.
It is our instincts that guide us in making the right choice, which requires leaving the constantly analyzing/worrying mind to connect with our bodies; the heart and the gut, which already has the right answer. In short, we strongly believe that we can ease our anxieties and worries if we reawaken our instincts.
Amongst playfulness and warming up your instincts you will also learn and practice some of the pillars of a confident public speaker. Confident public speaking is comprised of the following 8 elements:
· Physicality (body language and eye contact)
· Content (structure and choice of content)
· Intention and congruency
· Emotions and tone variety
Public speaking is a very useful skill to develop in life. It not only helps you to do things such as presentations at work and university but also develops your inner qualities in other areas of life allowing you also to improve your social relationships with people, as you learn how to express yourself better.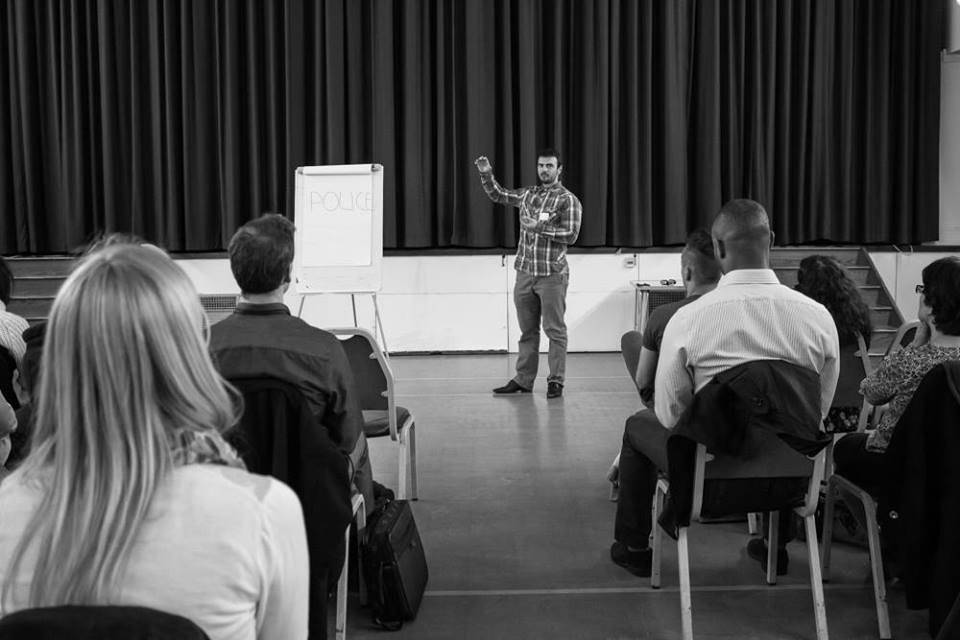 What to expect from this workshop:
The workshop follows the structure of first having warm up's and stress diffusing exercises, after which we will play some speaking games and you will have an optional choice of practicing some impromptu speaking. These exercises will increase in difficulty (subject to the speakers comfort zone), as the event progresses.
Should you prepare or bring anything:
No. Just bring is a willingness to grow and challenge yourself! That is the best to overcome your fears. Water will be provided.
A note about our philosophy on how we approach in helping people to overcome their fears; We do not mould our speakers into a one fits all model, where we try to shape you into someone who you are not. Our principles are grounded in authenticity, where we encourage our attendees to get in touch with themselves on a deeper level, which as a result enhances their communication skills and delivery. In the class we aim to identify what is authentic and natural to our speakers and we focus on brining more of that out, which enables our attendees to identify their natural speaking style. The way we achieve this is by encouraging our participants to explore being vulnerable and experiment with how it feels to have 'your guard' down. We believe being vulnerable = strength and not weakness. Instead of always attempting to be someone who we are not, which forces us to hide certain qualities from the public we encourage our attendees to be themselves, because what we are is already as great and 'full' as we can be. When we aim to be more, or change/hide our weaknesses we allow our fear of public speaking, alongside other socially-derived anxieties to prosper. Hence, our goal is to help people reach a place of self-worth, self-love and self acceptance and VULNERABILITY is a big theme underlying our philosophy.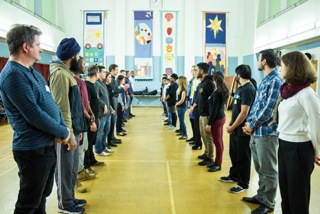 Background about the facilitator:
Michael Sokolin holds a BA in Entrepreneurship and Management and a MA in Consultancy and Coaching from Lancaster University. He has previously worked as a management consultant in A.T. Kearney and managed an international team in the strategy department of Groupon.
Since 2013 Michael has been training, performing in theatre's across London as an actor. Whilst teaching and running public speaking workshops across Europe.
Michael has constructed a strategic step-by-step approach for gaining more confidence in public speaking. His methodology combines professional and actor's training. Michael combines the professional training he has received in his MA studies in Lancaster University and corporate management consultancy training on the job with the training he has receiving training as an actor (including elements from physical theatre, improvisational acting, stand-up comedy and drama).
Email: info@publicspeakingldn.co.uk
When & Where

24 Pembridge Gardens

W2 4DX London
United Kingdom


Saturday, 25 March 2017 from 13:00 to 16:00 (GMT)
Add to my calendar