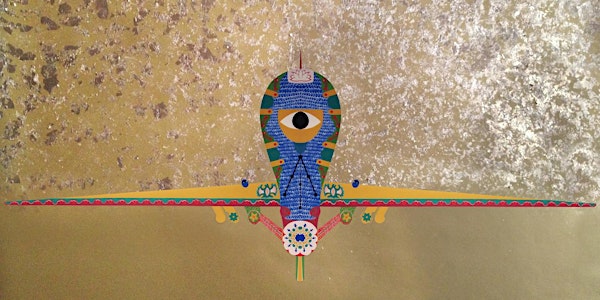 Public Talk: The Aesthetics of Drone Warfare with Mahwish Chishty
Event Information
Location
Conference Room, Alfred Denny Building
University of Sheffield
Sheffield
Western Bank
S10 2TN
United Kingdom
Description
We are delighted to host a public talk by distinguished artist Mahwish Chishty, recipient of the Guggenheim Fellowship, on her artwork. This event is part of the British Academy-funded project, The Aesthetics of Drone Warfare.
Initially trained as a miniature painter from the National College of Arts, Lahore, Pakistan, Mahwish Chishty has aggressively combined new media and conceptual work with her traditional practice. By camouflaging modern war machines with folk imagery, Chishty sheds light on the complexity of acculturation, politics, and power.
Chishty's work has been exhibited internationally in the United States, Australia, Japan, Pakistan, and the U.K. In 2016, she received international acclaim for her solo exhibition at the Imperial War Museum, London, for her 'Drone Series' which examines the use of American drones in Pakistan. Her 2018 installation, 'Naming the Dead', utilizes the data collected by the Bureau of Investigative Journalism to name civilian victims of drone strikes; it was shortlisted for the ArtPrize. Chishty is Professor of Art at the University of Massachusetts, Amherst.

'Stunning... Chishty's aesthetic language captures the pain and strangeness of contemporary warfare, and opens up a conversation on drones' long-term presence in Pakistan, and their penetration of the country's cultural fabric.' (openDemocracy)
Coffee and refreshments will be available from 11:45am.
---
Selected Works by Mahwish Chishty:
Naming the Dead (2018), mixed media installation with sound

Hellfire (2017), 1:1 mixed media

X-47B (2012), gouache on paper

Date and time
Location
Conference Room, Alfred Denny Building
University of Sheffield
Sheffield
Western Bank
S10 2TN
United Kingdom