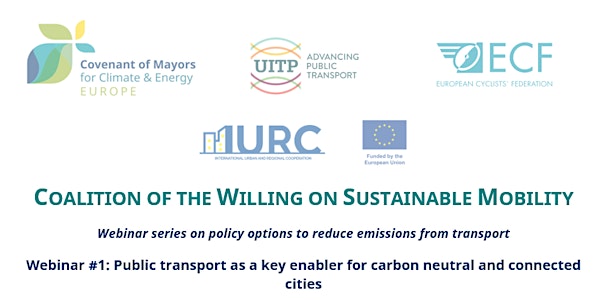 Public transport as a key enabler for carbon neutral and connected cities
This is the first appointment of the Covenant of Mayors webinar series 'Policy options to reduce emissions from transport': public transport
About this event
According to the International Transport Forum public transport buses and trains can release up to a fifth of CO2 emissions per passenger-Km than ride-hailing and about a third of a private vehicle. A strong and well-integrated public transport network can also help provide equal access to jobs, education, services and other economic opportunities, particularly to those without private vehicles.
Investing in public transport is one of the most effective measures to reduce transports' emissions and bring cities closer to reach their climate targets. It can increase equity and foster economic development, therefore - ensuring that public transportation is accessible, affordable, and inclusive is of paramount importance to reach wider climate and societal goals set by cities.
This webinar will explore concrete measures cities can take to 1) support the deployment of public transports' services and infrastructures, 2) foster decarbonisation in the transport network and 3) guarantee its accessibility for all citizens.
Participants will also have the opportunity to interact with panellists in the Q&A session.
AGENDA
16:00 – 16:10 Introduction - Eugenia Mansutti (Covenant of Mayors Office)
16:10 – 16:20 Scene setter: public transport for climate mitigation and outlook on the status of electric & hydrogen public fleet deployment in Europe and beyond – Lucie Petersen UITP – (International Association of Public Transport)
16:20 – 16:45 How to decarbonise public transport in cities – local examples
Investing in a low emissions public fleet – Peter Lindlahr, Hamburg (Germany)
Kansas City streetcar and bus system - AJ Farris, Interim Planning Manager, Kansas City Area Transportation Authority (KCATA), USA
16:45 – 16:55 Q&A with participants
16:55 – 17:15 Safe and accessible first & last mile: how to improve access to public transport
How can European cities improve access to public transport for cyclists? Holger Haubold, European Cyclists Federation
Bus-bike integration in Fortaleza - Public transport as a catalyst to fight social inequalities and spatial segregation - Tais Costa - Coordinator of the Innovation Lab of Fortaleza (CitiNova), Brazil
17:15 – 17:30 Q&A with participants and discussion