Public Workshop "How to be a Productivity Ninja" (Bristol) 1st December 2017

Friday, 1 December 2017 from 14:00 to 15:30 (GMT)
Event Details
Overview
Many of us are overwhelmed, and struggle with the constant distractions we face in our work.  Information overload is a big problem. Juggling productivity and wellbeing successfully is a challenge.
It's no longer enough to just focus on "time management": it's time to think about how you manage your attention and focus, your projects and actions, your choices and habits.
A Productivity Ninja™ is calm and prepared, but also skilled and ruthless in how they deal with the many enemies of productivity and wellbeing.
We'll share with you the 9 Characteristics of the Productivity Ninja™, and help you identify specific ways you can implement them.
Results
Reflection, inspiration, motivation and lots of new ideas – plus individual action plans to develop Ninja-level productivity skills.
Who should attend?
Anyone whose role involves independent decision making and organising information (as opposed to manual or automated jobs) – from the CEO and senior team right through to entry level roles.
If you're responsible for juggling your own projects and priorities, this session is for you.
What you'll learn and discover
Zen-like Calm: Why we feel overwhelmed, and what can be done about it.

Ruthlessness: Working out what matters – then staying focused, on task, and in the zone

Weapon-Savvy: The best Ninja apps and tech, and how to stop email taking up your whole day!

Stealth and Camouflage: Creating the right work environment by fighting distraction and interruption.

Unorthodoxy: How the Productivity Ninja™ uses playfulness and gamification to challenge convention and ingrained bad habits.
Agility: Effectively responding to the unpredictable, and how to replace demoralising and overwhelming lists with more productive personal workflow habits.
Mindfulness: The importance of reflecting on how we are working, as well as the work we have to do.
Preparedness: How to avoid constant firefighting, while making sure you can take on whatever comes your way, and are armed to do your best work.
Human not Superhero: Nobody's perfect. It's OK to be Human. In fact we encourage it! We'll look at how to manage your energy, concentration and motivation in a sustainable way.
What you'll do
Individual action planning and facilitated group discussion.
You'll leave the session with practical tools to boost productivity, reduce your stress-levels and ultimately make things happen in your work and life.
The ticket price includes a copy of Graham Allcott's best-selling "How to be a Productivity Ninja" book!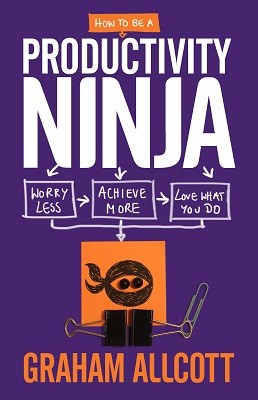 Any questions?
Please email us at hello@thinkproductive.co.uk or call 01273 913217
When & Where

Oak Tree Event Space
4th Floor, DeskLodge
1 Temple Way
BS2 0BY Bristol
United Kingdom


Friday, 1 December 2017 from 14:00 to 15:30 (GMT)
Add to my calendar
Organiser
My expertise
As a 'Productivity Ninja' I work with our clients to deliver and develop our range of workshops and coaching solutions. I combine a strong commercial background with the mindset of an educator, ensuring participants can implement their learning to best effect.
Why I do it
Throughout 12 years working in learning and development, the common thread has always been helping individuals, teams and organisations become the best at what they do with their skills and effort. The work we do at Think Productive delivers, very directly, exactly that.
My background
My journey to Think Productive had 3 elements. My first career in business for over a decade ensures I know what it's like trying to get stuff done in the 'real world'. Re-skilling as a qualified teacher and commercial trainer led to extensive L&D work in both public and private sectors. Finally there's my long time passion for personal productivity. When I saw what Think Productive were up to, joining the team was a "must do"!