Bath Spa University and the Society of Young Publishers Southwest welcome you to the 2nd Annual Publishing for Everyone Conference
About this event
UPCOMING VIRTUAL PUBLISHING EVENT: MAY 15TH 2021
FREE FOR STUDENTS AND SYP MEMBERS: voluntary donations are being accepted in support of The Book Trade Charity's diversity and inclusion initiatives.
Don't miss out on an incredible GIVEAWAY!
We at Bath Spa University, in collaboration with the Society of Young Publishers Southwest, are excited to invite publishing professionals, jobseekers, students, and tutors to the 2nd Annual Publishing For Everyone conference.
Make sure to mark May 15th in your calendar, and get ready for a game-changing conference, run and produced by students and professionals. We believe in innovative and diverse publishing, and hope you can join us virtually for vibrant panel discussions, featuring guest speakers from all areas of the publishing industry, students from universities across the UK, and incredible authors. There will be opportunities for you to ask questions, and network across social media and in breakout sessions on the day.
You can look forward to discussing what really matters in the book industry right now, and celebrating everyone and everything at the heart of shaping the future of publishing.
We are excited to announce that our keynote speaker will be Natalie Jerome, who will be opening the conference with her reflections on working across trade publishing and into the literary agency world, as well as building on her highly successful career from outside of London, in Wales.
'I'm delighted and honoured to be invited to join the Publishing for Everyone conference at Bath Spa University this year as its keynote speaker. The title of the conference speaks for itself and is aligned with everything I so passionately believe in. We have much work to do still to create the future business and indeed the world we all want to see – one that is inclusive, welcoming and fair for everyone's talents to flourish. We'd best crack on with it!' - Natalie Jerome, Aevitas Creative.
Below are our incredible array of panels:
● Creativity in Practice: a panel all about creativity (as it says on the tin!) and where it comes from. This panel is a platform for our speakers to explore and express their creativity. You will get to celebrate the panellist's work, ideas and inspiration with them.
● Owning your Voice: our Owning Your Voice panel is for neurodivergent authors and publishers in the book industry to get to talk about their experiences and the areas that need to change to make the industry more accessible. We are working with Amy Barrett, a champion of disability rights and Assistant Editor at BBC Science Focus, to make this panel as representative of the neurodivergent community as possible.
● Regional Publishing: this year we are putting a spotlight on Wales, and this panel shines a specific light on Welsh publishing and what it brings to the industry. We want to showcase the incredible creativity and innovation of Welsh publishers and discuss how being outside of London can open up opportunities for publishers more generally.
● Progressive Publishing: all about the future of publishing, discussing what our panellists believe the future of the industry needs to look like; how the publishing industry can become more eco-friendly, and how we can ensure that publishers are making the workplace and the books they produce powerful forces for positive change in the wider world.
● The Next Generation of Publishers: an interactive panel, where we will be asking you to submit any questions you have for our industry professional, and third-year bachelors and masters students at universities across the UK. This panel is all about the people about to dive into the world of publishing, with discussions ranging from advice during job interviews, to the changes our students want to make. This panel is dedicated to The Book Trade Charity who strive to help every individual to find their place in the industry by helping with integral things like accommodation during internships.
The SYP SouthWest is holding an incredible giveaway with Book Careers. When you get a ticket, you are automatically entered into the giveaway to win an employability consultation worth £59. Follow SYP SouthWest on Twitter and Instagram for more information: @SYP_SouthWest
We're doing things a little differently with tickets this year. You can get individual panel tickets or a (discounted) all-day ticket. The keynote speech is included in the full-day ticket and the Creativity in Practice ticket.
You can donate to The Book Trade Charity's diversity and inclusion initiatives through our ticket page. They are enabling people to take opportunities by helping them financially. Check out their current innovative project, the Bookbinders Cottages Development on their website here.
Follow us on social media to get involved with panels, and keep up to date with conference details. We're announcing speakers right now!
Twitter: @pubforeveryone
Instagram: @pubforeveryone_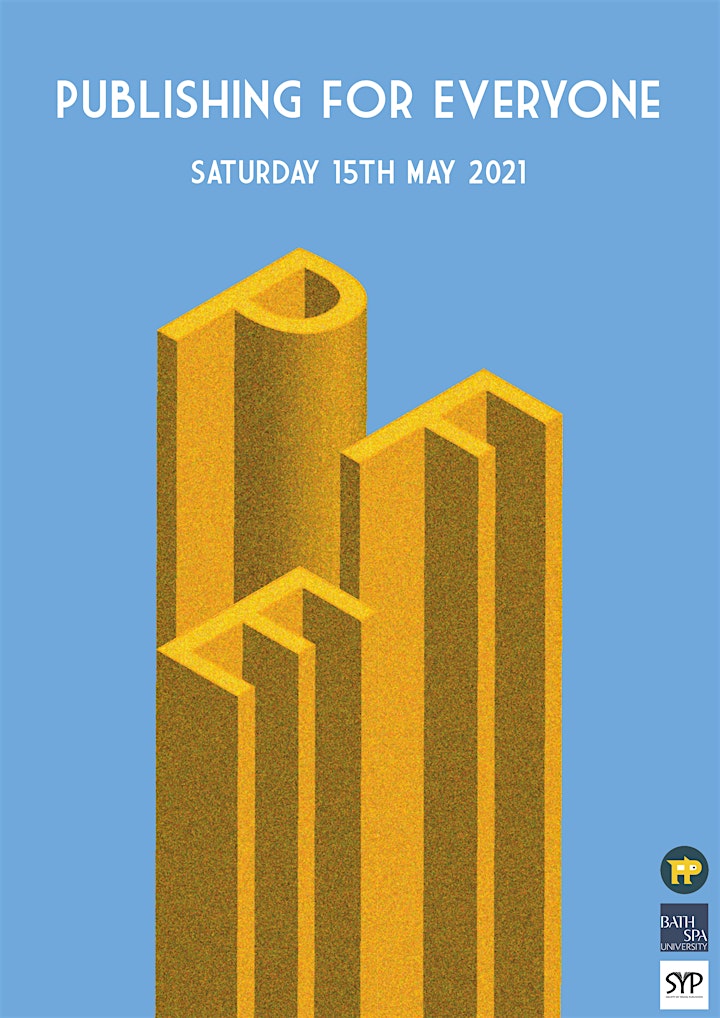 Date and time
Location
Refund policy