Description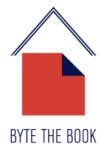 Since 2012 Byte the Book has been at the very forefront of the publishing industry, running amazing events at the best venues in London and at book fairs around the world. Our primary aims are to educate authors and publishers on the latest developments in the book world and to help our community make valuable connections with each other and across the publishing industry. You can see some reports on recent events here and here.
How can we make sure as publishers that we retain the standards the industry is known for? That's editorial standards, moral standards, design standards, making sure we publish books that mean something and books which challenge the status quo, pushing back against the crazy world we live in, and challenging those who threaten our democratic right to speak freely. Who are the publishers of tomorrow, and how can we put the building blocks in place now to ensure that standards remain in place for the future?
Nick Clee (Joint Editor of BookBrunch and Freelance Journalist) will chair and his panel will include: Emma Barnes (Founder and CEO of Bibliocloud), Sharon Parker ( Chief Operating Officer at Bonnier Publishing), and Daniel Crewe (Publisher, Viking at Penguin Random House).
As well as the talk you'll also have the opportunity to network with authors, agents, publishers and suppliers to the publishing industry before and after the discussion.
This event will take place at The House of St Barnabas, a not-for-profit private members' club working to break the cycle of homelessness. Byte the Book and HoSB member tickets are free. Non-member tickets for the event cost £25 (plus booking fee). A donation will be made after this event supporting the work of The House of St Barnabas' Employment Academy.

Byte the Book members can book their complimentary ticket below. HoSB members should contact member@hosb.org.uk to reserve their ticket.

This event is sponsored by