Pull Up to the Bumper: Black Bodies Trending (Nzingha Lecture 23)

Friday, March 20, 2015 from 6:30 PM to 9:00 PM (GMT)
Event Details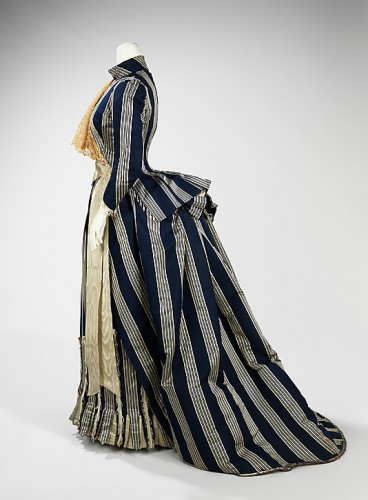 What physical attribute are Kim Kardashian, Jennifer Lopez and Jen Selter famous for ? When did this trend begin and who originated it ? What does any of this have to do with fashion and African physiques ?
Join us for a  visual and  verbal exploration of the changing dynamics between European fashions and the Black body.This illustrated talk by Teleica Kirkland Founder of the Costume Institute for the African Diaspora, will discuss the following themes:
A burgeoning theory on the influence of the creation of the bustle as developed by Charles Worth circa 1840's.

The Black body shape that is acceptable in white spaces and is seen on the catwalks around the world.

The self policing around the pervasiveness of the bottom amongst African and non African cultures



Plus Q & A and networking.
Admission free if booked via eventbrite. Donations accepted on the day
Queen Nzingha Lecture (23) Pull up to the Bumper: Black Bodies on Trend with Teleica Kirkland , Founder of the Costume Institute of the African Diaspora www.ciad.org.uk . This event is sponsored by the University of Arts London African Caribbean Society, President Kai Lutterodt.  www.ualacs.org 
Friday  20 March  6.30pm to 9.00pm. This event will start at 6.30pm, latecomers will miss out and may not get a seat. 
Queen Nzinga was an African Queen who fought against the European invasion of southern Africa (Congo/Angola). The Queen Nzinga lecture series will feature African female academics / holders of expert knowledge, speaking on topics of their choice on a monthly basis. The Nzinga lecture series will provide a regular platform for women of African descent to highlight important issues in  an academic setting. As a result of these lectures a  Black Women in Academia Support Group has been set up.

See  previous Queen Nzingha lectures here
https://www.youtube.com/blackhistorywalks
A National Association of Black Saturday Schools www.nabss.org.uk  and www.blackhistorywalks.co.uk production
See our other exciting talks, walks and films at www.blackhistorywalks.co.uk. Coming soon. 400 Years of Black Women Resistance Leaders, Grand Theft Africa with Dr Ama Biney, 50 years of Struggle: Black British Civil Rights,Planet of the Apes and X Men, Black History Movie Breakdowns, Guided Walking Tours of London, Legends of Ska https://www.facebook.com/blackhistorywalks/events 

About
the Speaker: Teleica Kirkland.
Teleica is  a fashion lecturer, and founder of the Costume Institute of the African Diaspora(CIAD); an organisation established to increase the study and understanding of clothing and adornment from Africa and the African Diaspora.
Her current reasearch focus is on dress traditions in the Caribbean and the wider Americas. In 2014 CIAD completed it's first major project charting the creation and use of madras cloth, from its Scottish tartan influence to clothing development in the Caribbean and the United States. The project comprised an exhibition, a documentary and a dance performance. Both the exhibition and the documentary are going on to be shown at the Museum of Archaeology and Anthropology in Cambridge from the 17th - 22nd March 2015.
The focus of her research throughout her Master's course was based on different aspects of dress and adornment from the African Diaspora. Her thesis was entitled Junk Anew: Sustainable Dress in the Bahamas and looked at the historical development of sustainable clothing in the Bahamas, particularly the tradition of straw plaiting. 

In 2011 she was awarded a Winston Churchill Fellowship which enabled her to undertake research in the Caribbean and complete a research paper entitled Cultural Dress and Costume History of the Caribbean which was published by the Winston Churchill Memorial Trust (http://www.wcmt.org.uk/sites/default/files/migrated-reports/1044_1.pdf). In 2012 I presented a paper on the Importance of Costume in African Diaspora Dance at the biennial Re:Generations Academic Conference held by the Association of Dance of the African Diaspora (ADAD).

Teleica will be presenting papers on her reserach into tartan's influence on madras cloth and clothing at the Victoria and Albert Museum's Art and Existence series on the 12th February 2015 and at the New Research Day held by the Association of Dress Historians on the 21st February 2015.

Email: teleica@ciad.org.uk  
When & Where

Podium Lecture Theatre
London College of Communication
Elephant & Castle
SE1 6SB London
United Kingdom


Friday, March 20, 2015 from 6:30 PM to 9:00 PM (GMT)
Add to my calendar
Organizer
Black History Walks offers guided Walking Tours of London to include its African history which goes back 3500 years. We run bus and river tours too.Walks take place in 12 different areas.We also offer films, talks and workshops each month all year. See website or join mail list for details.