Description
Join the fun with RamseyFlowers at St Paul's park woodland (behind Rosebowl)
Pumpkin carving open to all ages!
Along with mini-celebration of the harvest.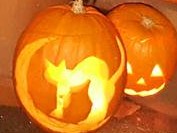 By registering here you also help us show the Council we need more free yoga and gardening.

Meet in front of the gate in the picture opposite to 27 Ramsey Walk.

RamseyFlowersN1 is a non-profit guerilla garden initiaitve which started to transform fly-tipping areas into flower picking havens in and around Ramsey Walk and at St Pauls Park.
Questions? Do you have something to offer for our event?
RamseyFlowersN1@gmail.com
07940983288
*Below is a before and after picture of our first project. Since Feb 17 there has been 0% fly-tipping!