Sales Have Ended
Registrations are closed
Thank you for signing up for the Pumpkin Hack! Please remember to bring your tickets with you to the event. See you on the Sunday the 29th October! Aberystwyth Robotics Club
Sales Have Ended
Registrations are closed
Thank you for signing up for the Pumpkin Hack! Please remember to bring your tickets with you to the event. See you on the Sunday the 29th October! Aberystwyth Robotics Club
Description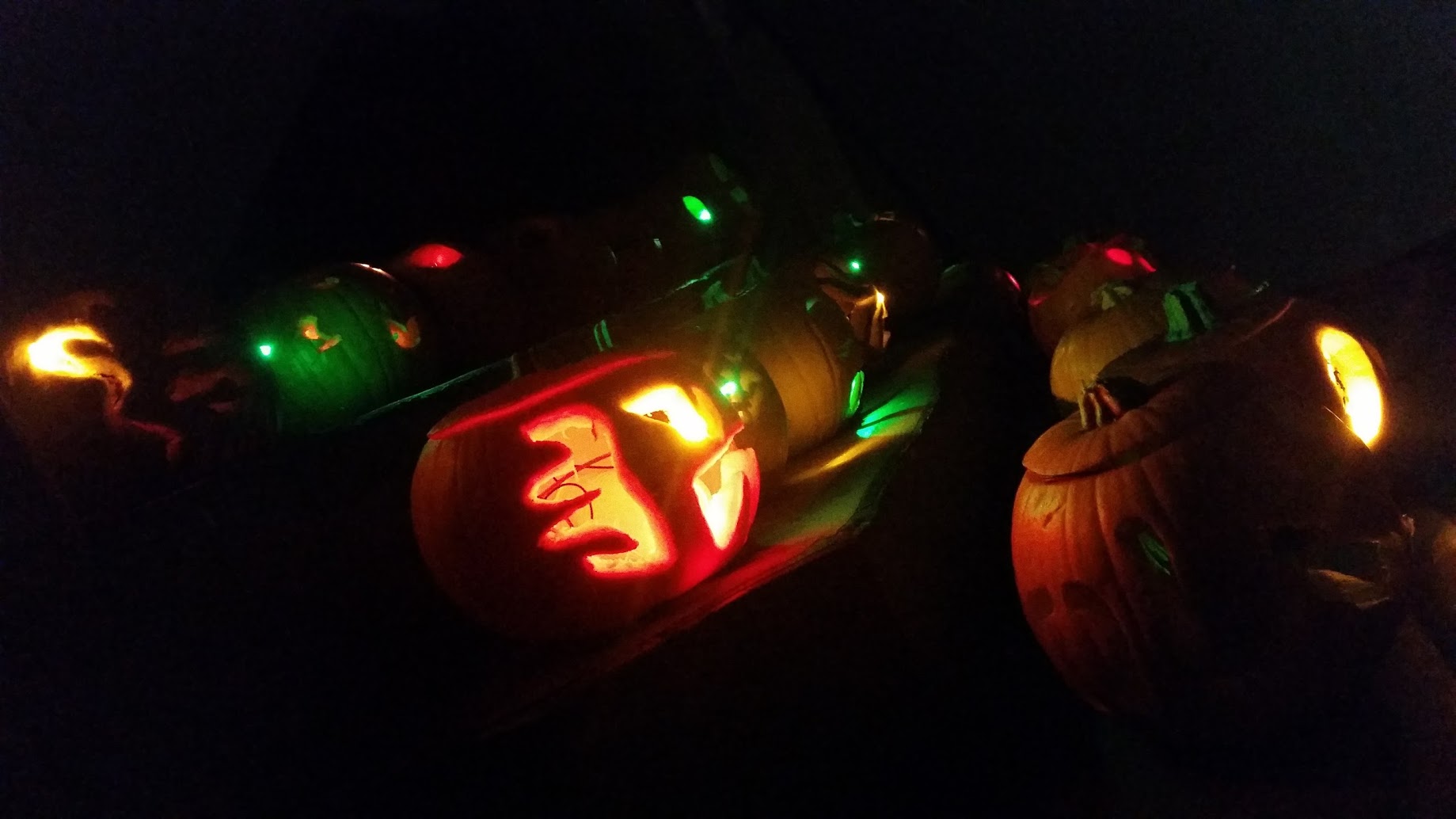 Above is a picture of last years pumpkins during the Pumpkin Hack
Ticket Details:
One ticket booked = 1 pumpkin and kit


You will need to bring your ticket on the day for a quick and easy sign in.
More information about the event will be posted on this page at a closer date.
--------------------------------

Manylion Tocynnau:
Un tocyn = 1 pwmpen ac offer

Bydd angen dod â'ch tocyn ar y dydd i wneud cofrestru'n hawdd a chyflym.
Caiff manylion pellach eu hychwanegu at y dudalen yma yn nes at y dyddiad.
---
This family workshop, based in Old College, is aimed at children between the ages 6 and 12, and their parents. We'll design a pumpkin head, and with help from our student ambassadors we'll carve the design into a real pumpkin. We'll learn about circuits to make a set of lights to go inside the pumpkin. And we'll learn about programming, to make the lights flash on and off.

--------------------------------
Mae'r gweithdy teulu yma yn yr Hen Goleg wedi'i anelu at blant rhwng 6 a 12 oed, a'u rhieni. Byddwn ni'n dylunio pen pwmpen a gyda help ein llysgenhadon myfyrwyr byddwn ni wedyn yn cerfio'r dyluniad ar bwmpen go iawn. Byddwn ni'n dysgu am gylchedau a sodro wrth iddyn nhw wneud set o oleuadau i fynd y tu mewn i'r bwmpen ac fe fyddan nhw'n dysgu am raglennu wrth fynd ati i wneud i'r goleuadau fflachio.
---
(For those interested in the technical details: it'll be an Arduino microprocessor, a battery pack, and some LEDs. The programming will be in Arduino C, using our laptops. All carving will be carefully supervised, but for safety reasons we insist that children and parents work together.)
--------------------------------
(I'r rheiny â diddordeb yn y manylion technegol: byddwn ni'n defnyddio meicrobrosesydd Arduino, pac batri, ac ychydig o LEDs. Byddwn ni'n defnyddio Arduino C a chluniaduron ar gyfer y rhaglennu. Caiff y cerfio ei oruchwylio'n ofalus ac am resymau dioglewch, rydyn ni'n mynnu bod plant a rhieni yn gweithio gyda'i gilydd.
---
Participants will be welcome to take their pumpkins home, but we'll charge a small overhead for those who want to take the electronics too. This will cost £8 for the pumpkin and kit.
--------------------------------
Mae croeso i bawb sy'n cymryd rhan fynd â'u pwmpenni gartref ond byddwn ni'n codi tâl bychan ar y rheiny sydd am fynd â'r offer electroneg hefyd. Bydd hwn yn gostio £8 am yr pwmpen ac offer.