PUNJAB SOUNDS: AFFECT, TECHNOLOGY AND THE AURAL ACROSS REGION & NATION
About this event
Punjabi music, characterised by the sounds of the ḍhol, bhaṅgṛā music and the bass-laden beats of rap-infused Punjabi lyrics, has a ubiquity and global popularity that are perhaps rivalled only by the Hindi film song. In the process, it is often homogenised. We complicate this prevalent stereotyping by excavating the twentieth-century genealogies of Punjab's sounds and mapping the several alternative trajectories of sound and music in the region. Join us for a 3 Day Colloquium, held online on Zoom, featuring new research by scholars on Punjab's Sounds from across the three Punjabs: in India, Pakistan, and in the Diaspora.
Organisers:
Dr Radha Kapuria, University of Sheffield & Dr Vebhuti Duggal, Ambedkar University, Delhi
Email: punjabsounds@gmail.com
Twitter: @PunjabSounds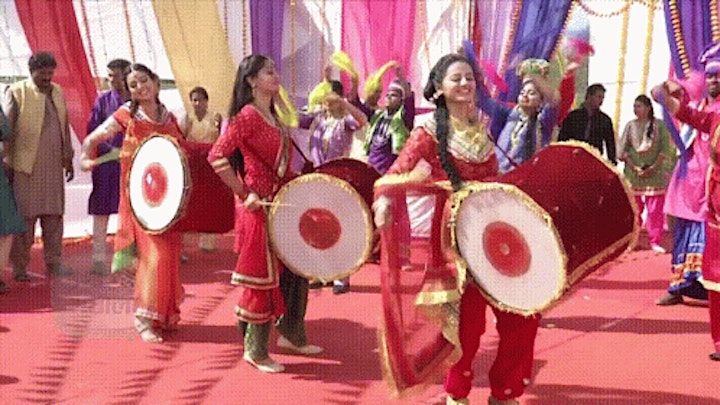 Punjab Sounds Colloquium Program
Day 1: Monday, 16 August 2021
12:30 pm BST / 5 pm IST: Welcome, Introductions & Opening Remarks (Vebhuti Duggal, Ambedkar University Delhi and Radha Kapuria, University of Sheffield)
1.00 pm–2.30 pm: Panel 1 ┃Sonic Identities
Discussants: Yogesh Snehi, Ambedkar University Delhi ◆ Bindu Menon, Azim Premji University
1. Performing the 'authentic' sounds: Kavishri and Punjabi Identity (Navkiran Natt, Delhi)
2. Dhamal: A Journey from Shrines to Films (Zafar Iqbal, Lahore)
3. Blind Musicians at Sikh Shrines (Naresh Kumar, New Delhi)
2.30 pm–2.45 pm: Tea Break & Networking
2.45 pm– 4.15 pm: Panel 2 ┃Sounding Space and Geographies
Discussants: Anjali Gera Roy, IIT Kharagpur ◆ Michael Nijhawan, York, Canada
4. One Transnation under a Groove: Genealogies of 'Chaal' (Gibb Schreffler, Pomona, California)
5. Classical Music of West Punjab: Where Sonic Transacts Social (Ghulam Ali Shair, Warwick)
6. Sound Features of Language Shift in Pakistani Punjabi (Sarah Beckham, University of Wisconsin-Madison and Umar Anjum, Lahore University of Management Sciences)
5.00 pm to 6.30 pm: Online Concert by Eternal Taal (Birmingham.
****End of Day 1 *****
Day 2: Tuesday, 17 August 2021
12.30 pm–2.00 pm: Panel 3 ┃ Film and Popular Music
Discussants: Rajinder Dudrah, Birmingham ◆Gwendolyn Sarah Kirk, Lahore University of Management Sciences
1. 'Yaar Tera Superstar, Desi Kalakaar': Sonic Performativity of Punjabiyat and Affect in Yo Yo Honey Singh's Music (Prashastika Sharma, Delhi)
2. Decoding Loudness: The Punjabi Soundscape in Bollywood (Shikha Jhingan, New Delhi)
3. Punjabiyat within Hindi-Urdu Cinema (Ravikant, Delhi)
2.00 pm–2.15 pm: Tea Break & Networking
2.15 pm– 3.45 pm: Panel 4 ┃The Punjabi Diaspora
Discussants: Virinder Kalra, Warwick ◆ Kavita Bhanot, Leicester
4. Birmingham's South Asian Music Academies: Practice, Performance and Sound (David Kerr, Birmingham/Johannesburg)
5. Mixing the legends–capitalising on nostalgia in diasporic Punjabi remix culture (Julia Szivak, Birmingham)
6. Nostalgia, space and affect in British Asian music (Laura Leante, Durham)
3:45 pm–4.00 pm: Tea Break
4.00 pm–5.30 pm: Panel 5 ┃Gender and Representation
Discussants: Anshu Malhotra, University of California (Santa Barbara) ◆ Katherine Butler Schofield, King's College London
7. Trinjan Audiotopias: Complaint, Desire, and the Bawdy in Punjabi Giddha Performance Practices (Kiran Sunar and Ranbir Johal, Vancouver)
8. Women, the Tabla and the Dhol/ak/i: (En)Gendering Percussion for Punjab and Beyond (Radha Kapuria, Sheffield)
9. Folkloric Poetic Traditions and Gender Relations: An Ethnomusicological Study of Sithnia'n as a Celebratory Resistance in the Punjab (Sumera Saleem, Sargodha)
*****End of Day 2*****
Day 3: Wednesday, 18 August 2021
12.30 pm–2.00 pm: Panel 6 ┃Technology and Materiality
Discussants: Salma Siddique, Humboldt-Universität zu Berlin ◆ Aditi Deo, Ahmedabad University
1. Modernity, Modality and Meaning: Technological Mediation of Śabad Kīrtan at the Golden Temple (James Kirit Singh, London)
2. Two metaphors of birha/Longing in Popular Punjabi Sufi Music (Sakoon Singh, Chandigarh)
3. Musical Subalternity, Ontology and Mediation: Sounding the Contested Genealogies of the Punjab gharānā (Ronit Ghosh, Chicago)
2.00 pm–2.15 pm: Tea Break & Networking
2.15 pm– 3.45 pm: Panel 7 ┃Affect and the Aural
Discussants: Thomas Hodgson, Oxford ◆ Omar Kasmani, Berlin
4. The Double Sweetness of Honeyed Milk: the Sounds of Saif al-Muluk and the Formation of a Cosmopolitan Punjabi Selfhood (Taimoor Shahid, Chicago)
5. From identity to affect: Exploring technology and the sonic in Dalit Music (Radhika Kumar, New Delhi)
6. Youtube Qawwālī as Affective Solidarity in India-Pakistan Relations (Thomas Graves, Durham)
3.45 pm–4.00 pm: Tea Break and Networking
4.00 pm-4.30 pm: Concluding Remarks (Vebhuti Duggal, Ambedkar University Delhi and Radha Kapuria, University of Sheffield)
Colloquium Concludes
*******************************************************************