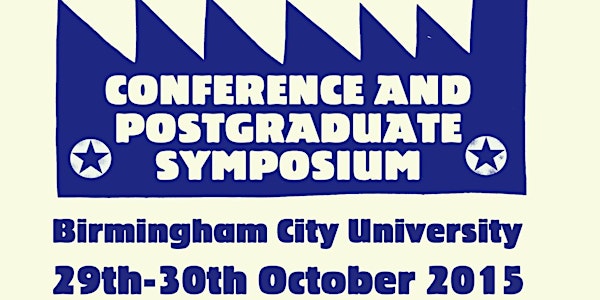 PUNK NOW! 2nd Annual Punk Scholars Network Conference & Postgraduate Sympos...
Location
Birmingham City University Parkside Building
Cardigan Street
Birmingham
B4 7BD
United Kingdom
Description
Birmingham City University, Birmingham centre for Media and Cultural Research, London College of communication, Punk Scholars Network present
PUNK NOW! The 2nd Punk Scholars Network Annual Conference and post-Graduate Symposium
0900-1730 Thursday 29 October and 0900-1700 Friday 30 October
The Shell
Birmingham City University Parkside Building
Cardigan Street
Birmingham
B4 7BD
5 minutes walk from Moor Street Station, 10 minutes walk from New Street Station, 15 minutes walk from Snow Hill Station. Parking and accommodation available nearby.
Registration closes at 1700 on Wednesday 28 October 2015
---

---
Following the dynamic emergence of punk in the UK, USA and Europe in the 1970s, the subculture spread widely. As punk and new wave gained commercial and critical success, together with an attractive notoriety, it soon began an ongoing journey around the globe – both as a product and as an ideology.
Punk, then, despite its omnipresence in contemporary underground and popular cultures, is clearly more than legacy music.
More than forty years after the proto-punk progenitors of Detroit and New York unconsciously launched an underground revolution, to continue what some of the 60's and 70's anarchic counter culture propagated, and after untold premature obituaries, it appears that punk – in terms of music, philosophy, and identity – remains in rude health.
Punk scenes continue to thrive as far afield as Russia, South America, India, Pakistan, China, Japan, Eastern Europe, Africa, the Middle East and Indonesia – 2011 saw the first official record release from a Saudi Arabian punk band, Sound of Ruby, while other scenes have established their mark in Madagascar, Algeria, Uzbekistan, Kyrgyzstan, even Tibet and the Himalayas.
Meanwhile, nearer to home, an underground punk scene never actually went away and continues to 'mutate and survive'– ranging from the continued support for longstanding bands and scenes, to the network of emerging small-scale gigs, fanzines, music distribution, (sub)cultural and political activities of a truly cross-generational subculture.
This joint conference and postgraduate symposium seeks to illuminate the current landscape of contemporary punk in all of its global, musical, political and (sub)cultural manifestations.
---
Day 1 schedule: Thursday 29 October 2015
0900-0930 Registration and refreshments
0930-0945 Welcome - Matt Grimes (BCU/PSN), Prof Paul Long (BCU/BCMCR)
0945-1110 Panel 1, Post Grad Panel: Brave New Worlds: European Punk Scenes - Kirsty Lohman, Raph Kosters, Sonja Zakula
1110-1130 Refreshments
1130-1255 Panel 2, Academic Panel: "I wanna be me!": Pedagogy and Punk Identity - Jessica Schwartz, Anita Raghunath, Brian Schill
1300-1345 Lunch
1345-1510 Panel 3, Post Grad Panel: More than safety pins and spit: Punk Creativity - Michael Blaß, Simon Le Roulley
1510-1530 Refreshments
1530-1620 Keynote:'Punk Rock: Radical Politics, Radical Aesthetics or Just The Same Old Game?' - Dr Pete Dale (MMU/PSN)
1630-1730 Curatorial 'tour' of the 'Punk Rock! So What?' Art Exhibition followed by a Q &A - Dr Russ Bestley (LCC/PSN)
1930-1100 Option for dinner and social
Notes: Dinner is optional - all diners will be responsible for paying for their own meal and drinks. Refreshments and lunch are provided courtesy of Birmingham School of Media.
---
Day 2 schedule: Friday 30 October 2015
0900-0930 Registration and refreshments
0930-1050 Panel 1, Post Grad Panel: Oi Oi! There's a Riot (Grrrl) going on - Bethany Kane, Dominic Deane, Megan Sormus
1050-1110 Refreshments
1110-1230 Panel 2, Academic Panel: "Safe European Home"?: Punk scenes in Europe - Michael Murphy, Roy Wallace, Luc Roben & Solveig Serre
1230-1310 Lunch
1310-1400 The Spectralities of 2015 UK DiY punk: The Quest for the Authentic Punk Artefact - Dr Alastair 'Gords' Gordon (DMU/PSN)
1400-1500 Panel 3, Academic Panel: Punk past and present - Alex Hay, Holly Tessler
1500-1515 Refreshments
1515-1635 Panel 4, Post Grad Panel: Punk Attitude!: Internal/external manifestations and legacy - Amy Corcoran, Sophie Sparham & Gez Addictive, Zoe Armour
1635-1700 Plenary/conference close: Punk Scholars Network committee - Matt Grimes, Russ Bestley, Alistair 'Gords' Gordon, Pete Dale
Notes: refreshments and lunch are provided courtesy of Birmingham School of Media.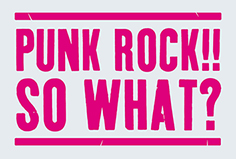 The PUNK ROCK!! SO WHAT? exhibition, showing the changing imagery of punk, as well its influence on societal, cultural and political thinking, is on display in the Parkside Gallery until Friday 13 November 2015.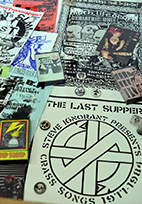 ---
PUNK NOW! or PUNK ROCK!! SO WHAT? Enquiries: lyle.bignon@bcu.ac.uk and @matt.grimes@bcu.ac.uk