Location
RSPB Rainham Marshes Visitor Centre
New Tank Hill Rd
Purfleet
RM19 1SZ
United Kingdom
A two part walk around RSPB Rainham marshes and over to High House Production Park with a sustainable community theme.
About this event
Purfleet-on-Thames walk: Grow Your Own
Sun 13th June 10am - 4pm (split)
Starts: RSPB Rainham Marshes
Ends: High House Production Park
This walk is split into two parts, both meet at RSPB Rainham Marshes.
IF YOU WISH TO JOIN BOTH WALKS, PLEASE BOOK BOTH SEPARATELY.
10am - 12.15pm: The first part of this walk explores the award winning bird sanctuary at RSPB, built on ancient marshland and once used as a firing range it offers spectacular views of Purfleet-on -Thames and is the perfect place for us to reflect on our dreams for a more sustainable community.  Living London's Director Saira Niazi will join us to lead the conversation.
12:15pm - 4pm: The second part of the walk will pause at the Beacon for a 'welcome to Purfleet-on-Thames' talk with a brief history of the area, and a visit to Heavenly Greens Fruit & Veg based at St Stephen's Church, before continuing to High House Production Park.
At High House Production Park members of the Purfleet-on-Thames community will share their journeys and local connection, bringing food, recipes and music. Together, we will capture our dream for a sustainable community by creating a recipe for Purfleet-on-Thames.
Please bring your own picnic to enjoy during the recipe talks by local volunteers.
Please read our Covid-19 Walk Guidelines before booking.

Schedule
Walk 1
10:00: Meeting point/ registration: at RSPB Rainham Marshes Visitor Centre, New Tank Hill Rd, Purfleet, Essex, RM19 1SZ
10:15 – 12:15: Walk Part 1
Walk 2
12:15: Meeting point/ registration: at RSPB Rainham Marshes Visitor Centre, New Tank Hill Rd, Purfleet, Essex, RM19 1SZ
12:30 – 14:00: Walk Part 2
14:00 – 16:00: High House Production Park talks and picnic
16:00: End of walk: High House Production Park, Vellacott Close, Purfleet, RM19 1RJ
Walk Info
Walk 1
Duration: 2 hours
Distance: 3.8 miles
Grading: Moderate
Terrain: A mixture of paved and unpaved paths as well as grassland and dirt tracks. Part of this walk involves climbing a moderate hill, one part of the decent is fairly steep and uneven. Please ensure you have appropriate footwear.
Access: Not accessible to wheelchairs and pushchairs.
Walk 2
Duration: 1.5 hours
Distance: 2 miles
Grading: Easy
Terrain: The majority of this walk takes places on pavements however some pathways are slightly uneven and involve busy road crossings. At the beacon we will walk across a grassy area without a clear pathway but all of the walk is accessible to wheel chairs and pushchairs.
Access: Is accessible to wheelchairs and pushchairs.
Walk Leader: Jayshree Patel
Route Map
Walk 1 map: Circular walk around RSPB Rainham
View the walk route on Wikiloc
Please note the green start marker on the map is not correct.  Please meet at RSPB Rainham Marshes Visitor Centre, New Tank Hill Rd, Purfleet, Essex, RM19 1SZ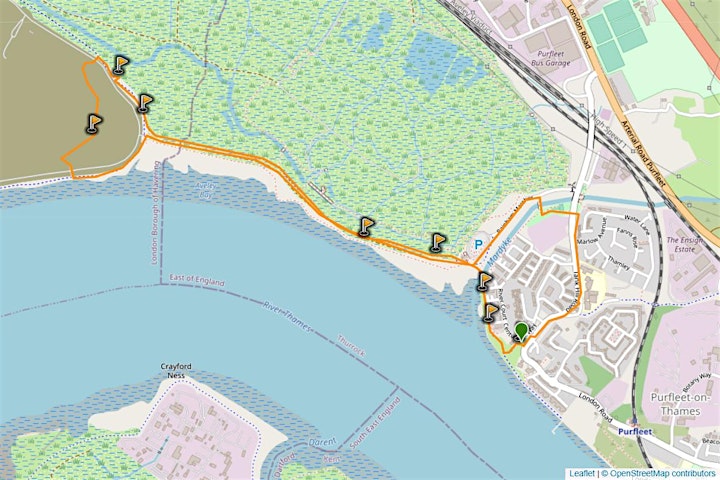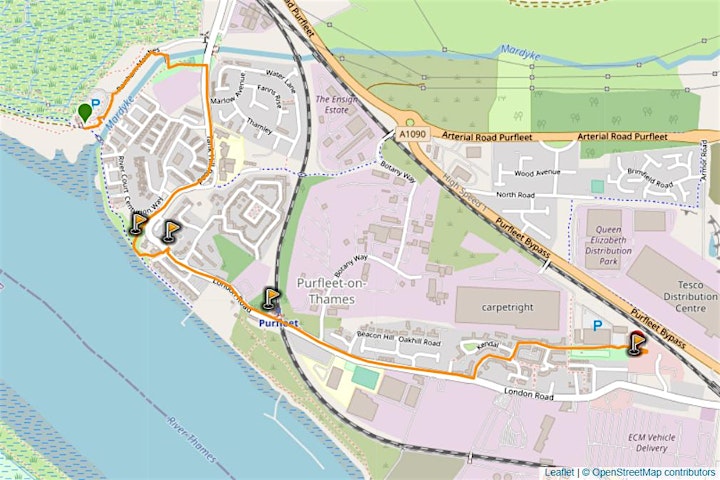 Travel
Train
The nearest train station at the start & end: C2C Purfleet Station
This is a 15 minute walk to RSPB Rainham and High House Production Park.
Bus
Number 44 stops on London Road near both the start and end of these walks.
Service timetables change so please check the Ensign Bus Schedules for latest information
Parking
Parking is available at RSPB Rainham but the car park closes at 5pm so please allow time to return to your car if you continue to the walk to High House Production Park.
Free parking is available at HHPP if you wish to park there and walk to the start.
Accessibility
Walk 1 is not accessible for wheelchairs and pushchairs due to the steep hill that forms part of the route.
Walk 2 is accessible for wheelchairs and pushchairs but please note part of the walk is via busy Tank Hill Road and at times pathways are quite narrow, although there are suitable road crossings.
Walk Safe
Read the walk guidelines/ Covid Safety information here.
A face mask is essential for this walk.  You will not have to wear face coverings for the duration of the walk but they MUST be worn if you wish to use public toilets or are travelling via public transport.  There will be some indoor activities at High House Production Park that will require a facemask if you wish to participate, although this is optional.
Please ensure that you are properly equipped for all walks. The weather can be unpredictable so bring waterproof clothing and/or sun hats and sun cream – it's best to be prepared for everything!
Walking boots/shoes are recommended, but otherwise please wear suitable and comfortable footwear- best to leave open-toe sandals or high heels at home.  Make sure you bring a packed lunch if necessary, and plenty to drink.
You need to choose walks within your capabilities; the walk leaders are experienced but must take your word that you are sufficiently fit for the grade of walk you have chosen. T100 walks are of different lengths and on different terrain. Some are mainly on footpaths, and others mainly on footpaths where ground may be uneven. If one walk doesn't suit you, there is probably another one that will.
Due care has been exercised in organising the walks, however Kinetika, the funders and associated partners of the project cannot accept liability for loss, accident or injury caused to any person following the routes, especially unsupervised.  Participants under the age of 16 must be accompanied by an adult.
Photos/ filming
We will be taking photographs and video of this event to promote and celebrate the project in print and online. If you do not give consent to be photographed or filmed, that's absolutely fine, please let a member of the Kinetika team know on the day.
Share your own photos on social media with #T100Dreaming