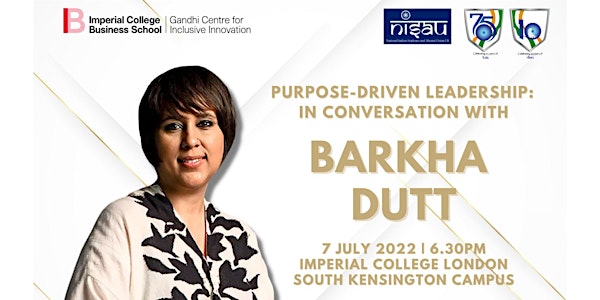 Purpose-Driven Leadership: In Conversation with Barkha Dutt
Location
SW7 2AZ
Imperial College Business School
South Kensington Campus
London
SW7 2AZ
United Kingdom
Join us for an interactive, wide-ranging conversation with multi-award winning journalist, entrepreneur and author, Barkha Dutt
About this event
Join us for an in-person interaction with Barkha Dutt, a multi-award winning, Emmy-nominated journalist, entrepreneur and author. This wide-ranging conversation will cover reflections from Barkha's experiences, both as a journalist reporting from some of the most dangerous conflict zones in the world; as well as an entrepreneur seeking to democratize news reporting in India through innovative digital platforms and people-centric reporting. Most reflective of her purpose-driven and innovative style of work has been her globally acclaimed coverage of the Covid pandemic in India - in 2020 and 2021 at the height of Covid in India and during the world's largest lockdown, Barkha travelled India by road, covering 30,000 kilometres to report on the pandemic. She will share some of these leadership experiences which she has captured in her recently released book, "To Hell and Back: Humans of COVID", copies of which will also be available. Through the conversation we will explore how the world of media can be made more inclusive and how communities can be served through resource constrained innovation. We will also consider learnings from the pandemic, such as the mass communication of science, as the world faces greater challenges including climate change and future potential pandemics.
There will be time for an audience Q&A.
SPEAKER
Barkha Dutt (@bdutt) is one of India's best-known journalists with over two decades of reporting experience from some of the most dangerous conflict zones of the world. She is the winner of over 40 national and international awards including the Padmashri, India's fourth-highest civilian honour and the World Economic Forum's Global Leader for Tomorrow. She is a columnist with the Washington Post and Hindustan times and the Founding Editor of digital platform, Mojo Story. She is a Visiting Fellow at Reuters Institute, University of Oxford. She has authored "This Unquiet Land: Stories from India's Fault Lines" and "To Hell and Back: Humans of COVID." Dutt is based in Delhi.
MODERATORS
Professor Sankalp Chaturvedi (@ProfChaturvediS) is Director, Gandhi Centre for Inclusive Innovation, Imperial College Business School at Imperial College London.
Sanam Arora (@arora_sanam) is an Investment Management Consultant, and Founder & Chairperson of National Indian Students & Alumni Union (@NISAU_UK), UK. She has a special interest in championing India globally and examining issues related to contemporary India.
About this event
This event is on-site at Imperial College Business School, Imperial College London (South Kensington Campus, London, SW7 2AZ). Registration is free but essential. PLEASE NOTE that seats are limited & will be offered strictly in order of registration. Acknowledgement of registration via EventBrite is not guarantee of entry to the event.
Eligible attendees will receive individual confirmation via e-mail on the day of the event, along with details of venue.
This event is jointly organised by the Gandhi Centre for Inclusive Innovation at Imperial College London and the National Indian Students & Alumni Union (@NISAU_UK), UK and is part of the NISAU's 'India at 75' and 'NISAU at 10' series of activities.