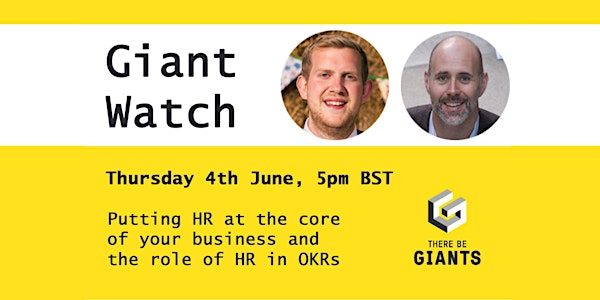 Putting HR at the core of your business and HRs role in OKRs
Striving for organisational agility? Is HR at the core of your business?
About this event
In 2017, 94% of 10,000 HR Leaders across 140 countries said agility and collaboration are absolutely critical to an organisation's success.
Agility has never been more important, so as we emerge in to the 'new normal' join us for what promises to be a fascinating discussion around true organisational agility.
In this episode of Giant Watch Head Giant Roger Longden will discuss the critical role that HR plays when it comes to not only an organisation's culture but also the role it plays in achieving organisational agility.
Roger will be joined by fellow Giant Lawrence Walsh to delve further into the core of organisations, to offer insights and examples of how HR and OKRs can truly help an organisation become agile.
Speakers:
Roger Longden
I've always had a strong focus on performance and I spotted the need for businesses to hugely improve how they built their strategy/plans.
I recognised that OKRs were the answer and have since built TBG into what it is today – a highly committed team of OKR professionals who are passionate about helping businesses grow.
Lawrence Walsh
Having spent the last 18 months with There Be Giants developing the methodology he is well versed in all things OKR and is also now a qualified CMI Level 7 Coach.
I have worked alongside the Executive teams of businesses ranging from pre-revenue startups with 3 members of staff to organisations with well over 1000 employees and turnover in the hundreds of millions.
Driven a 20% increase in performance and 200% growth in these organisations by working with Execs to build Missions and Strategies that enable them to cascade a methodology throughout their organisations; keeping their teams aligned under their goals whilst simultaneously increasing accountability and team motivation.