Description
A hands-on workshop for health and care practitioners to learn about human-centred design and serious play as tools for improving services
Design led approaches to improving services are becoming increasingly popular in health and social care, as evidenced by NHS Digital's recent launch of a set of design principles and a design manual for building digital services. With digital technologies having a part to play an enabler in many improvement and innovation initiatives, this workshop focuses on helping more people develop an understanding of the importance of design in the sector.
This is an essential workshop for anyone involved in improving health and care services in the NHS, third and public sectors, Led by a team of designers from the NHS and technology sectors, we will give you the opportunity to experience a variety of co-design approaches, tools and techniques that you can apply in your improvement and innovation initiatives.
Centred around the needs of users, these approaches can be blended with commonly used methodologies in health and care such as QI and service improvement. Whether you are a practitioner, improvement specialist, manager or policy person there will be something for everyone.
Lunch will be provided at this event so please let us know your dietary requirement when booking your place.
​
Our facilitators:
Tero Väänänen, Principal Service Designer at NHS Digital
At NHS Digital, Tero is leading the service design for the Empower the Person portfolio of preventative and self-care health services, and has led the service design for NHS Login.
He has 20 years of experience in solving complex user experience problems in health and care, telecom, finance, entertainment, and public sectors. He's a technology geek and often ponders about the future of robotics and artificial intelligence and how they will change the health and care services.
He has a Bachelor of Engineering degree in Computer Engineering and a Master of Arts in Interactive Multimedia.
Pedro Ferreira, Principal Digital Strategist at SPARCK Leeds - Pedro has over 10 years of experience around Digital, across a varied range of public and private sectors. Naturally gravitating towards Service Design Pedro has been more recently involved in shaping the services of the NHS App, one of the key strategical government and healthcare projects with nationwide impact. Pedro is passionate about co-designing for transformation at scale and currently coordinates SPARCK in the Leeds office.
Suzanne Morton, Senior Development Officer
Suzanne has over 10 years' experience developing and managing projects and services across health and social care and now works in the technology and innovation space. Suzanne has a partnership role across Leeds Beckett University and Leeds City Council, feeding into the development of the health innovation ecosystem of the city and also managing the Leeds site for two Horizon2020 projects, both part of the IoT strand of funding from the EU. She also manages a pop-up project working to drive innovation and inclusion through co-design sessions relating to assistive technology, engaging citizens and relevant stakeholders.
Steve Lloyd-Smart, Integrated Design Lead at mHabitat
With 10 years of NHS experience Steve's remit is to lead user-centred design projects, provide technical support and advice, develop prototype products and provide IG / privacy advice.
Rochelle Gold, User Research Lead at NHS Digital
Rochelle Gold leads User Research for NHS Digital and for the Empower the Person portfolio. She leads a team of 40 user researchers working in multidisciplinary teams to design and deliver health and care services.
She has 18 years experience of conducting research in the public, private, academic and health sectors and has previously worked for organisations such as the Probation Service, Commission for Social Care Inspection (now CQC) and the Centre for Criminal Justice, Economics and Psychology at the University of York.
Steven Young, Project Manager with the Adults and Health Directorate at Leeds City Council
Steven delivers projects with a specific focus on innovation and transformation of Health and Social services. This has included delivery of Assisted Living Leeds, the city's specialist centre for technology enabled care services and development of additional services such as the ALL Inn Innovation Lab which provides a space for consultation and design sessions between designers of technology enabled care products and the end user.
Toby Page, Solution Architect at Leeds City Digital Partnerships Team
Toby has been working in healthcare IT for over 15 years and has a background in web development, UX, business analysis, clinical informatics and solution architecture. He has been involved in the design and development of primary care, child and mental health systems as well as facilitating usability testing in various organisations (eye tracking, heuristic evaluation, low-fidelity prototyping). Toby works on initiatives relating to health and care for the city of Leeds as well as work streams within the Yorkshire and Humber Local Health and Care Record Exemplar (LHCRE).
---

This event is sponsored by SPARCK.
SPARCK is the Strategic Design Consultancy of BJSS, working with ambitious brands to deliver growth and cost optimisation by designing business strategies, services and products centred around customers and users.

We bring together the best of creative design and solid tech delivery; our creatives and technologists work hand in hand and we have a common, design-thinking method that moves problems or ideas rapidly through design, test, prototype and industrialise.

SPARCK is growing fast and have over 50 creatives in 5 locations across the UK.
---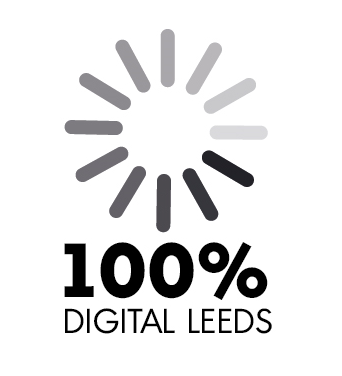 100% Digital Leeds is the health and care theme of the Leeds Digital Festival #LDF19.
Curated by mHabitat on behalf of the city, 100% Digital Leeds bring together international, national and local perspectives on current digital themes in health and care. From the ethics of AI, through to how we use personal data and the impact of social media on vulnerable teens, our events aim to stimulate debate and shine a light on the great stuff happening in our city. We are delighted to have BJSS as our headline sponsor at #LDF19 and we are also grateful to our individual event sponsors in helping make #100DigitalLeeds #LDF19 happen.
Most of our #100DigitalLeeds events will be run from the recently launched Co>Space North – a collaboration and co-working space on the fifth floor of Platform in the heart of the city. At Co>Space North we are creating a community of makers and doers passionate about digital health and tech for good. Anyone signing up to be a member of Co>Space North during the two week festival period gets their first month membership for free! Email us at cospacenorth@wearemhabitat.com to find out more and get involved.
Our city's Health and Wellbeing Strategy 2016-2021 sets out a clear vision that 'Leeds will be a healthy and caring city for all ages, where people who are the poorest improve their health the fastest'. This includes maximising the benefits from information and technology as a key priority. The health and wellbeing strand of the Digital Festival is a celebration of the diverse and innovative work taking place to help us achieve our shared, bold ambition for Leeds to be the best city for health and wellbeing.