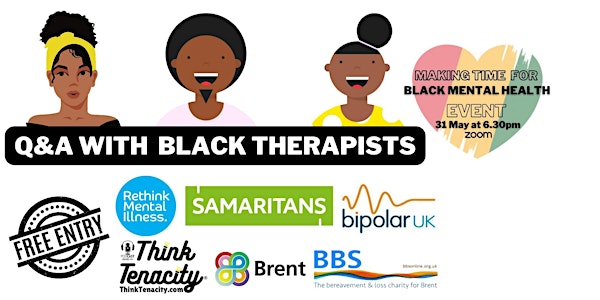 Q&A with Black Therapists - Making Time for Black Mental Health Zoom Event
Free event open to all including non-BAME communities to raise cultural awareness on how to approach discussions around Black mental health
About this event

Celebrating Mental Health Awareness Week 2022 - Black People NEED ACCESS to Black Therapists - Black people are at a higher risk of developing mental health conditions than white people (source: Metro Newspaper).
(LIMITED PLACES!) Due to POPULAR demand we have created a FREE event, with funding from London Borough of Brent, of three Black Therapists who will answer your questions. It's free to attend but TICKETS are limited and registration WILL close
#ItIsOKAYNotToFeelOK - In our Black community, It can be hard to know how to start or where to turn to for mental health support. Remember it's always okay to ask for help! We're "Making Time for Black Mental Health" on 31st May at 6.30pm.
**WHY YOU SHOULD BOOK YOUR TICKET EARLY TO ATTEND**
(1) Enjoy an informal panel of three Black therapists who can relate to your specific mental health cultural life experiences – including issues of race, generational trauma and family issues.
Get ALL your mental health questions answered:
What is depression?
When you're feeling lonely, how to overcome loneliness?
What is an Anxiety Disorder?
What is Trauma/PTSD?
FOLLOW US ON HASHTAG #YourMHquestion - Your Mental Health Question? @ThinkTenacity
(2) This event is also open to non-BAME communities to raise your cultural awareness because this event will give you insights on how to approach discussions around mental health within the Black community. You will learn and understand the issues facing the Black community relating to accessing mental health treatment.
EVENT BONUS - Panel discussion with our charity partners & sponsors:
"Why do you think most Black people don't share their mental health issues or mental illness?" - Breaking stigma together!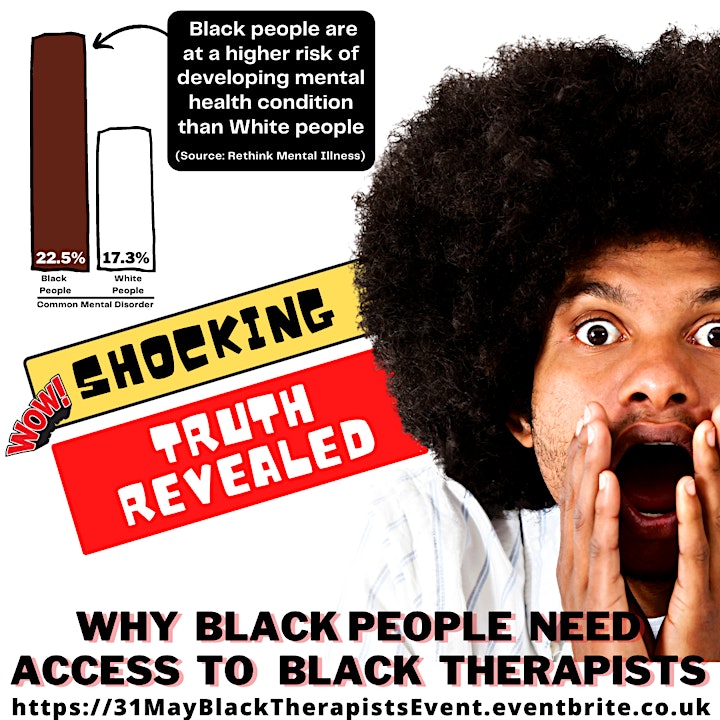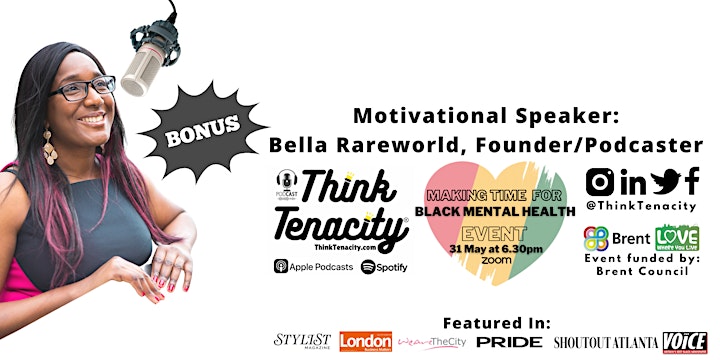 This is an online event | SAVE ZOOM LINK : https://bit.ly/3JtFG4k | Tues 31 May at 6.30pm-8.45pm
For daily inspiration FOLLOW OUR SOCIALS:
YouTube | Instagram | Facebook | Twitter | Self-Care Podcast
Making Time for Black Mental Health Event is created by a Black woman for Black People - Bella Rareworld, Motivational Mental Health Speaker is featured in The Voice Newspaper & Stylist.
Contact Events Team:
hello@ThinkTenacity.com
WhatsApp/call/text +44(0)7486 031 285