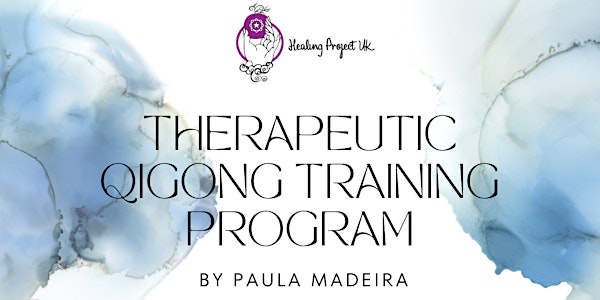 Qi Gong facilitator training incl. residential Portuguese retreat
Location
Quinta do Vale da Lama
EM534
8600 Odiáxere
Portugal
Refund policy
Contact the organiser to request a refund.
Eventbrite's fee is nonrefundable.
Qigong:18 module online foundation; 5 day residential retreat ;12 live zoom classes; supervision, exam & accreditation (£1350)
About this event
A 6 month training program that will enable you to become a qualified Qigong facilitator (level 1)
Qigong is an ancient energy art originating from China. It is one of the 5 branches of Chinese medicine along with massage ( Tuina), acupuncture, Diet, phytotherapy. It combines breathing, movement, and focus and does wonders for body, mind and soul.
There are various schools, ranging in focus from martial arts to spirituality. The Medical School is the one we follow and teach. Qigong works on your physical, mental, and spiritual bodies, making it a potent healing tool.
We invite you to learn Therapeutic Qigong in the middle of nature, surrounded by beautiful people, for 5 days.
If…
• You've always wanted to learn Qigong but haven't had the opportunity.
• You're seeking a new direction in your life.
• You're already a therapist seeking a new way to help your clients.
• You'd like to make a difference in your life but aren't sure how.
What is the structure of the course?
Foundation course:
The online foundation course is a prerequisite for the 5 days in-person training at the retreat and will prepare you with the theoretical foundations of QiGong.
In these modules you will learn:
The concept of the five elements in Traditional Chinese Medicine
What is Chikung/ Qi Gong and how it has developed
Different types of QiGong
The Central Chanel
Microcosmic Orbit
The theory behind Zhang Zhong (Standing position)
Physiology
Anatomy
The main energy points and centres in the body
Understanding the role of the Fascia
Facial and body diagnoses
Breathing techniques
At the end of each module, you will be asked to answer a few questions to ensure that you have understood the material.
5 Day Residential Retreat
During the residential retreat, you will learn:
Warm-up exercises
A full Self-massage routine
Either the 12 Movement system or 18 movement System
The energy storage system in the body and fascia
The notion of centre
Working with Central Canal
Embracing the tree posture or Zhan Zhuang Qi Gong
Different types of breathing techniques
Working with the main points of absorption and emission of energy
Emotions and QiGong
Microcosmic Orbit
Meditations including the Inner Smile and 5 element
How to teach and put together a class
Retreat program:
8-9 am – morning class
9-10am- breakfast
10.30 am-1 pm – Qigong training Class
13.00 pm – lunch
13:00-17:00 – free time (you can enjoy the pool, relax, go to the beach, book a massage or a Traditional Chinese Medicine treatment).
17:00-19:00 Qigong training Class
19h- dinner
20.30-10h Evening activities
Post Retreat - 12 online classes & Supervision
After the 5-day training retreat, you will be able to train online with my team
You will have access to two live Qigong classes via Zoom every week for 3 months
The live classes are compulsory and you need to attend at least 10 classes for qualification
Supervision classes with Paula:
These are individual sessions where Paula will review your work. You will send videos of work prior to supervision which Paula will review with you.
Accreditation and Diploma:
You will be accredited through the Healing Project Portugal.
This course is linked to the Therapeutic QiGong Instructor's Course from Traditional Chinese Medicine School, Lisbon ( ESMTC).
After completion If you wish to be also accredited by the Traditional Chinese Medicine School ( ESMTC) you can do so for an extra fee.
The Therapeutic QiGong Instructors Course of Portugal is a member of the APCKTT – Portuguese Professional Association of Taichi and QiGong Therapeutic and APFTCT- Portuguese Federation of Therapeutic Taichi and QiGong
Residential Retreat Location
Vale da Lama is a beautiful eco-resort in the Algarve ( Odiáxere), 50 min away from Faro airport and away from the tourist areas: https://www.casavaledalama.pt/en
Facilities and Activities:
Swimming pool
Additional classes
Massage
Personal Consultations
Organic Vegetarian food much of which is grown at the retreat centre
Accommodation: You will share the room with another 2 people
What is included :
 6 nights full board at Vale da Lama – 600€
 Morning Class-50€
 Teaching-1500€
 Foundation Course= 18 online lessons -350€
 12 Qigong Online classes-120€
 Supervision-150€
 Exclusive Qigong Group-150€
 Evaluation 200€
 Diploma 150€
Bonus:
🎁30 min complimentary massage-25€
🎁Evening entertainment-300€
🎁Qigong Workbook - 30€
🎁 Oriental Self-cleansing exercises and purifying bath-40€
🎁 Chinese body diagnosis-50€
🎁 Protocol of self-Chi Nei Tsang (Thai abdominal massage)-100€
If we add everything up you would pay Total 3815€ + 23%VAT= 4692€❌
You will pay only - 1845€ or £1550
However we have been working to build a community of practitioners in the United Kingdom so are offering a discount of 10% to those resident in the UK who pay fully by the 30th July making the total price £1395
Who is teaching?
My name is Paula Madeira and my journey with Chikung started in 1995. It ignited a passion in me and since then I have been learning and perfecting the art form.
I am a senior faculty teacher at the Chinese Medical School in Lisbon and am the head of the Therapeutic Chikung instructors Training and Degree.
I have studied with a variety of teachers in Portugal, Thailand and China and currently teach across Europe and also in Mozambique where I founded Healing Africa.
My work is focused on the development of the human being as a whole, both physical, emotional or spiritual, helping each person to take control of themselves and increase their overall consciousness.
Payments United Kingdom
A deposit of £300.00 to be payable through Eventbrite or £280.00 directly to our partner in the UK - Damian Grainer (email: damiangrainer@gmail.com). Within 48 hours of payment you will be granted access to the Online Foundation course which must be completed before the residential retreat.
The balance then needs to be paid in full at least 5 weeks before the retreat. We can arrange payment plans.
Flights and Transport
Booking and payment for flights and transport to the venue are the responsibility of the individual, however we will endeavour to pick up individuals from Faro airport.