Neeta Halai coaches and trains hundreds of lawyers worldwide and will share client interviewing tips, common challenges and how to pass it.
About this event
*Five Lawyers Only*
Availability: 3 November | 10 November 2021
SOLD OUT - 17 November 2021
NOTE: This interactive masterclass is for lawyers who have learnt the law and want to test their knowledge of the law and skills with an expert for client interviewing. Registration is on a first come first served basis - maximum five lawyers.
Most lawyers Neeta works with underestimate the skills part. You need to learn the law - that is a given. However, skills means legal skills and communication skills. So how you use your oral and written communication skills directly affects the quality of the information you obtain from the client (in the interview) and what you write in your attendance note (straight after the interview).
Many lawyers focus on the wrong areas. This can mean they do not gather enough information from the client to be able to shape any preliminary advice correctly that would be addressed in the attendance note.
Therefore, the law is assessed through a range of legal and communication skills and if some of them do not come to you naturally; you will need time to work on them.
In this Client Interviewing Skills Masterclass you will:
• personally do a client interview with Neeta with tailored constructive feedback;
• observe what other lawyers do and learn from them and their feedback;
• cover all five practice areas of the law for client interviewing;
• see how to deal with a range of different types of clients (eg challenging or vulnerable);
• know how to deal confidently with unexpected/unforeseeable situations;
• learn how to handle difficult questions/clients with empathy and maintain credibility; and
• have a clear structure in place starting with a strong professional introduction.
You will leave this masterclass with clarity over what you need to do for client interviewing and how to write the attendance note. You will learn what common challenges are experienced by many lawyers and how to overcome them.
Meet Neeta Halai:
Neeta is a qualified solicitor and owns a business called New Heights Training where the main focus is working with people on their communication skills and legal skills, using the psychology of human behaviour.
She works with international lawyers worldwide, from six of the seven continents, preparing them to qualify as a solicitor of England and Wales, through the Qualified Lawyers Transfer Scheme (QLTS).
Neeta has trained and coached hundreds of QLTS lawyers. She is the author of Skilfully Passing the Solicitors Qualification Examination (SQE) published by Bloomsbury, which is based on the QLTS. It is the new way to qualify as a solicitor from September 2021.
Neeta is a certified practitioner of Neuro Linguistic Programming (NLP) and a practitioner and assessor of SEI Emotional Intelligence. She also holds a Certificate in Teaching English to Adults (CELTA) which complements her work with non-native English speakers.
As an experienced script-writer and presenter, she also creates professional training videos for legal training providers. She has also been a speaker on Expanding Your Global Legal Footprint at the Global Legal Forum in The Hague.
Outside of law, Neeta is also a commissioned artist whose work has been selected for an exhibition in Central London (Instagram @NeetaHalaiArt).
Please note that the event is hosted online via Zoom and you will need to register if you want to attend.
*Masterclass Maximum: Five Lawyers Only*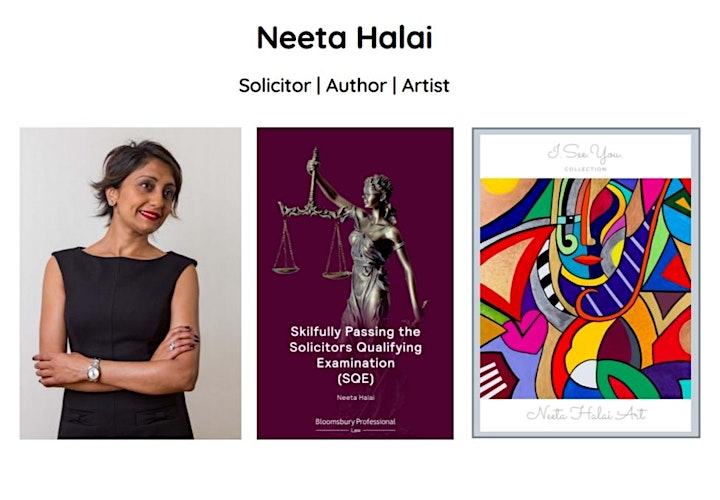 Date and time
Location
Refund policy
Organiser of QLTS OSCE Masterclass - Client Interviewing Skills
Neeta Halai - Lawyer | Author | Artist
Neeta Halai is a solicitor, who works with lawyers worldwide helping them qualify as a solicitor in England and Wales by providing bespoke coaching and training services.
As an author of Skilfully Passing the Solicitors Qualifying Examination (SQE), which is heavily based on the Qualified Lawyers Transfer Scheme (QLTS) she shares tools, tips and strategies that have helped many QLTS lawyers go on to qualify as a solicitor. She believes the same will help anyone doing the SQE. The SQE book will prepare you practically for the new way to qualify as a solicitor from 1 September 2021.
Neeta is also a commissioned artist, her art work is inspired by artists such as Picasso, Kandinsky and Britto. Two art pieces have been selected to be displayed at an exhibition in the Rolls Building in central London.