Neeta Halai coaches and trains hundreds of lawyers worldwide and will share how to structure and deliver a presentation with confidence.
About this event
*Five Lawyers Only*
NOTE: This interactive masterclass is for lawyers who have learnt property, business, and wills and probate practice areas of the law. It is for you if you want to test their knowledge and oral presentation skills with an expert. Registration is on a first come first served basis - maximum five lawyers.
Presentations are not anyone's favourite thing to do at the best of times so to have to do it for an assessment and on a practice area of the law that might be new for you can make it a challenging experience.
Join Neeta in this interactive online masterclass where she provides you with a clear structure of how to plan and deliver your presentation with confidence and clarity. The law is assessed on you being correct and comprehensive which means that you need to have the skills to structure what you say in a manner that the assessor can follow easily.
Many lawyers may be correct on the law but often lose marks on not being comprehensive. Common challenges identified are using too much legal jargon, not being comprehensive and not structuring the presentation logically which makes it hard to follow.
In this Oral Presentation Skills Masterclass you will:
• do a presentation within a legal context which will help you recognise how to score maximum marks with constructive feedback;
• understand how to use a template to help you during the preparation stage;
• learn the power of three and how it will help you structure your presentation; and
• recognise how to use your body language and vocals effectively to make a persuasive presentation.
During the preparation stage it is most unlikely that you will have time to write out a whole script. Therefore, making sure you have a template/structure that works will allow you more time to focus on the instructions and any supporting documents to identify their relevance and where you want to use them and why.
Once you know what to do and how to do it - it becomes clearer and makes you feel confident and prepared for the real assessment.
You walk away confident knowing not just what you have to do but how to do it.
Meet Neeta Halai:
Neeta is a qualified solicitor and owns a business called New Heights Training where the main focus is working with people on their communication skills and legal skills, using the psychology of human behaviour.
She works with international lawyers worldwide, from six of the seven continents, preparing them to qualify as a solicitor of England and Wales, through the Qualified Lawyers Transfer Scheme (QLTS).
Neeta has trained and coached hundreds of QLTS lawyers. She is the author of Skilfully Passing the Solicitors Qualification Examination (SQE) published by Bloomsbury, which is based on the QLTS. It is the new way to qualify as a solicitor from September 2021.
Neeta is a certified practitioner of Neuro Linguistic Programming (NLP) and a practitioner and assessor of SEI Emotional Intelligence. She also holds a Certificate in Teaching English to Adults (CELTA) which complements her work with non-native English speakers. As an experienced script-writer and presenter, she also creates professional training videos for legal training providers. She has also been a speaker on Expanding Your Global Legal Footprint at the Global Legal Forum in The Hague.
Outside of law, Neeta is also a commissioned artist whose work has been selected for an exhibition in Central London (Instagram @NeetaHalaiArt).
Please note that the event is hosted online via Zoom and you will need to register if you want to attend.
*Masterclass Maximum: Five Lawyers Only*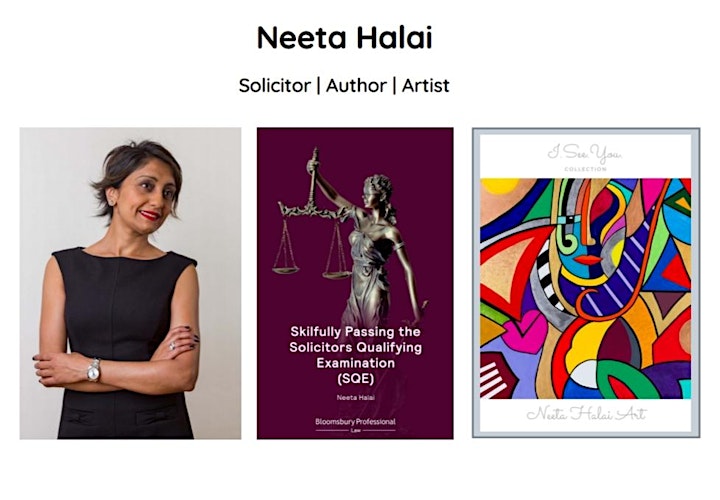 Date and time
Location
Refund policy
Organiser of QLTS OSCE Masterclass - Oral Presentation Skills
Neeta Halai - Lawyer | Author | Artist
Neeta Halai is a solicitor, who works with lawyers worldwide helping them qualify as a solicitor in England and Wales by providing bespoke coaching and training services.
As an author of Skilfully Passing the Solicitors Qualifying Examination (SQE), which is heavily based on the Qualified Lawyers Transfer Scheme (QLTS) she shares tools, tips and strategies that have helped many QLTS lawyers go on to qualify as a solicitor. She believes the same will help anyone doing the SQE. The SQE book will prepare you practically for the new way to qualify as a solicitor from 1 September 2021.
Neeta is also a commissioned artist, her art work is inspired by artists such as Picasso, Kandinsky and Britto. Two art pieces have been selected to be displayed at an exhibition in the Rolls Building in central London.