Description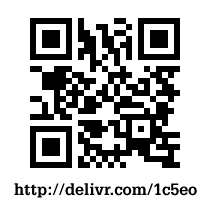 QR Codes, 2D Bar Codes, are becoming the new norm for businesses to reach their customers and provide a fast user-friendly way to access relevant content online through the use of mobile technology. Educational institutions are on the uptake in making use of these 21st century tools as a way to engage their main stakeholders, i.e. students.
Funding from the HE Academy (HEA) has made it possible to offer the opportunity for knowledge transfer and development of new skills and ideas through networking with people interested in QR Codes as a new form of communication channel.
The workshop is designed to take you on a journey of discovery, tailored to your own QR-experience. It is suitable for both people who are new to the QR Code-concept and those who have substantial experience and would like to build a network to extend the use of QR Codes in education through collaboration in joint projects.
Provisional timetable for the event is as follows:
12:00 - Registration and refreshments
12:30 - Welcome (Lynn Vos, HEA)
12:45 - Introduction to QR Codes
13:15 - on the challenges of working with QR Codes in Higher Education (David Hopkins, Dr. Milena Bobeva, and Andy Ramsden) and plenary discussion
14:30 - Refreshments
14:45 - Practical work on using the toolkit for creating, embedding and monitoring the use of QR codes
15:45 - Review of innovations in using QR Codes with discussion on how these could be employed in Higher Education
16:45 - Summing Up / Review
17:00 - Close
Further information is available through our website - http://bs1.bmth.ac.uk/QRCodes - or by contacting the team on qrcodes@bournemouth.ac.uk.