A monthly group for queer writers of colour in Scotland
About this event
QTIPOC Writers Group
QTIPOC Writers Group is a new writers group which is free thanks to funding from Consortium's LGBT Intersections Funds. This event is monthly and open to queer writers of colour in Scotland. The sessions will be hosted by a different queer creative of colour each month, where the group will discuss and creatively respond to a short piece of media produced by QTIPOC. 
This group is a relaxed, supportive space where queer writers of colour can celebrate the work of other QTIPOC artists while using it to inspire their own creative practice.
You may sign up for one, several or all writers group events.
Calendar of events
When:
First Thursday of the month, 7 - 8.30pm
Thu 2nd September
Thu 7th October [RESCHEDULED]
Thu 4th November
Thu 2nd December
Please find full details for future events access info below.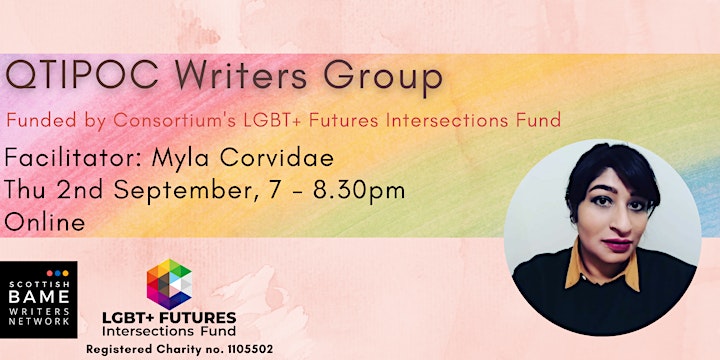 September QTIPOC Writers Group Myla Corvidae
Date: Thu 2nd September 2021
Time: 7- 8.30pm
About Myla
Myla is a multi-disciplinary artist, writer and performer working and living in Scotland. They have worked extensively with Queer Heritage Forum, as well as having work recently published with 10:10 Press and Scottish BAME Network. Currently Myla is setting up UrbanGullsPress – a press dedicated to supporting minorities in publishing.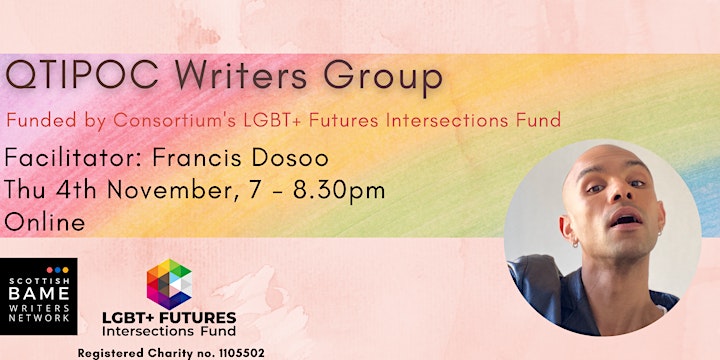 November QTIPOC Writers Group With
Francis Dosoo
Date: Thu 4th November 2021
Time: 7- 8.30pm
About Francis
Francis Dosoo is an artist based in Paris. Their recent commission for Edinburgh Arts Festival, What is behind the Saint's eyes, when they look through tears to the altar?, explores emotional and physical indulgence as a form of praxis. Follow their work on instagram: @williamfrancis86.
Access
All events are free.
All events are suitable for people 18+ years.
Events are hosted online using Zoom (instructions will be sent 2 days before each event or can be accessed via the Eventbrite Online Event page).
To participate you will need an internet/wi-fi connection and a desktop or mobile device to join by audio and/or video.
Automatic live captions and transcripts are provided via Otter.ai. Please add your access requirements during registration
Events over 2 hours long will have a comfort break in the middle. You may mute your mic/switch off video or take a break at any time.
All SBWN events will adhere to our safer spaces policy. You can learn more about our Safer Spaces policy here.
Organiser of QTIPOC Writers Group | September - December 2021