Description
Qualatex Fundamentals Course hosted by Balloon Market
This fundamentals course is for Balloon Decorators/Retailers who are just starting their journey with balloons or for those who may have been in the industry a short time.
This course will ultimately give you the confidence to really ''go for it' with your balloon business as a Decorator or a Retailer. You do not need to know anything about balloons before you attend. At the end of this full-day course you could potentially recoup the entire cost of the course in your first couple of jobs! A really great investment.
By the end of the course you will:
Have the knowledge and confidence to create basic balloon creations including bouquets and garlands
Understand Health and Safety in the Balloon Business
Know how to use different balloons in different situations
Have the knowledge to confidently inflate different types of balloons
Understand pricing and how to make money from balloons
Feel confident in selling your creations with a profitable price tag
Have had the opportunity to interact and connect with others in the industry, just like you!
Have numerous photo opportunities to use for social media
Have the opportunity to appear in a future BMTV episode (should you wish to)
Benefits of this course:
Comprehensive, full-colour manual which acts as a valuable reference guide for future jobs with float times, design principles and pricing
Qualatex Goodie Bag
Exclusive discount to use at Balloon Market on the day (Place your order before 1pm on the day and you can have your order delivered to you to take away with you before you leave)
Free 'All Day' refreshments including light lunch
Ample free parking at the venue
Easy access (only a few minutes from the motorway (J.2, M27) and 15 minutes from the train station / Southampton Airport and Ferry Terminal!)
This particular course will be taught by BMTV regular Mark Drury CBA.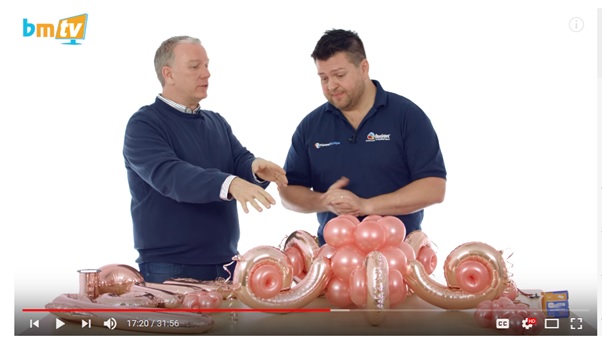 Instructor : Mark Drury CBA
Mark has been in the balloon industry for over 20 years and has experienced the journey of self-employment as a Retailer and Decorator. He has also worked in the gas industry, been a trainer and has worked for Pioneer Europe Ltd for 15 years in various roles. He has been a regular guest and trainer on the popular industry YouTube channel, BMTV, where his shows acheive consistently high viewing numbers. Mark will guide you through the Fundamentals course helping you with any questions you have along the way.
Want to find out what others think about their investment in training? Click the link below.