Description
The Retail Essentials course is a fantastic first stage for retailers who already have some balloon experience and want to grow their sales by offering co-ordinated balloon bouquets and deliverables. You will learn how to create perfect bouquets, simple balloon characters as well as effective pricing and promotion techniques.
Please note, this is NOT a beginners course. You will need to be able to correctly inflate and tie balloons, make clusters etc. If you are new to the world of balloons, the Fundamentals course is the best place to start.

By the end of the course you will:
• Have the knowledge and confidence to offer a range of designs with added value to differentiate yourselves from the competition
• Understand the importance of in-store and window displays and how to sell them
• Understand pricing and how to make money from your creations
• Feel confident in promoting your creations with a profitable price tag
• Have had the opportunity to interact and connect with others in the industry, just like you!
• Have numerous photo opportunities to use for social media

Benefits of this course:
• Comprehensive, full-colour portfolio binder of balloon bouquets for every important occasion (one per company)
• Balloon Market / Qualatex Goodie Bag
• Exclusive discount to use at Balloon Market on the day (Place your order before 1pm on the day and you can have your order delivered to you to take away with you before you leave)
• Free 'All Day' refreshments including light lunch
• Ample free parking at the venue
• Easy access (only a few minutes from the motorway (J.2, M27) and 15 minutes from the train station / Southampton Airport and Ferry Terminal!)
This particular course will be taught by BMTV regular Mark Drury CBA.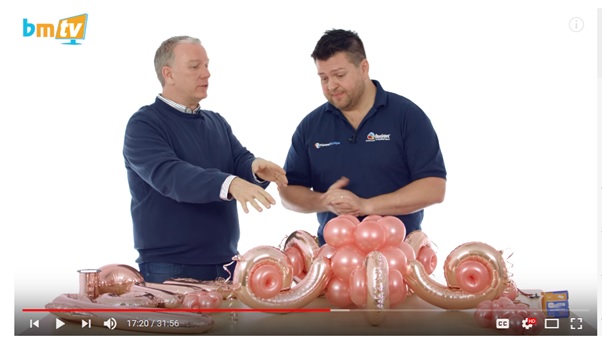 Instructor : Mark Drury CBA
Mark has been in the balloon industry for over 20 years and has experienced the journey of self-employment as a Retailer and Decorator. He has also worked in the gas industry, been a trainer and has worked for Pioneer Europe Ltd for 15 years in various roles. He has been a regular guest and trainer on the popular industry YouTube channel, BMTV, where his shows achieve consistently high viewing numbers. Mark will guide you through the Retail Essentials course helping you with any questions you have along the way.
Want to find out what others think about their investment in training? Click the link below.