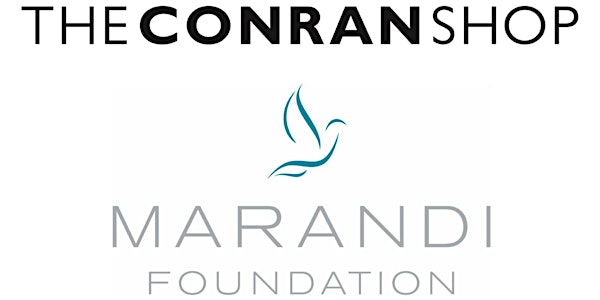 Quality in a world of Quantity: The Conran Shop & The Marandi Foundation
We live in a world of 'on-demand', 'mass production' and Amazon Prime. How does quality survive when demand for quantity is so overwhelming.
About this event
We live in a world of 'on-demand', 'mass production' and Amazon Prime. How does quality survive when the demand for quantity is so overwhelming and why do we need it to? Join Stephen Briars and Huw Evans (The Conran Shop), Narmina Marandi (The Marandi Foundation) and Ayna Hindmarch as they discuss the importance of quality across the worlds of architecture, art and design.
Becky Sunshine – Moderator
Becky Sunshine is a London-based design writer and consultant with over 20 years of experience. She has written for Observer Design, Elle Decoration, Sunday Times Style, Telegraph Magazine, Departures, Design Anthology UK, Vogue Living, Tatler Hong Kong among others. She has been a visiting lecturer at Central Saint Martins and is a regular talks moderator.
Stephen Briars – Chief Creative and Commercial Officer, The Conran Shop
Stephen joined The Conran Shop in February 2016 to lead all worldwide multi-channel creative functions for the brand. Previously Stephen was Creative Director for Urban Outfitters steering the design and delivery of 30 European stores and the elevation of the creative content and experience, strengthening the brand concept both on and offline. Stephen also worked as global Creative Director of Visual Merchandising at Louis Vuitton, where he curated the brand's window concepts and implemented the delivery of instore experience in more than 400 stores worldwide. At Paul Smith, Stephen's role progressed through retail management, wholesale sales, travel retail delivery for the collection showrooms and over 600 wholesale and franchise outlets across the globe.
Huw Evans – Furniture and Product Designer, The Conran Shop
Huw is a Furniture and Product Designer whose work has received multiple honours, including the inaugural New Designers' Conran Shop Design Award and the 2019 Rado Star Prize. While studying for a Designer-Maker degree at the University of Plymouth he gained an appreciation for the art of making and great knowledge of different materials and manufacturing processes.
As a mixed material designer, Huw's portfolio features timber, metal, glass and composite based products. His favourite continues to be timber, due to its versatility and ability to add warmth to any design. As a freelance designer, Huw has worked on furniture and homeware projects with local as well as international clients. His multi-award-winning Concertina Collection is currently in development with The Conran Shop.
Narmina Marandi – Co-Chair, The Marandi Foundation
Narmina is a retail investor and philanthropist, based in London. She is an investor in and Chairman of the Board of Directors of Anya Hindmarch, an investor in and director of Emilia Wickstead and an investor in The Conran Shop. She is a member of the Council of the Serpentine Galleries and Co-Head of their Cultural and Social Affairs Committee, a member of the European Collection Circle at Tate, and a member of the Inspiring Minds Campaign Board at Latymer School.
Narmina is Co-Chair of The Marandi Foundation, which is dedicated to providing disadvantaged young people and communities in the UK with access to training and educational opportunities, as well as mental health and wellbeing support services. The Foundation also provides significant support to public art institutions and major cultural history initiatives, as well as supporting young talented designers by providing them with the tools needed to accelerate their route to success.
In 2005, she founded the charity USG, to support children with special needs in Azerbaijan. She was born in Baku, Azerbaijan, and studied at the Baku Institute for Political Science where she gained a first-class master's degree in Philosophy, Politics and Economics.
Anya Hindmarch
Anya founded her business in London in 1987 and has since grown it into a global brand. Modern craftsmanship, creativity, a touch of humour and personalisation sit at the heart of everything the brand does.
Anya has created many noteworthy events including Chubby Hearts campaign – a love letter to London that saw the brand suspend 24 giant heart shaped helium balloons above different London landmarks. The Designer's Chubby Cloud installation saw 3000 visitors enveloped (quite literally) in her brand when they visited the world's largest beanbag at Banqueting Hall to hear music, meditations, talks and bedtime stories.
As well as mainline collections the Brand has a unique Bespoke collection where each piece is – as Anya says – about 'having your name on something, rather than mine'. The brand shows an ongoing commitment to the circularity of materials with the I Am A Plastic Bag campaign, a collection made from an innovative new fabric created from recycled plastic bottles, and the more recent Waste Not Want Not collections.
A passionate advocate of British design and arts, Anya is also an Emeritus trustee of both the Royal Academy of Arts and the Design Museum and is a trustee of the Royal Marsden. In 2017 Anya Hindmarch was awarded a CBE in recognition for her contribution to the fashion industry and has received several notable industry awards including British Fashion Awards. She publishes her first book 'If In Doubt Wash Your Hair' on 6th May.