Québec Annual Lecture 2019 / Conférence annuelle du Québec 2019

Monday, 11 November 2019 from 19:00 to 21:00 (GMT)
Event Details
How Artificial Intelligence is fundamentally changing our relationship with technology 
L'intelligence artificielle à notre service - Comment cela va changer notre relation avec la technologie

 __________________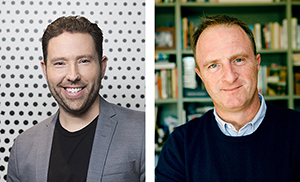 For this new edition of the Québec Annual Lecture, our guest speaker will be one of Québec's most renowned entrepreneur in Artificial Intelligence (AI) JEAN-FRANÇOIS GAGNÉ, CEO / Co-founder of ELEMENT AI. 

James Harding, former Times editor and former BBC news director, co-founder and publisher of Tortoise Media, will lead the interview.
Element AI appeared virtually overnight. In two years the company attracted over $250M US in funding and 400+ employees with its bold mission: democratize AI. During the conference, Jean-François Gagné will share the realities of running Canada's fastest growing startup, the years of leadup to this moment, and how AI could fundamentally change our relationship with technology. Please note that the speech will be given in English.
Pour cette nouvelle édition de la Conférence Annuelle du Québec, notre invité d'honneur est l'entrepreneur renommé en Intelligence Artificielle (IA), JEAN-FRANÇOIS GAGNÉ, Cofondateur et président-directeur général de ELEMENT AI.
James Harding, ancien rédacteur du Times et ancien directeur des actualités à la BBC, cofondateur et éditeur de Tortoise média, mènera l'entretien. 
Element AI est apparu pratiquement du jour au lendemain. En deux ans, la société a mobilisé plus de 250 millions de dollars américains de financement et plus de 400 employés avec sa mission audacieuse: démocratiser l'IA. Pendant la conférence, Jean-François Gagné partagera les réalités de la gestion de la start-up à la croissance la plus rapide du Canada; les années qui ont précédé ce moment; et la manière dont l'IA pourrait changer radicalement notre relation avec la technologie. Veuillez noter que le discours sera en anglais.
 __________________
WHEN? Monday 11th November 2019, 7-9pm. The talk will begin promptly at 7pm.
QUAND? Lundi 11 Novembre, 19-21h. La conférence commencera à 19h pile.
WHERE? OÙ? 
The Royal Institution, 21 Albemarle Street, London W1S 4BS.
RECEPTION: A reception will follow, showcasing flavours from Québec.
RÉCEPTION: Une réception suivra, mettant en valeur les saveurs du Québec.
 __________________
ABOUT JEAN-FRANÇOIS GAGNÉ
In October 2016, Jean-François co-founded Element AI with Yoshua Bengio, one of the three fathers of Deep Learning. Born out of an AI research lab connected to the world's top academic institutions, Element AI develops transformative AI business applications for large corporations. With a global ecosystem that spans North America, Europe, and Asia, Element AI has unparalleled access to two of the scarcest talent pools: world-class entrepreneurs and artificial intelligence experts. As testament to this valuable access, Element AI raised $102M, the largest Series A for any AI startup to date, just seven months after launching.
In Element AI's first year of existence, Jean-François traveled more than half a million miles to work with the largest companies that are not yet engaged in 'big tech' to prepare them for the AI revolution. He has unique views on how this new technology will develop and spread through different levels of our economy.
Jean-François is an outspoken advocate of AI for Good and is actively involved in guiding AI's impact on business, people, and society. He acts as an advisor to the Canadian and European governments on the safe development of AI and his company is the only Canadian member of the prestigious Partnership on AI. While speaking at least twice a week to audiences about AI, Jean-François also remains engaged on the local level as a member of the Calcul Québec Board, which supports the province's high-performance computing research infrastructure, and is an avid supporter of the Montreal startup scene.
À PROPOS DE JEAN-FRANÇOIS GAGNÉ
En octobre 2016, Jean-François a cofondé Element AI avec Yoshua Bengio, l'un des trois pères du Deep Learning. Né d'un laboratoire de recherche sur l'IA, connecté aux plus grandes institutions académiques du monde, Element AI développe des applications de l'IA qui transformeraient les grandes entreprises. Avec un écosystème mondial englobant l'Amérique du Nord, l'Europe et l'Asie, Element AI dispose d'un accès sans pareil à deux des réservoirs de talents les plus rares: les entrepreneurs de classe mondiale et les experts en IA. Pour attester de cet accès précieux, Element AI a obtenu 102 millions de dollars, la plus grande série A pour le démarrage d'une entreprise d'IA, à peine sept mois après son lancement.
Au cours de sa première année d'existence, Jean-François a parcouru plus d'un demi-million de kilomètres pour travailler avec les plus grandes entreprises qui ne sont pas encore engagées avec les géants du numérique afin de les préparer à la révolution de l'IA. Il a une vision unique sur la façon dont cette nouvelle technologie se développera et se propagera à différents niveaux de notre économie.
Jean-François est un ardent défenseur d'une Intelligence Artificielle qui participera activement au bien des entreprises, des citoyens et de la société (« AI for Good »). Il agit en tant que conseiller auprès des gouvernements canadien et européen pour un développement sûr de l'IA et Element AI est la seule société canadienne membre du prestigieux Partenariat sur l'IA. Tout en s'adressant au public au moins deux fois par semaine aux médias, Jean-François reste également engagé au niveau local en tant que membre du conseil d'administration de Calcul Québec, qui soutient l'infrastructure de recherche en informatique de haute performance de la province, et est un fervent partisan de la scène entrepreneuriale Montréal.
 __________________
For more information, please call Barbara Daniel on +44 (0) 207 766 5911 / DGQL@mri.gouv.qc.ca

Pour plus d'information, contactez Barbara Daniel au +44 (0) 207 766 5911 / DGQL@mri.gouv.qc.ca
Thank you to our sponsors / Merci à notre commanditaires :

When & Where

The Royal Institution
21 Albemarle Street
W1S 4BS London
United Kingdom


Monday, 11 November 2019 from 19:00 to 21:00 (GMT)
Add to my calendar
Organiser
The Québec Government Office in London was opened in 1962. It represents the Québec government in the United Kingdom, Republic of Ireland and the Nordic Countries.