Queen Nanny: Legendary Maroon Chieftainess - Breaking The Chains Film Festi...
Description


Black History Studies presents the 'Breaking The Chains Film Festival'

Breaking The Chains Film Festival is a programme of screenings to observe the annual African Holocaust Remembrance Day held on 23 August. This date commemorates an uprising of enslaved Africans on the island of Saint Domingue (modern day Haiti) in 1791.
The screenings will highlight the hidden history and legacy of the enslavement of African people through our Maangamizi and the legacy of the enslavement period on Africa and the Diaspora. The word "Maangamizi" is a Swahili term which speaks to the intentionality of the African holocaust of chattel, colonial and neo-colonial enslavement.
The film festival will feature a mixture of feature films and documentaries. We will incorporate presentations and facilitate engaging post film discussions with audience members.
Black History Studies presents the

North London Premiere of


Nanny: Legendary Maroon Chieftainess (U)
Conceived by Jamaican-born, New Jersey-based filmmaker, Roy T. Anderson, and history professor, Harcourt T. Fuller, PhD, Queen Nanny: Legendary Maroon Chieftainess, a one-hour documentary-film, unearths and examine the mysterious figure that is Nanny of the Maroons; Jamaica's sole female National Hero, and one of the most celebrated, but least recognized heroines in the resistance history of the New World.Queen Nanny documents the struggle for freedom by the Jamaican Maroons, led by the indomitable 18th century military genius, Nanny of the Maroons. A spiritual leader, skilled in the use of herbs and guerilla warfare tactics, from her mountain stronghold at the source of the Stony River in the majestic Blue Mountains, she directed the warfare that effectively neutralized the vaunted British firepower.
Following on the heels of Akwantu: the Journey (Action 4 Reel Flimworks, 2012), Anderson's award-winning film on the history of the Jamaican Maroons, Queen Nanny expands on the story of the New World's first successful freedom fighters by shedding light on to one of the leading figures in that struggle.
Watch the trailer here https://youtu.be/7EhetqgWUGE

THIS SCREENING IS NOT TO BE MISSED

FOR ONE NIGHT ONLY!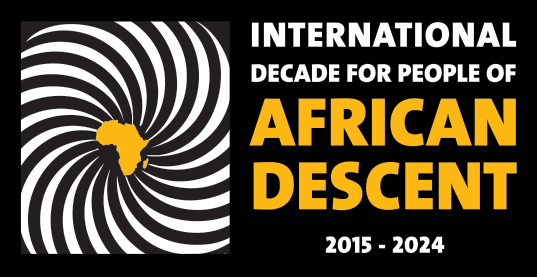 The International Decade for People of African Descent, proclaimed by General Assembly resolution 68/237 and to be observed from 2015 to 2024, provides a solid framework for the United Nations, Member States, civil society and all other relevant actors to join together with people of African descent and take effective measures for the implementation of the programme of activities in the spirit of recognition, justice and development.

It is also a unique opportunity to build on the International Year for People of African Descent, which was observed by the international community in 2011, and to further underline the important contribution made by people of African descent to our societies and to propose concrete measures to promote their full inclusion and to combat racism, racial discrimination, xenophobia and related intolerance.