Description
Dear sisters, brothers and friends,
Rethink Rebuild Society, the voice of the Syrian community of Manchester, is pleased to invite you to a FREE screening of the film


Queens of Syria (2014)
Followed by a Q&A session with the filmmaker Yasmin Fedda
Directed by Yasmin Fedda
Runtime: 70 minutes. In Arabic with English subtitles.
Certificate: PG
Please arrive on time as the film will start at 14:45 exactly to allow plenty of time for the Q&A session afterwards. This event is FREE and tea, coffee and biscuits are provided.
"I have a scream I have to let out – I want the world to hear it" said Suad, "We want the world to hear the struggles and strengths of the Syrian people, but in a different way."
Queens of Syria follows a 2013 theatre project run with Syrian refugee women in the Jordanian capital, Amman, to stage a new version of Euripides's tragedy, The Trojan Women, about the plight of women in war. Sixty women signed up, none of whom had acted or been to the theatre before, committing to seven weeks of rehearsals and workshops. As the days count down, the attrition rate increases, until 25 remain three weeks prior to the performance.
Over seven weeks, Yasmin watched, and filmed, as the women overcame all sorts of obstacles such as family members disapproving of their work in theatre; political sensitivities back home in Syria; and the tough day-to-day life challenges of being a refugee.
The Syrian women found in the Greek tragedy a blazingly vivid mirror of their own experiences of loss, grief and sorrow in Syria and in exile.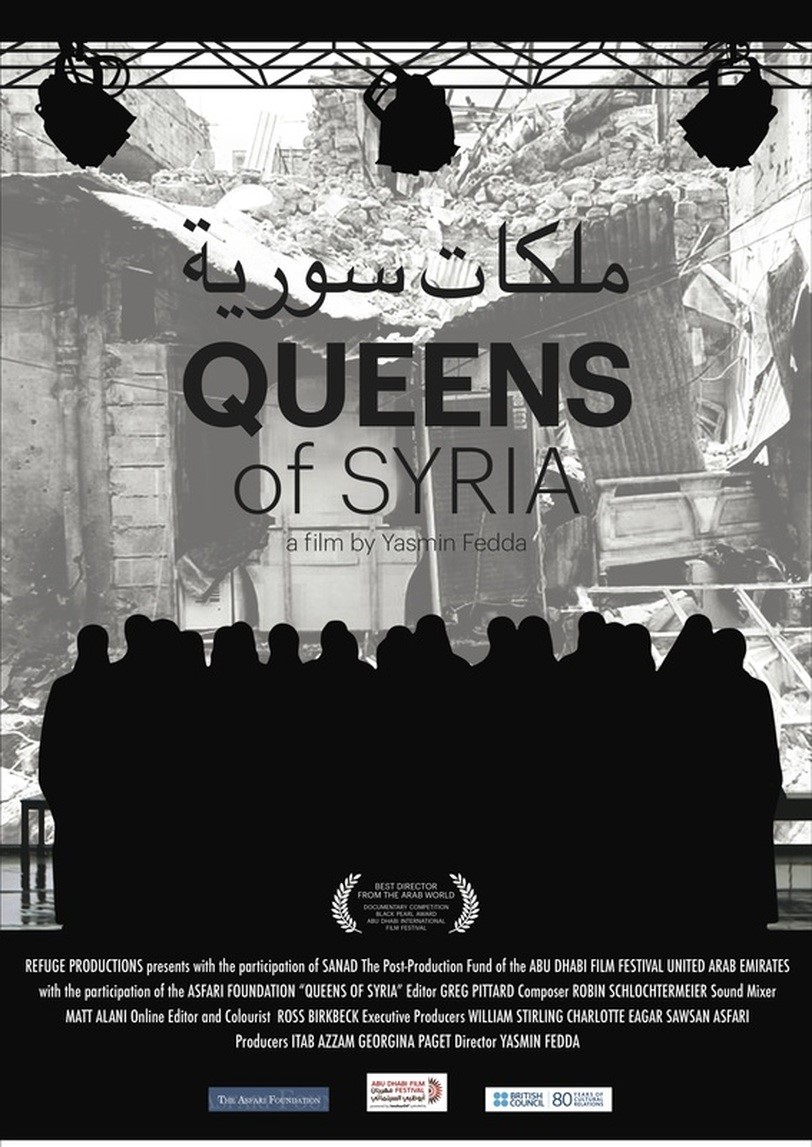 "Hecuba is so close to me…she lost everything she owned. She lost her children and her family… It's like us. She was a queen in her house. Her house was her kingdom; she ran it as she pleased. Hecuba says 'I used to run this place but now I am nothing.' That's us now."
'Queens of Syria' seeks to redress the silencing of the experiences of Syrian women who have lived through the continuing war in their country. It also reveals the deeper universals of war, the deep ache of loss for the homeland, and the exhausting task of rebuilding a life after you have watched your homeland burn (Opendemocracy.net).
"One of the beautiful things about the film is watching the grip of that fear begin to slip: in early scenes, many women are nervous about the film, and ask that their faces not be shown, but by the final performance, only one woman is pixellated. Participants became used to the camera, and grew to trust Fedda; in the end, most were proud to go on record. To see Syrian women larking about – tickling each other, singing songs, putting on lipstick – makes you realise how rarely we see cheerful everyday portrayals of any Muslim women, let alone refugees" (The Independent)
Yasmin Fedda
Yasmin Fedda, PhD, is an award-winning documentary filmmaker whose films have focused on themes from Edinburgh bakeries to Syrian monasteries. Previous work includes A Tale of Two Syrias and Breadmakers, which has screened at over 50 film festivals and has won multiple awards. Yasmin's PhD is in Transdisciplinary Documentary Film, and she is also co-founder and programmer of Highlight Arts, an organisation that works with artists in times of conflict. 'Queens of Syria' has won Yasmin the prize of best director from the Arab world at the Abu Dhabi Film Festival.
Date and Time
Location
Rethink Rebuild Society's Multi-facility Room
Unit 7, Longsight Business Park
Manchester
M13 0PD
United Kingdom