Queer Check-in is for us to connect, share and empower each other. While raising awareness to each others' struggles and life experiences.
About this event
Queer Check-In on the 1st Friday of each month
In our Cafe everyone is welcome! We are hosting Queer Check-in in order to create a open circle for people to connect, share and engage. There is a still a need for spaces where LGBTQI+ and QTIPOC community can share free of judgment, with the opportunity to connect with people from the community that can offer support or a friendly ear.
Inspired on the Radical Faeries heart circle, we hope to welcome anybody from Birmingham and West midlands community.
Our heart circle will be open for anybody to share as well as facilitate if you wish. It is OUR check-in where every skills and living experiences are valued.
Doors open: 14:30
Event starts: 15:00
Arrive early to have a warm drink, get confortable, engage with fellow Queers. Otherwise pop in anytime you feel confortable to do so.
Follow us on Istagram & Facebook to be up to date with our events
Instagram & Facebook @solcafebrum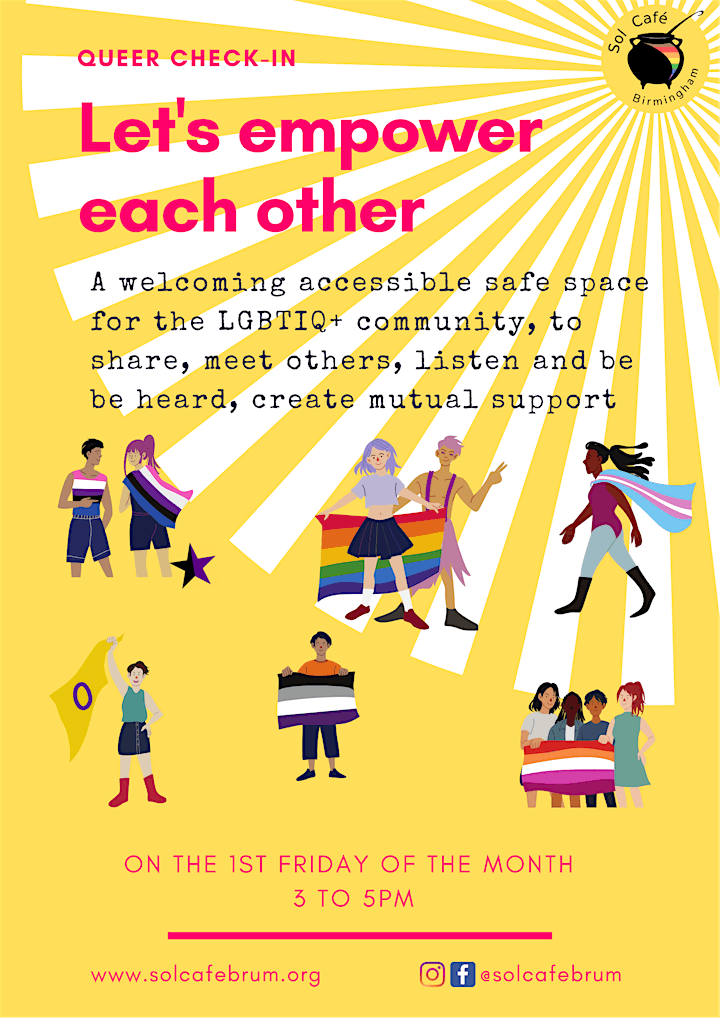 Organiser of Queer Check-in Birmingham
Sol Cafe Brum is a LGBTQI+ Pay as you feel cafe. EVERYONE IS WELCOME!
Our workshops, events and talks are provided by and for the community.
Our aim is to provide a safe space for all, which will welcome events to support the community. Also creating an inviting place to address social isolation in a nurturing community environment.
If you would like to make an event, workshop, talk, art exihibition, and more with us please contact us at events@solcafebrum.org
\