Event Information
Location
Islington Mill
James St Salford
Greater
M3 5HW
United Kingdom
Heart circles are spaces where queers gather, where you can share what is going on with you, and listen to others' stories.
About this event
** The Heart Circle will start at 3:30pm sharp **
It is important to arrive before as once the circle is opened we won't accept more people to protect the space .
What is a heart circle?
Heal by listening. Heal by sharing.
Heart circles (inspired by the Radical Faerie community) are spaces where queers gather, where you can share what is going on with you, and listen to others.
It is a totally amazing and healing therapy. You help yourself by saying your experiences and emotions out loud, and also heal from listening to others who may have had a similar experience to you.
This is an open and inclusive space, no matter what identity, gender, sexuality, language or age you are. Racism, transphobia, homophobia, ageism, ableism, sexism, misogyny and any form of hate or abuse will not be tolerated.
The heart circle is a sober space, please don't bring any alcohol or substances.
How does it work?
We arrive, socialise a bit and then come together in a circle with a short grounding meditation. A talisman is passed around from person to person.
Whoever is speaking, is the only one speaking, everyone else must listen.
There is no conversational dialogue, you are purely talking about what is going on with you, not what the person before said. "I am feeling... I did this... I felt...".
It is a totally confidential space, so nothing said will be repeated outside of the circle. The same goes with approaching someone after the circle about something they shared. Please check in first and ask if it is okay to talk about what they shared.
Is it a requirement to speak?
No! Holding silence is very valued, and don't feel like just because you are next that you have to share.
Who can come?
This event is open to all those who identify as LGBTQIA+ and their allies.
We welcome people of any gender, ethnic background, neurodiversity and sexuality. It is a welcoming space.
We do not tolerate any kind of transphobia, racism, ableism, homophobia or hate speech of any kind.
Accessibility
1. The venue is accessible by wheelchair, you have to pass through a large door which has ramp access. The door to the venue has a small step which a wheelchair could be lifted over easily.
2. There is accessible parking available.
3. The closest bus stop is a 4 minute walk on Oldfield Road.
4. There is plenty of seating and personal space if required, and alternative rooms if you need some private space.
5. The toilets are all on ground level.
COVID Safety
This event will be in person, the space will allow for social distancing (1m plus), for 15 people.
I ask that any people wanting to come along to please take a lateral flow test, you can get a pack for free from any pharmacy or order online.
If you have any symptoms of COVID on the day of the event, please stay at home and take care of yourself.
-----------
If you have ANY questions, please feel free to reach out to us at queerhivemcr@gmail.com, we am happy to have a phone call with you before the heart circle if you have any worries 🙂
Looking forward to sharing queer magic with you all ❤
Genie - Queer Hive Manchester
They/Them - Neurodiverse Being!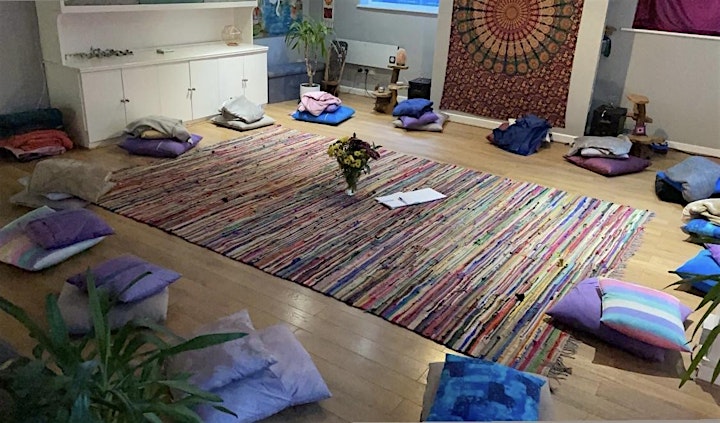 Date and time
Location
Islington Mill
James St Salford
Greater
M3 5HW
United Kingdom