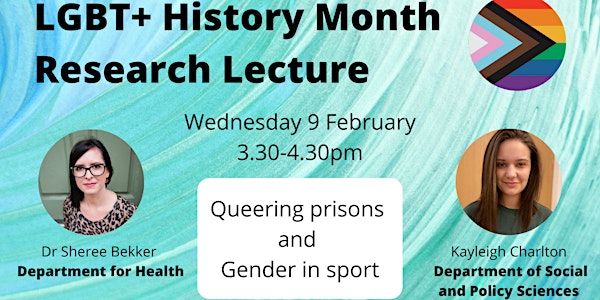 Queering prisons and Gender in sport: LGBT+ History Month research lecture
Join us for LGBT+ History Month to hear about two research projects from the University of Bath focussing on the LGBT+ experience
About this event
This event is open to all, including staff, students and the public.
This event will be hosted on Microsoft Teams. You do not need a Teams account to access the event. You will be sent a link to attend the event the day before, with a reminder one hour before the event.
If you have any questions please email lgbt-staff@bath.ac.uk.
Dr Sheree Bekker
Dr Sheree Bekker (she/her) is committed to research that is social justice oriented, in the public health area of (sports) injury prevention and safety promotion. She has a special interest in sex/gender and uses qualitative methods.
This underpins her work as an Assistant Professor (Lecturer) in Injury Prevention and Safety Promotion in the Department for Health at the University of Bath. At Bath, she is Co-Director of the Centre for Qualitative Research, and a member of the Centre for Health and Injury and Illness Prevention in Sport (CHI2PS), and the Gender and Sexuality Research Group. She also serves as the Deputy-Director for Equality and Diversity in the Department for Health.
Kayleigh Charlton
Kayleigh's current research explores the potential for applying queer political and analytical strategies to prison planning, design, and construction.
General research interests involve the experience of LGBTQ prisoners, gender and sexuality more broadly, and prison architecture and design.