Stonewall Housing are delighted to present Queerstory; a night of infotainment honouring the first LGBT+ History Month of the new decade.
About this event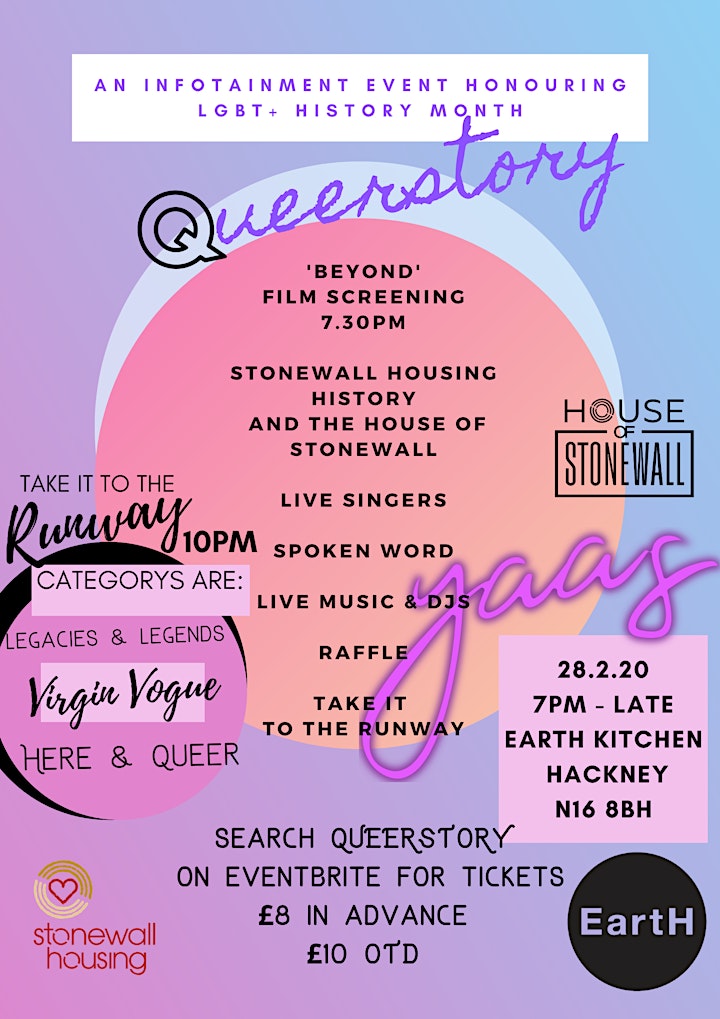 Stonewall Housing was the first LGBT+ charity to receive public sector funding to deliver specialist housing support in 1983. 36 years later we provide 6 supported housing schemes, an award winning housing advice line, mental health advocacy and domestic abuse support to over 1000 people a year.
We're kicking off our events for 2020 in style. Come along and celebrate LGBT+ History Month with us in the gorgeous Earth Kitchen in Hackney. It will be a night of infotainment and Queerstory with 2 film screenings, live performances, DJs and beautiful spoken word. If you're still on your feet, at 10pm you can Take it to the Runway and strut your stuff to our very special panel of judges including the formidable Munroe Bergdorf and Publisher of Diva magazine Linda Riley. Categories are: Legends and Legacies, Virgin Vogue and Here and Queer, so dress to impress.
Hear about Stonewall Housing's 36 year history, hear from our brand new CEO and find out where we're headed in the new decade. Produced and hosted by our incredible ambassadors, the House of Stonewall, it'll be a night to remember!
Raffle tickets will be on sale throughout the evening.
Film screening of BEYOND starts PROMPTLY at 7.45pm. Please ensure you arrive on time.
To enter the ball, please ensure you arrive no later than 9.30 pm for registration.
Buy tickets in advance here on limited entry OTD: £10