QUENTIN CRISP : NAKED HOPE WRITTEN & PERFORMED BY MARK FARRELLY UNRESERVED SEATING
About this event
First release of tickets.....
See video clip below!
Quentin Crisp: Naked Hope is a solo show which debuted to rave reviews at the 2014 Edinburgh Festival. It immediately transferred to a run at the off-West End St. James Theatre, and has toured the UK ever since. Touring the UK throughout 2021.
Naked Hope depicts the legendary Quentin Crisp at two distinct phases of his extraordinary life. Firstly in the late 1960s in his filthy Chelsea flat ("Don't lose your nerve: after the first four years the dirt won't get any worse"). Here Quentin surveys a lifetime of degradation and rejection. Repeatedly beaten for being flamboyantly gay as early as the 1930s, but also ostracised simply for daring to live life on his own terms.
The second part of the play transitions the audience to New York in the 1990s. Here a much older Quentin, finally embraced by society, regales the audience with his sharply-observed, hard-earned philosophy on how to have a lifestyle: "Life will be more difficult if you try to become yourself. But avoiding this difficulty renders life meaningless. So discover who you are. And be it. Like mad!".
Naked Hope is a glorious, truthful and uplifting celebration of a genuinely unique human being, and of the urgent necessity to be yourself. Originally produced by Seabright Productions Ltd, and directed by Linda Marlowe, who also directed The Silence of Snow.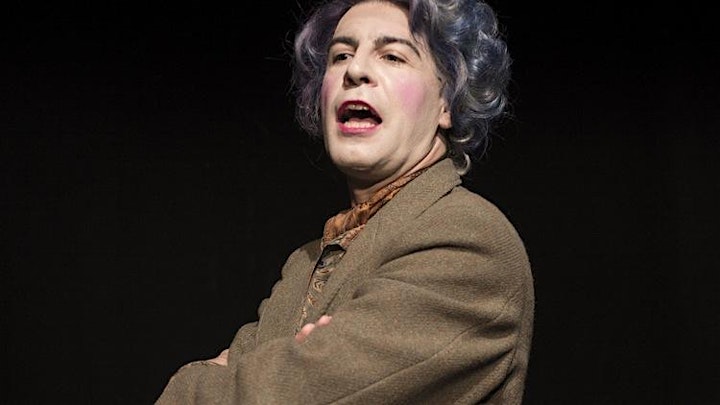 Reviews
★★★★ Time Out "An uncanny feat of resurrection. Farrelly's mastery of his audience is total"
★★★★ British Theatre Guide
★★★★ Metro
★★★★ The Stage
★★★★ Edinburgh Guide
★★★★ Scotsgay
★★★★ The Public Reviews
★★★★ Broadway Baby (2014)
★★★★★ Broadway Baby (2018)
★★★★★ Broadway Baby (2019)
★★★★ G-Scene Magazine
★★★★ Remote Goat
★★★★ Exeunt
★★★★ The New Current
★★★★ The Reviews Hub
★★★★ The Prickle
★★★★ London Theatre 1
★★★★ Last Minute Theatre Tickets
★★★★ Always Time For Theatre
★★★★ Queer Guru
★★★★ London Pub Theatres
★★★★ Theatrescene.net "A sensational performance" (Review of Off-Broadway debut, January 2019
Organiser of QUENTIN CRISP - NAKED HOPE WRITTEN & PERFORMED BY MARK FARRELLY
(REGISTERED CHARITY NUMBER 1185264)
We are an independent, not-for-profit charity committed to enriching the cultural life of Henley-in-Arden and further afield and bring this event to you in association with Henley Arts4All.
www.HenleyArts4All.Co.Uk
All your support for the Trust - from ticket sale profit, donations and membership fees to room hire and refreshment sale profit helps to fund the Guild Hall Trust. This includes our own programme of indoor and outdoor live performance, community events, historical enactments and learning opportunities as well as taking care of the Guild Hall buildings and gardens so that they can be enjoyed today and for generations to come.