Description
Who this event is for
Everyone. The event is free but there are limited numbers.
About the event
Follow in the footsteps of William Morris with poet Lavinia Greenlaw for an evening combining excerpts from his Icelandic writings with Lavinia's own eye-witness response to the country. The evening will be informed by Lavinia's book Questions Of Travel: William Morris In Iceland.
Join us to explore questions of travel in the victorian era, alongside the difficulties of crafting a multi-layered work - that is part memoir, part prose poem, part criticism and part travelogue.
The evening will include a question and answers session with Lavinia and be followed by a wine reception.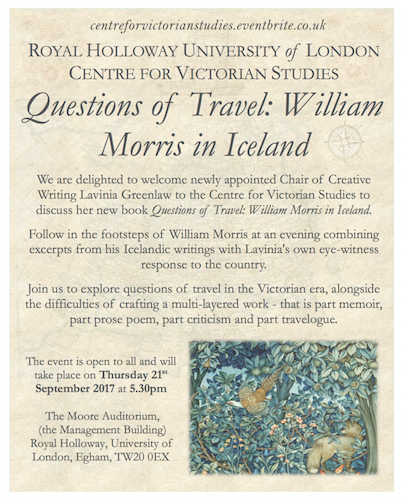 About the speaker
Professor Lavinia Greenlaw's poetry includes The Casual Perfect (Faber 2011) and A Double Sorrow: Troilus and Criseyde (Faber 2014). Her first novel, Mary George of Allnorthover (Flamingo 2001), received France's Prix du Premier Roman Etranger. Her third, In the City of Love's Sleep, will appear from Faber in 2018. Her two books of creative non-fiction are The Importance of Music to Girls (Faber 2007) and Questions of Travel: William Morris in Iceland (Notting Hill Editions 2011). Her immersive sound work, Audio Obscura, a study of interrupted perception, won the 2011 Ted Hughes Award. In 2016, she wrote and directed a short film, The Sea is an Edge and an Ending, an exploration of dementia and the present tense. She taught at Goldsmiths College before becoming Professor of Poetry at UEA. She is writing a book about seeing and not seeing further.
In 2013, she was one of the first two artists to receive a two-year Wellcome Engagement Fellowship. She has an MA in seventeenth-century art from the Courtauld Institute and was awarded a three-year NESTA fellowship in 2001 in order to pursue her interest in vision, travel and perception. Other awards she has received include an Eric Gregory Award (1990), an Arts Council Writers' Award (1995), Forward Prize for Best Single Poem 1997 (for 'A World Where News Travelled Slowly'), a Cholmondeley Award and a Society of Authors Travelling Scholarship.
She was the first artist-in-residence at the Science Museum and has also held residencies at the Royal Festival Hall and the Royal Society of Medicine. She is on the Council of the Royal Society of Literature, former Chair of the Poetry Society, and was chair of judges for the inaugural Folio Prize.
Lavinia taught at Goldsmiths College, University of London, and was Professor of Poetry at UEA from 2007 to 2013 and a visiting professor at King's College London (2015-16) and the Freie Universität Berlin (2017). In September 2017, she takes up the post of Professor of Creative Writing (Poetry) at Royal Holloway, University of London.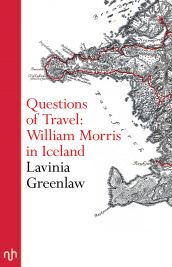 Questions of Travel: William Morris in Iceland

OUT NOW IN PAPERBACK
The Victorian artist and activist William Morris travelled to Iceland in search of an answer to the problem of how to live. His intimate journals, written for a friend, unconsciously explore questions of travel, noting his reaction to the idea of leaving or arriving, to hurry and delay, what it means to dread a place you've never been to or to encounter the actuality of a long-held vision.
Poet Lavinia Greenlaw draws out these questions as she follows in the footprints of Morris's prose, responding to its surfaces and undercurrents, extending its horizons. The result is a new and composite work, which brilliantly explores our conflicted reasons for not staying at home.
Reviews
"What Greenlaw does to Morris is effectively what Roland Barthes did to Balzac in his wonderful study S/Z in 1971: break the primary text up into fragments and offer a subtle commentary on these discrete units. She has brilliantly found a new form for writing about Morris, and for this we can only be grateful." - Tony Pinkney in William Morris Unbound.
"This bountiful book rocks away in a stunning mélange between strange and sure, between factual thought and exhaustive experience." - Linda Chown in Blogcritics.org