Introduction - Cyber security virtual courses for All
About this event
This event is to support those who have chosen to engage in the Cyber security , weather
To find out more join us at this event where Julia Humphries will explain what the courses are about and the benefits to you as an individual looking for a career in Cyber security
Link for Parents and students - https://qufaro.uk/educators/courses/headstart-in-cyber-security
If you are keen on going into a cyber security role in the future, why not enrol in the Qufaro Headstart, foundation or EPQ course.
To enrol - cyberepq@qufaro.uk
PLEASE NOTE:
Headstart £50 plus vat
Foundation £50 plus vat
EPQ - School based and home school learners £175 plus vat
The Headstart in Cyber Security course is a short course with approximately 30 Guided Learning Hours. You will complete 11 Modules in cyber security on our online Moodle platform and you will need to complete a brief journal entry for each module to show engagement. We have templates with prompts and an exemplar journal available.
The course content is all delivered online and there are monitored forums for you to chat about cyber related topics with both your peers and cyber experts.
Importantly, there is no level of prior learning required, just the desire and passion to learn more about cyber.
Typically students work through a module a week. The content includes videos, quizzes, games, presentations and the option of additional reading. All presentations have both the written and spoken text functions available.
On completion, students will receive a Certificate of Completion detailing the skills and knowledge they have gained. There is also the possibility of transferring onto the CyberEPQ should you wish to develop your cyber knowledge and skills further.
Link for Parents -
https://qufaro.uk/educators/courses/headstart-in-cyber-security
If you think you are keen on going into a cyber security role in the future, why not enrol on the Qufaro Headstart course?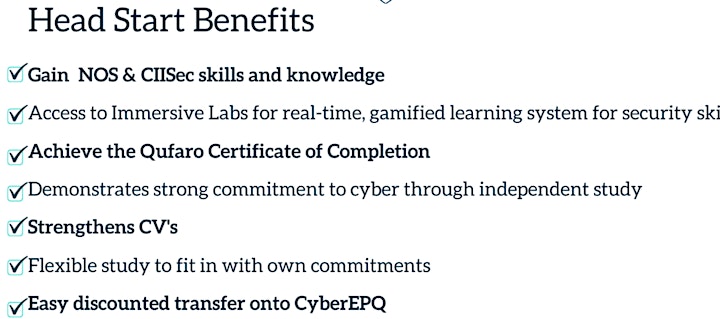 Organiser of Qufaro Virtual launch -For all
The National Museum of Computing (TNMOC) is home to the world's largest collection of working historic computers.
Follow the development of computing: from the Turing-Welchman Bombe and Colossus of the 1940s through the large systems and mainframes of the 1950s, 60s and 70s, to the rise of personal computing and the rise of mobile computing and the internet.
Recognised as one of England's top 100 'irreplaceable places', we welcome corporate and group visits, schools and individuals from all over the world.
We are normally open Tuesday to Friday 12:00 -17:00, Saturday & Sunday 10:30 – 17:00. Please check tickets for actual opening days and times.
TNMOC operates independently of Bletchley Park Trust, although we are located on the Bletchley Park Estate.
To visit us, go through the main Bletchley Park entrance, through the barrier, walk or drive bearing left beyond the main car parks, to our separate entrance located at the top of the Park.
Visit their website here for more information.https://www.tnmoc.org/