Event Information
Refund Policy
Contact the organiser to request a refund.
Eventbrite's fee is nonrefundable.
About this Event
All my workshops have two tiers of tickets: Full Workshop Passes and Watch Passes
These two options cater to all types of learners - from complete beginners through to experienced artists (and everyone in between).
To find out more about the difference between these types of passes (and find out more about the workshop) read on!
Info for Full Workshop Pass Holders (£20)
(Limited places available)
What You'll Do
If you purchase a Full Workshop Pass you will learn how to create lively landscape studies in oil paint. You will receive guidance and support throughout the session. The process will be broken into easy to understand stages.
Each stage will begin with a live demonstration that will give you the opportunity to ask questions as you watch me work.
After each demonstration you will work on your own painting for a set amount of time. I will be on hand the whole time to help you if you have any trouble. You will ideally set up your webcam to show your painting but it would also be fine to send images to me throughout the session. We will use a private breakout room for tutorials that will be separate from the rest of the class.
We will repeat this process, stage by stage, until you have completed your painting.
We will then finish the session with a Q&A, giving you a chance to share with me and the rest of the class how you found the experience and ask any final questions to help you with your painting in the future.
*Before the beginning of the session you will be able to download the reference image that we will be working from.
How We'll Connect
You can work wherever you feel most comfortable - whether that's your home or your studio. We'll be using Zoom so it would be ideal for you to have a webcam or phone camera so that I can see how your work is progressing but you can just watch and ask questions as you work if you prefer.
I'll be working from my own art studio in Sheffield, UK - with a webcam sharing me and my work, so you can watch the whole process of painting from start to finish.
Style
This workshop is designed to help you make landscape paintings when working from life outdoors. We will be working on a small pre-toned panel / canvas which will make it easier to get everything down quickly. We will focus on tone, colour and brushwork. This workshop is suitable for all levels including complete beginners.
Materials
If you want to work alongside me you will need to get your materials ready before the session. These are my recommendations*:
Oil Paints:
Titanium White
Ivory Black
Prussian Blue
Cadmium Yellow (or any primary yellow)
Burnt Umber
Yellow Ochre
Miscellaneous
Small pre-prepared panel or canvas (you will be able to watch a short tutorial video covering panel preparation as soon as you've booked)
3-5 brushes (small to medium size - ideally a mix of flat and round)
Pencil
Medium cup (any spare, small container will do)
Medium (oil or solvent etc.)
Easel
Paper towel or cleaning rag
*You can check the supporting documents after booking for where to buy these materials.
Notes
The course will be run through Zoom so it's ideal if you can share your work via video with me throughout the session. If this isn't possible (or you aren't comfortable sharing) you will still be able to watch me work and ask questions which is also a great way to learn.
If you are working alongside me during the session you will need to make sure you either print out the reference image in advance or have it up on a second device / screen so that you can watch me and work from the reference at the same time.
I will be in touch with more details after you sign up. This will help you to get ready for the session in advance and ask any questions.
Info for Watch Pass Holders (£5)
If you purchase a Watch Pass you will be able to attend the event live, watch, work alongside and ask general questions but you will not be able to share and receive any feedback on your own work throughout the session.
This is for people who just want to watch rather than paint. It's also perfect for beginners looking to get an idea of how to approach landscape painting (but not quite confident to share just yet) or for experienced artists who don't need feedback and are looking for an enjoyable communal painting experience.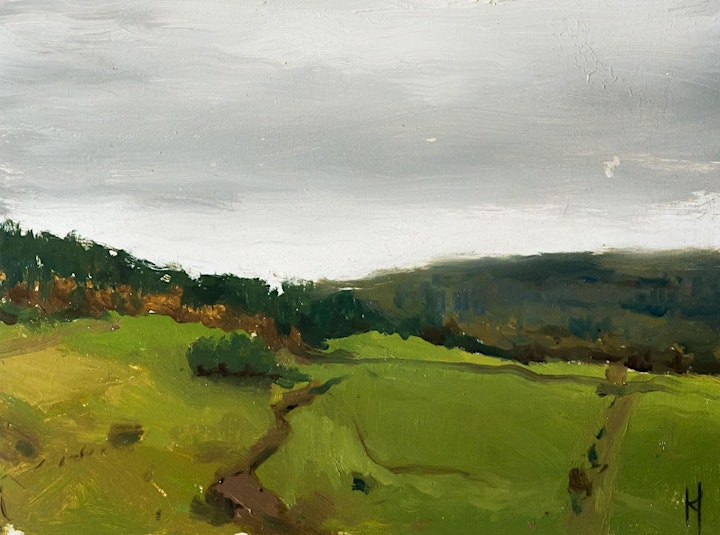 Date and Time
Location
Refund Policy
Contact the organiser to request a refund.
Eventbrite's fee is nonrefundable.